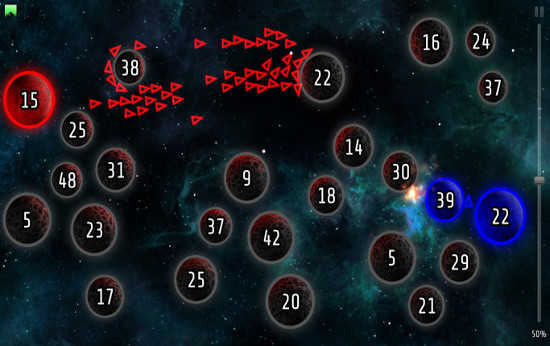 The sequel to the original
Galcon
strategy game has officially launched, and this time around it's free 2 play.
Most of the focus in
Galcon 2
is online play with the single-player branded a "practice" mode, I haven't yet been able to find anyone online to play with, so if you like the strategy in Galcon it might be an idea to pass some usernames around in the comments to buddy up and fight.
The practice mode does have some really fast and brutal AI though (you can pick the difficulty), so even if you don't find anyone online, the practice is still hard enough to keep you busy, and it's free remember!
It seems to have only been "soft launched" right now, so they haven't sent much press out by the looks of it. This would explain the lack of people playing online of which zero where when I went to play today.
Galcon is all about capturing planets by dragging and dropping from one planet to another, as you do this you see all your little ships smash into the selected planet to take it over. It's actually a good game, so I really hope the player count picks up for it. It's simple to get into, but really hard to master.
The free 2 play aspect is really simple too. You buy coins, which can be redeemed for customization items and nothing more. That's the kind of free 2 play we can all get behind.
You can grab the
latest download here
if you wish to give it a try.
Some you may have missed, popular articles from the last month: