Construct 3 [
Official Site
] is a game engine that requires little to no programming knowledge as it relies on stringing events together from objects. It's clever and it works really well.
Here's an example of the kind of system it uses to make a game: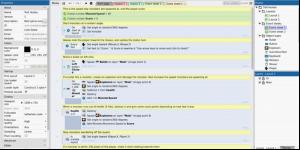 I've used tools like Construct from Scirra on and off for years, after first getting involved with similar tools like Fusion from Clickteam.
The game engine has been re-written for Construct 3 in such a way that it can now be run directly in your web browser. It's an awesome idea, as being able to create games from anywhere you can access a web browser sounds really cool! It won't always be browser-based though, as they do plan full desktop applications too, but this is a reasonably good way to test bugs and features while you develop.
I've been testing it out and it does work reasonably well, although it does have some crash bugs I've found. To show you how simple it is do make a game with it, I present you with
Troll Hunter 1.0
, my proudest creation ever.
The open beta is a limited free version, with the paid version to come towards the end of May. The main issue I take with it is their funding model, having to pay monthly for software is not something I am fond of. I much prefer to pay once per major version, so I can use it for as long as I like. I do hope they offer that option at least.
Find more information in the
release blog post
.
Would you make use of a game engine like Construct 3?
Some you may have missed, popular articles from the last month: