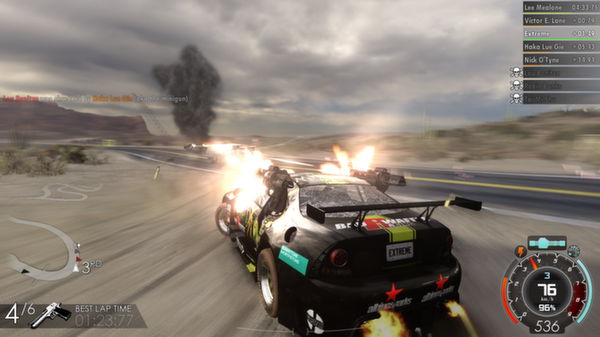 I had given up hope
of seeing Gas Guzzlers Extreme on Linux, but it seems the developers have found a new porter.
On the 30th of August the developer simply
said this
:
QuoteWe negotiate with the new team about porting.
And
then this
:
QuoteIt's other porting company. They reviewed the code and they said it was all ok and that they will accept porting but since we do to console ports we first have to do some tasks related to all platforms including Linux. So we don't do double work (we and other company on Linux). Lots of stuff is shared on all platforms and right now we doing major engine redesign so we can more easily support Linux. Then other company will jump in if everything is ok.
We still have some time to wait, but it's good to see they haven't just given up at getting help to bring it to us. Another high quality racing game will be fantastic to have on Linux!
About the game
(Official)
Gas Guzzlers Extreme is a fast, furious, armed-to-the-teeth, trigger-happy shooter, shifted into top gear! Take a white knuckle ride in this crazily addictive combat racing game that features a ton of vehicles, weapons, upgrades, on-track bonuses and environments. Gas Guzzlers Extreme is an exciting new twist on the car combat experience with the addition of furious team/clan combat battles.
Players start out with low performance vehicles and soon work their way up to high-performance models, by earning money in a series of hi-octane races and arena battles. New game modes, tracks and vehicles are unlocked as players progress through the game. Along with developing their driving and fighting skills, players can spend their hard-fought cash, customizing their vehicle to match their clan members or pimping their ride for the road to glory!
Some you may have missed, popular articles from the last month: