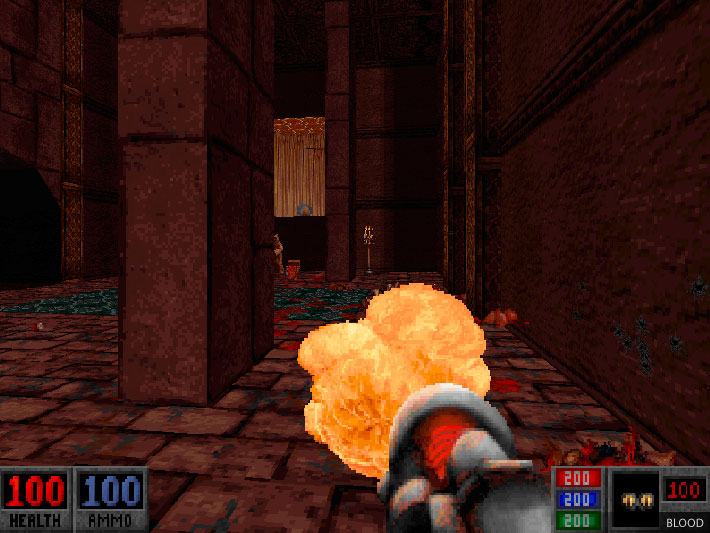 GOG have now made Blood: One Unit Whole Blood Linux compatible on their store using DOSBox. It's an old sadistic FPS, and I took a quick look.
About Blood
(Official)
You carved your soul to shreds in servitude to a dark god, but false promises and betrayal were your only reward. Now you have a score to settle and it will be measured in blood! Experience the madness in one carnage-soaked package! All the gore, all the unholy war! Zombies, gargoyles, hellhounds and blood-crazed hordes of horrors await! Crush loathsome evil of the mighty Tchernobog! Or condemn yourself to eternal damnation in this leviathan of unhallowed gaming action!
Includes the original Blood and addons: Plasma Pak and Cryptic Passage
Various, often crazy weapon types like a pitchfork, flare gun or a Voodoo doll
A grim atmosphere with an abundance of graphical violence, offset by dark humor and cheesy one-liners
I've tested it out as usual for you! Thanks again to GOG for supplying a key to make sure it's in working order.
Some thoughts
It's another rather retro release for us, and a popular one too.
As usual GOG has it nicely setup with DOSBox so you don't really need to adjust anything, I've tested what I can and it seems to all work pretty nicely without any issues.
The control scheme is pretty bad though, and shows hold old the game is! It does play very similar to the old Duke Nukem games, but looking up what people think about it, the experience is quite different.
I haven't been able to get very far, as even on the lower difficulty level i seem to get my ass kicked pretty early on.
What I can tell you is that it's grim, really bloody grim. There's mutilated bodies everywhere, blood flowing, really creeping looking dudes coming after you, and to top it off it has really creepy music. The atmosphere in my opinion is far darker than Duke Nukem, so I am sure that will appeal to plenty of you.
Check out
Blood: One Unit Whole Blood on GOG
for Linux, and play a bit of gaming history. One to check out for FPS fans of retro games that's for sure.
Some you may have missed, popular articles from the last month: