Some time ago Minor Key Games published their political stealth action thriller Neon Struct. I think we better cover this game before the big brother comes and censors us.
Neon Struct is a first-person stealth game that puts you in the role of Jillian Cleary, an agent of a spying organization called the Agency. You are a professional infiltrator and spy, and your job is to gather information for the government. However, after you uncover an unethical mass surveillance program the Agency you worked for turns against you in an attempt to keep the program hidden. Now you are on the run and trying to hide from the Agency.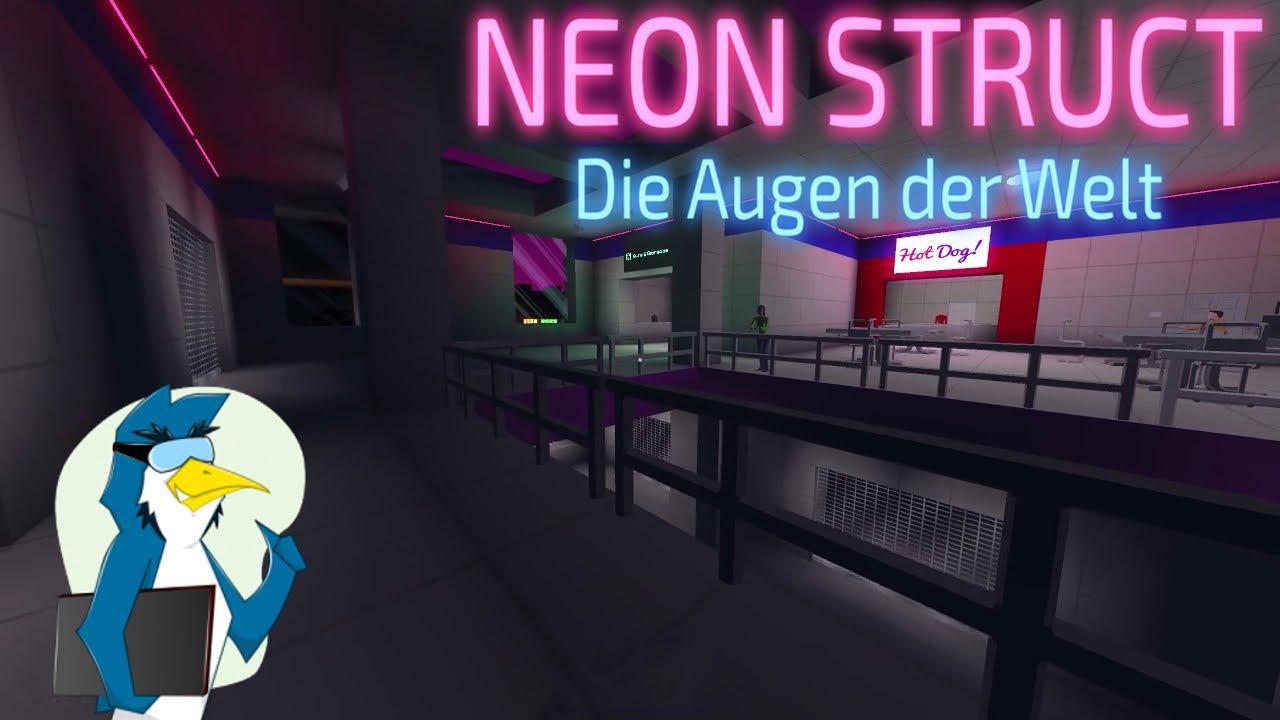 Neon Struct is a relatively simple stealth game. In each mission your objective is to infiltrate or exfiltrate a building or a complex, usually gathering intel or completing other objectives in the process. Naturally this means sneaking past guards and avoiding cameras. The gameplay mechanics aren't all that unique, in fact you probably don't even need to follow David Pittman on Twitter to notice that Neon Struct resembles Thief in some ways, with the most visible similarity being the visibility meter in the bottom of the screen. The game is also very similar to the previous Minor Key Games' title Eldritch which shares similar controls and parts of the gameplay.
You won't have to rely entirely on the shadows to gain entrance or exit buildings though. You also have some high-tech gear that allows you to disable cameras and stun personnel from distance, hack doors and security systems and make bright hallways completely dark. You also have a set of stims that can heal you or make you invisible or fully silent for a moment. The maps are open and also relatively big and offer you a lot of freedom to plan your path. There are always at least 2 routes to take, each with their own advantages. You could take the risky but fast route, or the dark air duct that allows you to silently sneak past all of the security. Just like in Eldritch, it's up to you to decide how you want to tackle the problem at hand. You don't have any lethal weaponry though and the only way to take down opponents is to sneak behind them and do a neck-twist-grab-thingy, so stealth is a must. But if you want to just run around like a maniac and complete everything as fast as possible, just go ahead. Just make sure you have some stims for the chase that ensues shortly after.
At the end of each mission your performance is graded. If you completed the mission stealthily you will get a good score, while tripping off every alarm, taking down enemies and getting seen will get you a bad score. Of course getting a good score is entirely optional and it's there just to challenge yourself. The maps also have hidden geocaches and finding all of them in the map is required for the best possible grade. Those geocaches also give you tokens which you can throw to distract guards, so they also have their use. Because of this grading system and the open map design, Neon Struct has some replay value. I probably won't try to play the game full ghost, but I imagine speedrunning the game might be quite enjoyable.
Graphically Neon Struct is simplistic and probably won't stun anyone with its beauty. The dark neon-coloured world of Neon Struct is a very spartan and blocky urban jungle in which even the trees have been completely replaced by artificial neon trees. The voxel style of Neon Struct is very similar to Eldritch, with the theme being very different of course.
Unlike Eldritch though, Neon Struct has a lot of story going on in it. And the story was, in my opinion, quite enjoyable. The game isn't all that long, maybe around 5-7 hours for one playthrough, but I the story kept me entertained during all of that time. The theme isn't too original but it's very timely. The game is very much criticism of the NSA mass surveillance programs and Jillian Cleary is essentially an action hero version of Edward Snowden. The game also throws some choices at you that will affect the events and the outcome of the game, though they won't drastically change the story. I would encourage you to play the game multiple times to find all the interesting stuff in the game. There are some small details that you might not notice before playing the same area again.
I'd also like to point out that the Neon Struct soundtrack made by The Home Conversion is really cool. It's not the type of music I normally listen to but I was positively surprised by it and had to go and buy it. If you pick up the game make sure to listen to the radios in the game for a while.
In the bugs and performance department there isn't much to say about the game, which is a good thing. The game ran without any problems on my main rig. It did crash for me when I tried using the open source Nvidia driver but experimental drivers are experimental drivers, so I'm not going to complain about that. The game had some unexplainable slowdowns on my laptop with integrated Intel HD Graphics. At first the game seemed to run nicely but the framerate dropped close to 10 FPS pretty often. The framedrops also seemed quite random because nothing particularly flashy happened on the screen during them.
So, overall Neon Struct is a nice game with an interesting story and good Linux support. Even though it's very story focused it still has replay value thanks to the open maps and the choices you can make throughout the game. All in all, Neon Struct gets a recommendation from me.
A DRM-Free download is available through a Humble Widget on the Neon Struct homepage:
http://neonstruct.com
/