An RTS fan? Well, you might like what this complex strategy game about a galactic war against an over-powered AI brings to the table. Let's see what AI War is all about!
AI War is a real-time strategy game from Arcen Games in which you are the leader of the remnants of the human race fighting against a huge artificial intelligence that has taken over the galaxy. Due to the enormous size of the AI a head-on attack would only get you completely wiped out of existence. Thus you need to keep a low profile and avoid enraging the AI by only taking the systems that are of strategic significance.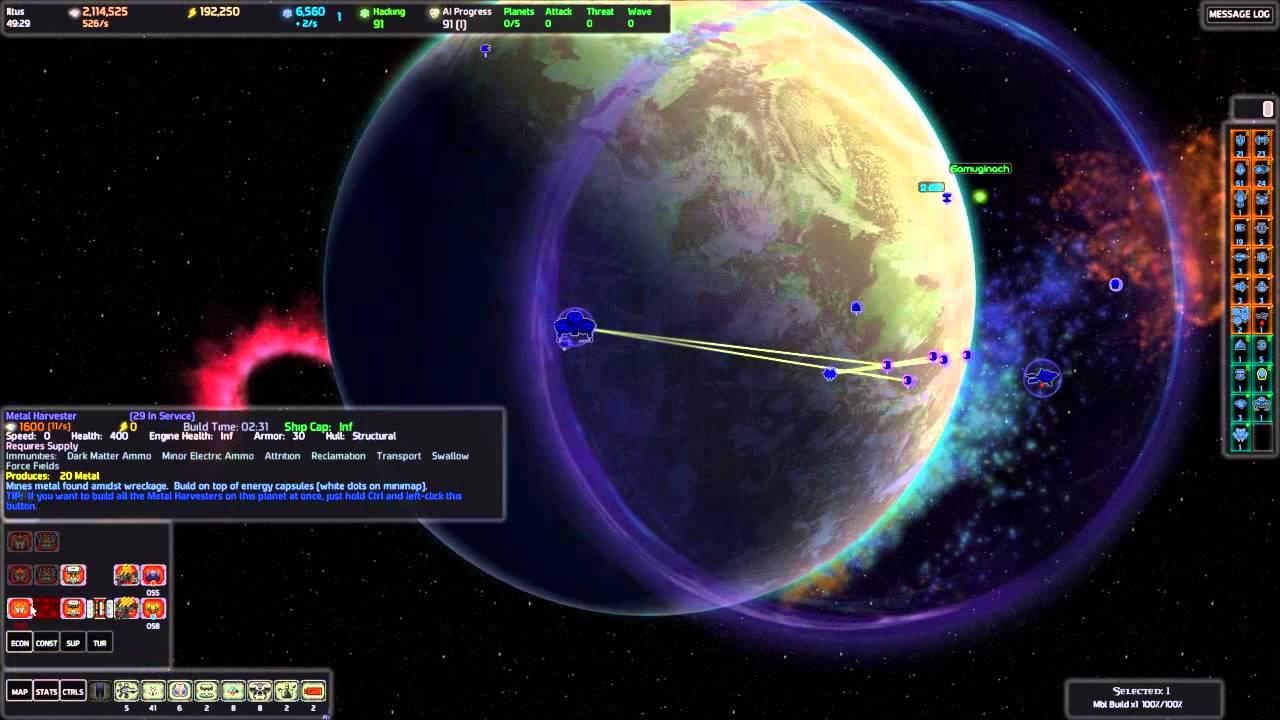 I haven't played RTS games in a long time and I had some trouble adjusting to this quite complex game. Even the tutorial kicked my butt quite a few times, so it's not all that casual game. At first it was quite overwhelming and learning all the necessary mechanics took me a couple of days, so keep that in mind. I've found it a rewarding experience however, so I don't think I wasted those hours of replaying the tutorial.
The actual gameplay has many similarities to your typical RTS games. You build buildings that allow you to either build units, research technology, produce resources or defend your bases from enemy attackers. There are some interesting mechanics thrown into the mix though, so don't expect it to play identically to the strategy games you've played.
First of all, you are fighting against an AI but not just any kind of AI. This time the AI is quite advanced and it doesn't work based on decision-trees and it is supposed to be quite hard to trick. It's also designed to be a 100 times more powerful than you, so it could technically destroy you immediately. This is where another mechanic called AI Progress comes in. AI Progress indicates the interest the AI has towards you, which will dictate the amount of resources the AI throws at you. At first the AI barely even notices you and will not try to destroy you. However, the progress will increase over time and when you destroy AI buildings. Eventually the AI will start sending raiding parties against your systems and reinforcements to the planets surrounding your systems. So not only do you have to manage your army and defences but you also have to consider carefully which planets you should conquer because capturing all of the ones in your way will raise the AI Progress to absurd numbers.
In addition to mechanics there was one thing that I had some trouble learning and that was the key bindings. I have never been good with remembering hotkeys in any games and I prefer buttons on the screen over them. In AI War many of the important features are not accessible through the quite spartan UI and you need to learn a couple of essential command keys to get around. For example you need to hold G and right click to move your ships as a group, so that the faster fighters and starships won't get blown to pieces before the more massive missile frigates and bombers get to range. Another quite important one, though optional, was holding Ctrl when right clicking to move your ships to other star systems without having to go to the galaxy map all the time. Luckily there are few important hotkeys so it probably won't take you too long to get used to them.
Finally I'd like to talk a bit about the audio-visual experience. Graphically AI War isn't all that amazing. The units are simple sprites and most of the time you'll be so zoomed out that you can only see the tactical simplified icons for your troops. To me that makes having those prettier sprites was kind of a wasted effort as you won't even get to see them all that much. I guess it doesn't really matter for the more hardcore RTS players though, as they'd probably prefer tactical icons and stats more anyway. You do get to enjoy the well-done background images though.
The music in this game is simply great. I know it isn't a huge part of the game but I believe it's worth mentioning. If you've played The Last Federation (don't worry if you haven't, it's on my todo list) then you know that Arcen Games does very good job with their soundtracks. It suits the game really well and puts me in a good mood even when things are absolutely going down. Luckily the OGGs are included with the game, so I can enjoy them even when I'm not playing.
Overall AI War is something you should check out if the learning curve doesn't scare you. It has been a rewarding experience learning how this game plays out and honestly I'm quite hooked to it right now. I've been trying to get Liam to play the multiplayer for a few days now but he's been so busy that he hasn't even finished the tutorial yet. Well, maybe some day.
Get AI War on GOG: http://www.gog.com/game/ai_war_fleet_command
AI War Collection on Humble: https://www.humblebundle.com/store/p/aiwarcollection_2014_storefront