I really like roleplaying games and I'm always on lookout for new RPGs to play, especially if they are native. You can probably imagine how happy I was when I heard that we'd be getting a new one in the form of Mount & Blade: Warband. Well, let's see if it's any good!
Mount & Blade: Warband by TaleWorlds Entertainment is an action RPG with some strategic elements thrown into the mix. You start as basically a nobody, who has travelled to the land of Calradia in search of gold and glory, but eventually you can work your way to the top.
So, you travel across the land, talking to lords and kings, gathering followers for your army, killing bandits and selling your loot. Rest is up to you. You can form a mighty army and become the ruler of a faction or become a mercenary for another faction and plunder villages and destroy enemy forces while making neat profits.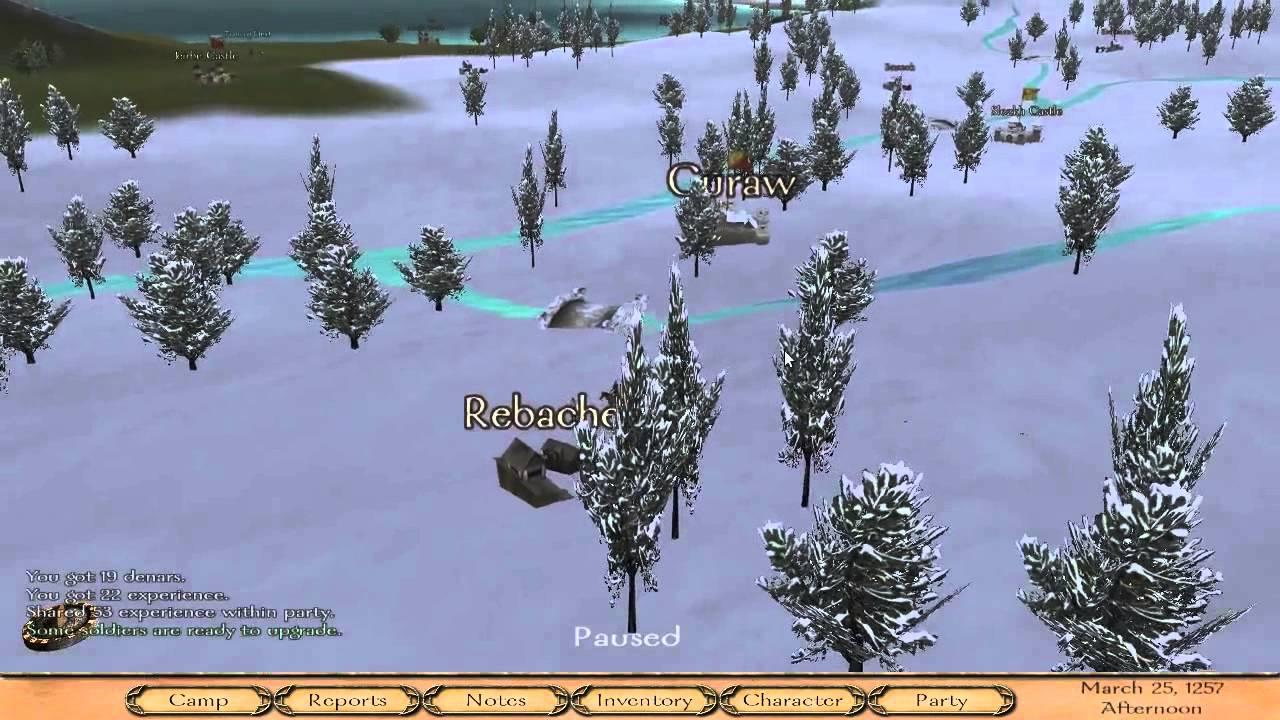 As you can see, this game throws you into a medieval world and lets you make your way around at your own pace and at your own way. The possibilities this game offers are endless. However, with endless possibilities comes complexity and that complexity might put off some people.
At first the game felt overwhelming to me. Instead of sticking to the first quest you are given immediately when you start playing, I went exploring the surrounding areas. This turned out to be a huge mistake on my part, as I got surrounded by bandits and I wasted all my money that I had used to recruit people from surrounding villages. After I followed the objectives of the first quest properly, I finally got a bit better start and I soon got hooked.
Complexity also comes in another form for this game and I'm talking about the combat system. Mount & Blade: Warband features a melee combat system that requires you to move your mouse to different directions while striking or blocking and it takes a bit to get used to it. Especially blocking without a shield can be a tough job, because you have to be careful about how the enemy is going to attack and how you should move your sword to block the strike. And having more than one opponent will only increase the difficulty. This means that it's very important that you play the tutorial before heading out into the wilderness.
In addition to the usual RPG elements, like inventory management and levelling up, you also have strategic elements that you have to keep in mind. You will rarely fight anybody alone, most of the time battles are fought in larger groups. This means that you will have to recruit or hire people from towns and villages to aid you and you need to pay their wages and provide them with food. You can also give them orders during combat and organize your tactics to suit the situation. I haven't really gotten used to this system, but so far the AI of my warriors has been good enough while battling less or equally powerful foes.
The strategic elements also go further than merely managing your men. Different factions are fighting each other, capturing castles and pillaging towns. The world is truly alive and it doesn't need you to cause things to happen. However, sometimes it might be you who turns the tide of a long war or ensures the defeat of the underdog. By choosing your friends and foes carefully you can gather immense amounts of power and riches.
Warband also features a multiplayer mode, but I haven't tested it yet and I've heard that it might be a bit laggy on Linux. I don't really care, because I usually only play singleplayer games anyway, but if the multiplayer action is something that you want, you should check their forums on Steam before buying it. If these problems still exist they will hopefully soon be fixed.
In general, Mount & Blade: Warband is an awesome RPG that combines action and strategy into a neat package. If you like games that allow you to choose your own path then absolutely check this game out. Remember though, that you might be in for an experience that doesn't let you go any time soon.
Find it on Humble Store or Steam.