The results for the March survey are now available for you to take a look at and compare with results from previous months.
You can find the new survey for April
here
, so please fill that out if you haven't already.
As usual, thanks for all the feedback and suggestions! At the moment, our resident graph maker Fedso is rather busy, but he's working on locking colours to answers and there may be something which tries to estimate a total trend in game sales coming soon! So look out for those in the coming months.
Please click on the images to enlarge. Once enlarged, you can also cycle through them using the arrows.
Respondents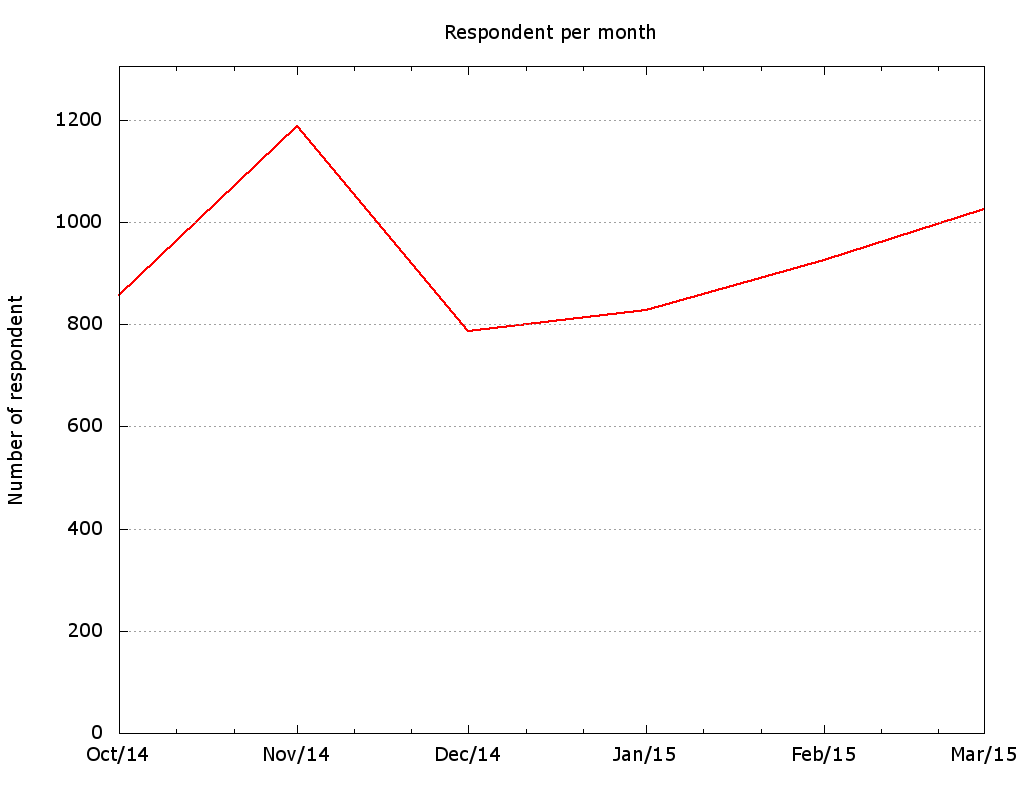 Many thanks to the 1026 people who took the time to complete the survey! That's exactly 100 more than the February survey and near the 1000 mark which I would like to keep close to. It also seems that separating out the new survey and results articles has done the trick, so thanks to those who suggested that!.
Question 1
- Do you currently use Linux as your primary PC gaming platform?
Question 2
- Did you use Wine to play games last month?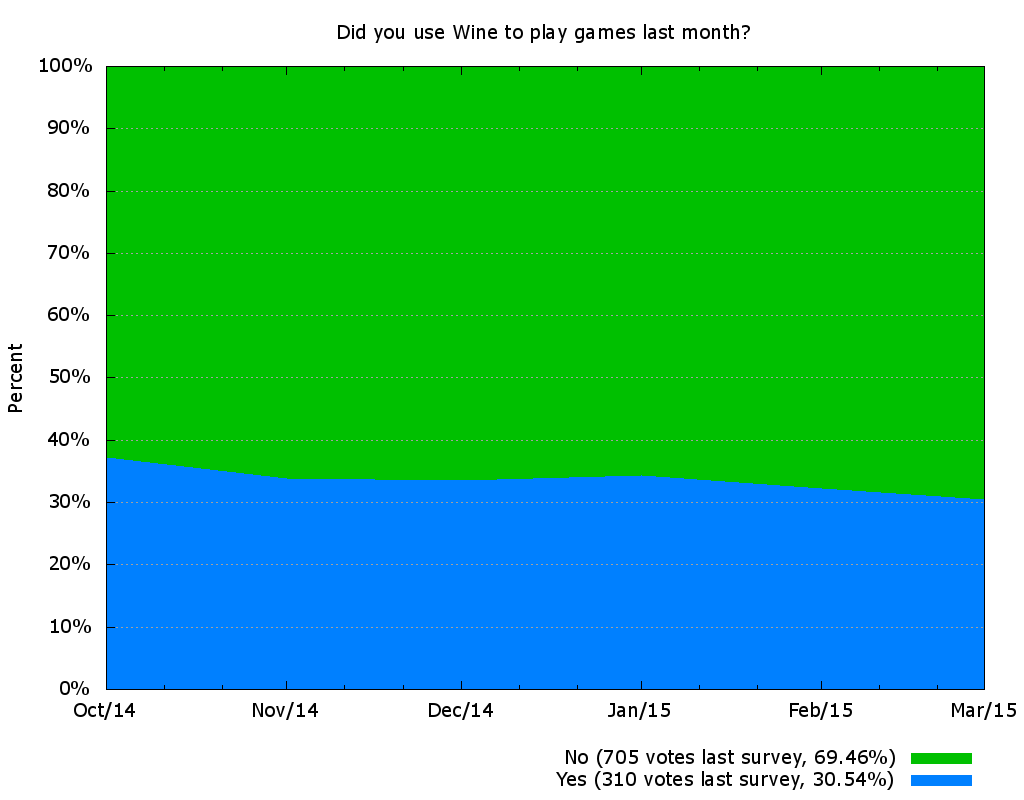 This is one question where we may be seeing a very gradual trend towards less Wine users, with around 8% or so less people using it than when we started the survey. This is probably to be expected given the vast quantities of native games available to us now and how cumbersome Wine can be sometimes to play certain games. Only time will tell if this trend will continue or if there will be a cut off point.
Question 3
- Did you use a Windows partition for gaming last month?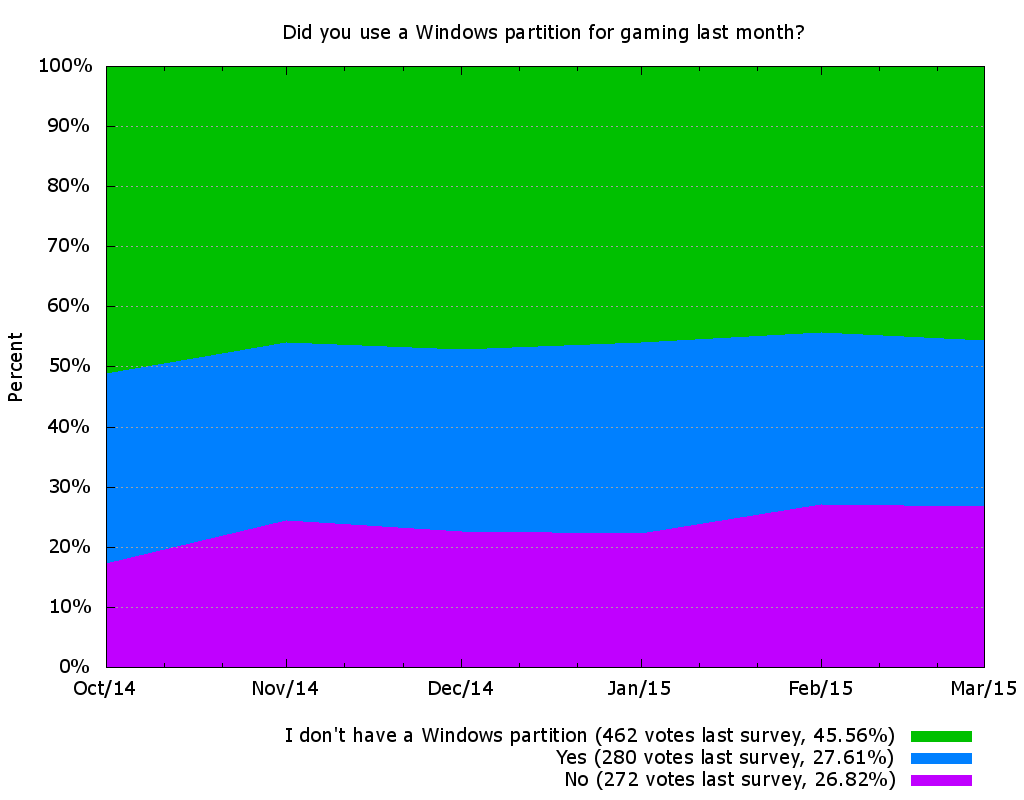 I put out
an article
about this very topic last month, questioning why the number of dual booters has not decreased since the survey started. Again, there hasn't been a significant change but I'm keeping a close eye on these results as the months roll by and hoping for some kind of "breakthrough". I should thank all those who left comments and opinions on the subject of dual booting, and if you haven't checked them out then you probably should, the comments are far more interesting than the article itself :).
Question 4
- What distribution do you use on your primary Linux gaming PC?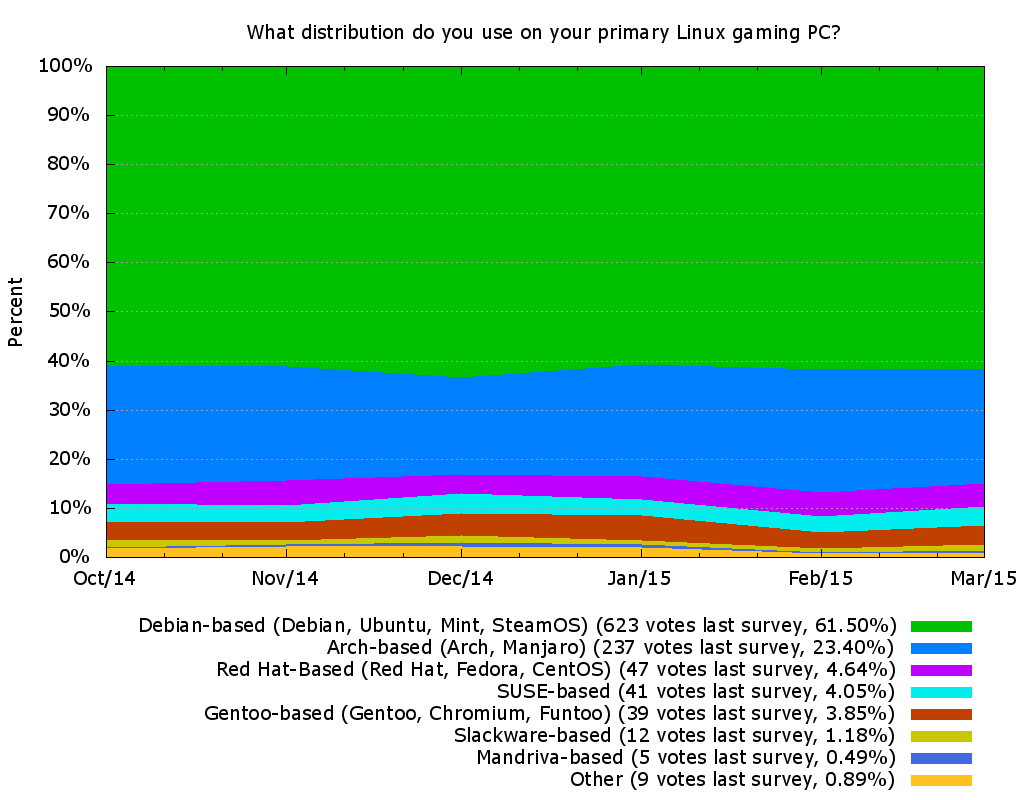 Question 5
- What Desktop Environment do you use on your primary Linux gaming PC?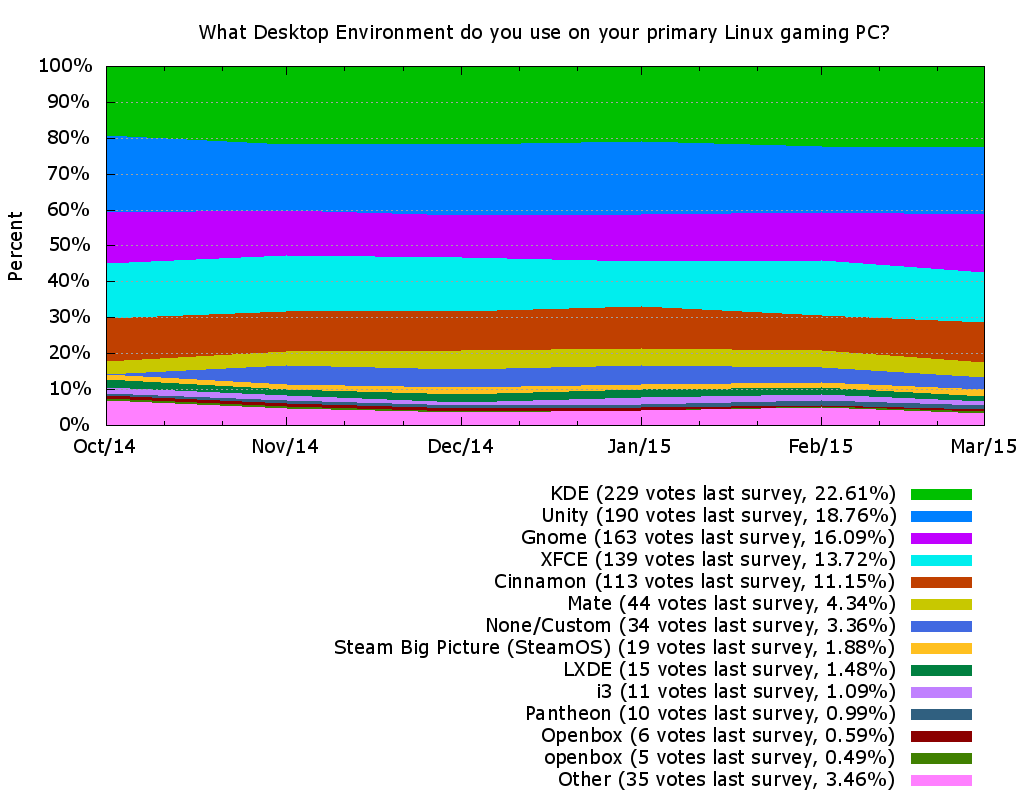 Question 6
- Did you change your primary Linux gaming distribution last month?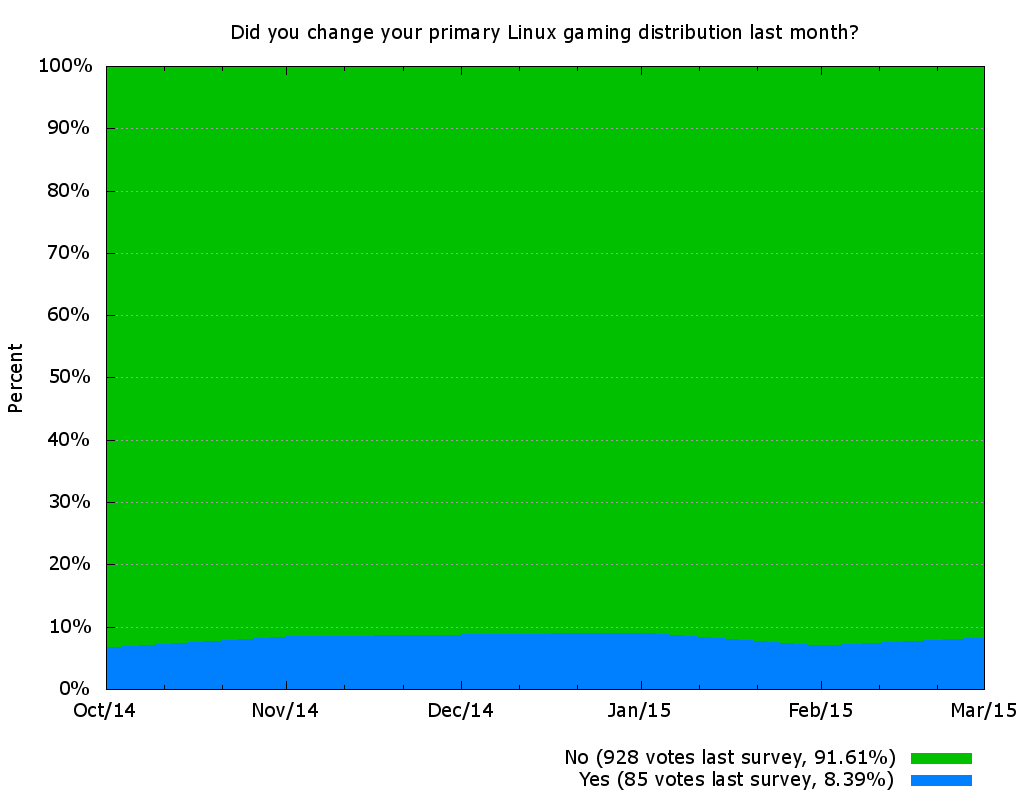 Question 7
- What graphics card do you use on your primary Linux gaming PC?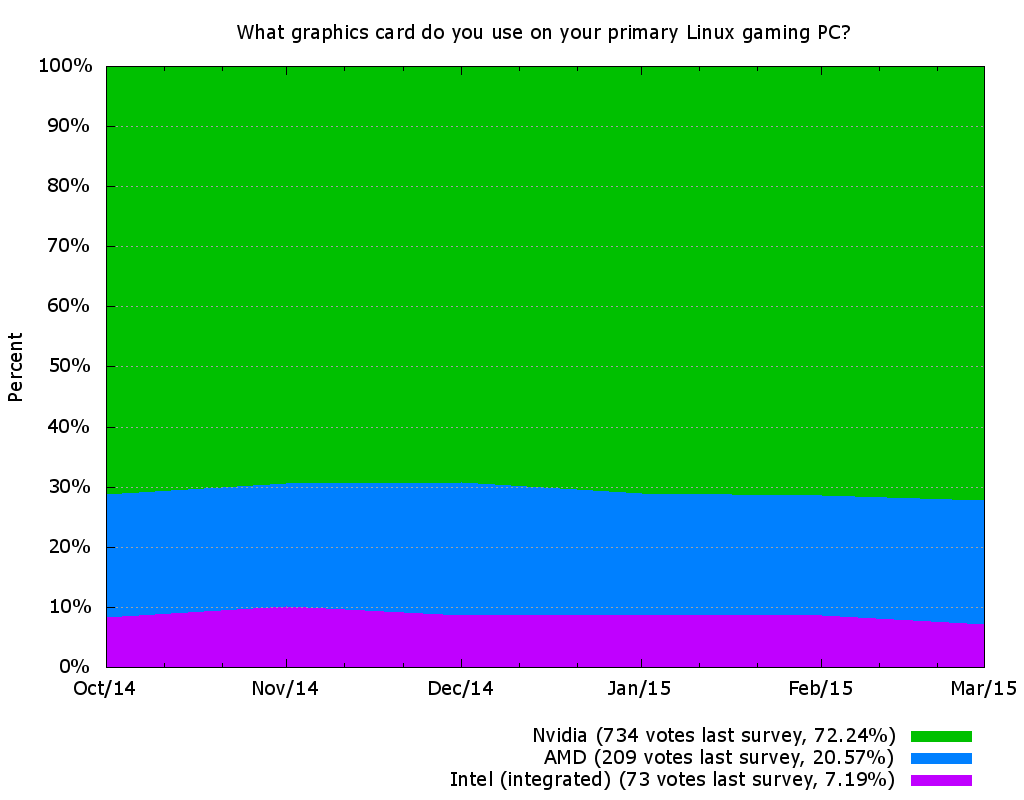 Question 8
- Which drivers do you use for that graphics card?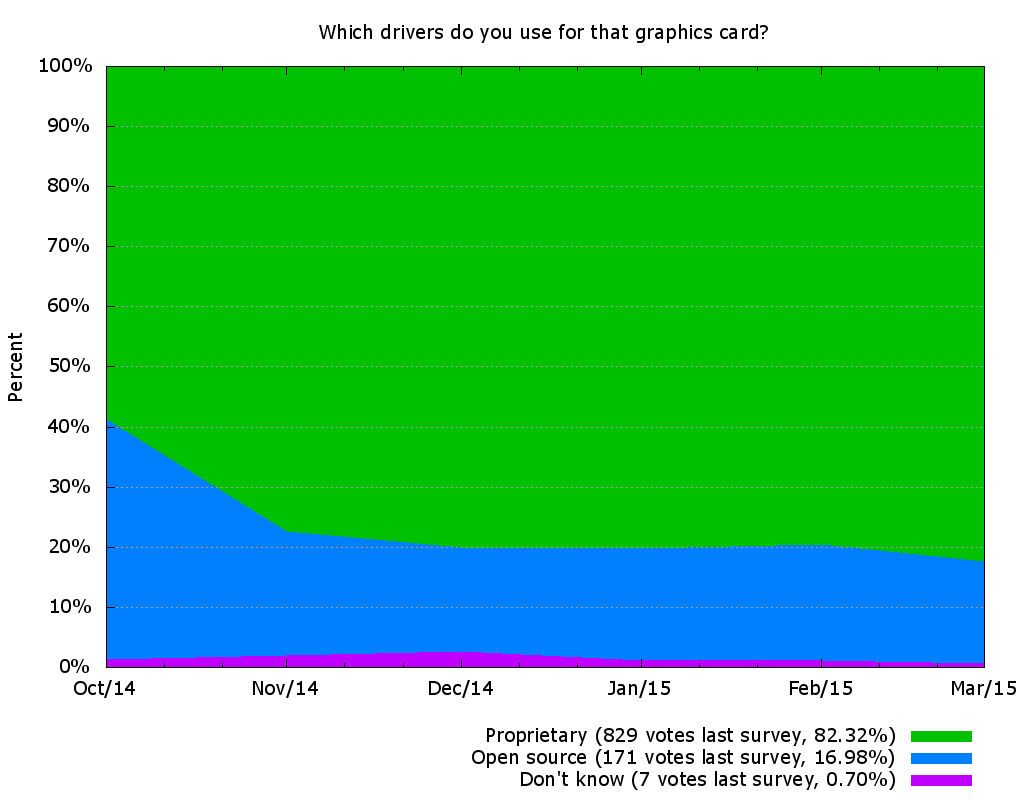 AMD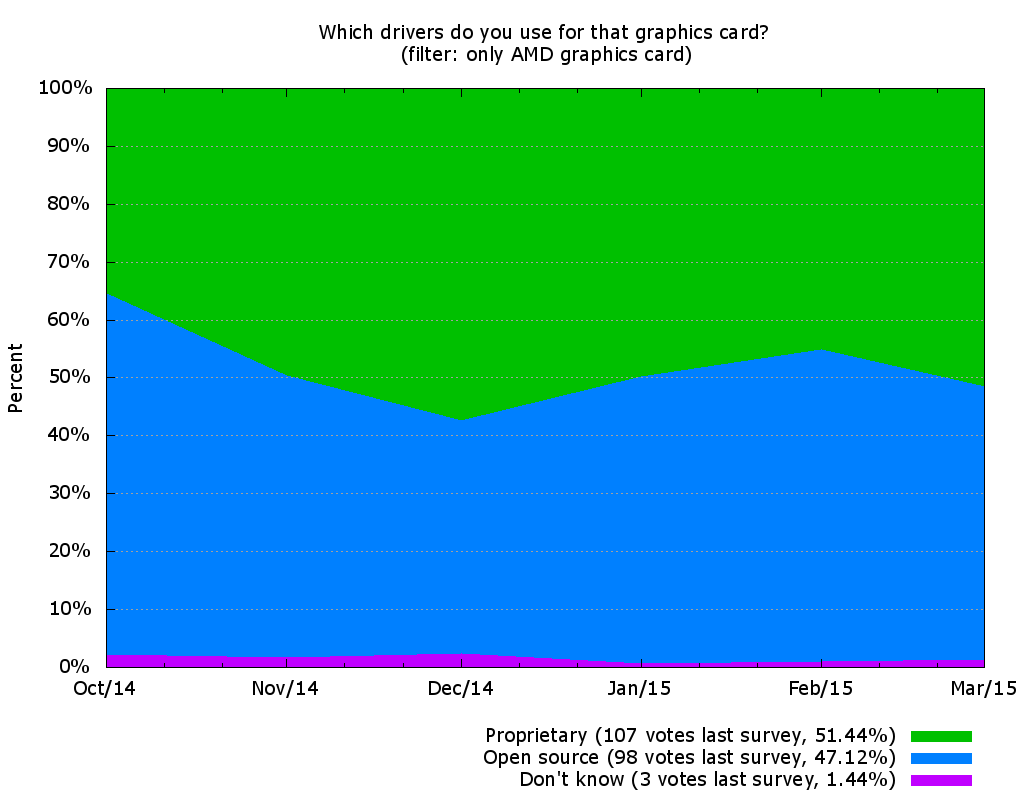 Intel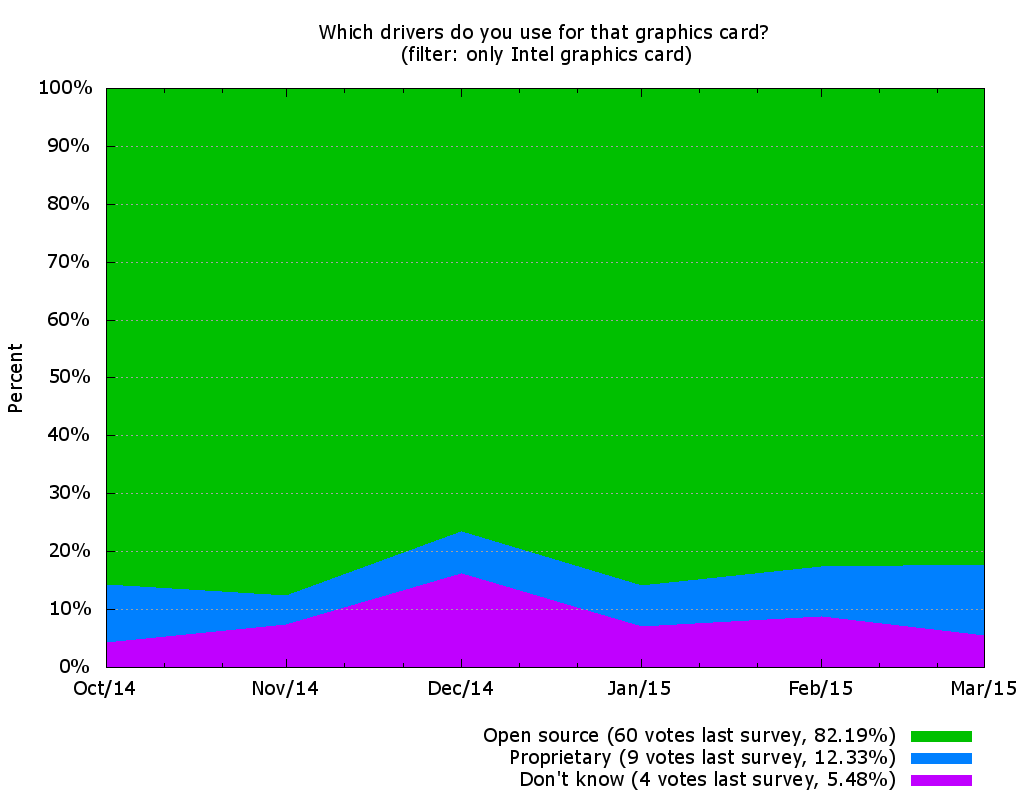 It should be noted that all Intel drivers (to my knowledge) are open source. However, due to the nature of the survey, respondents can still answer incorrectly and this anomaly is probably due to people simply not knowing that their drivers are open source.
Nvidia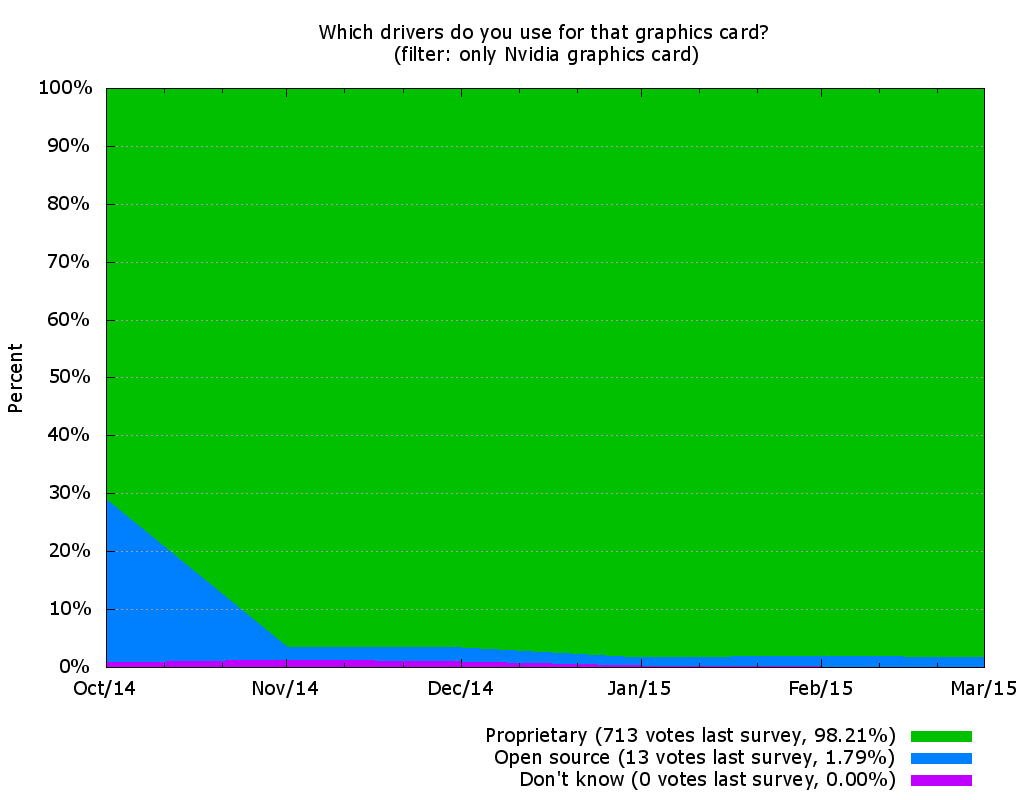 In case you missed it, Samsai has been running a little experiment with open source Nvidia drivers for the last month, which you can check out
here
. This yielded some highly interesting results and it's well worth checking out if you haven't already, especially considering around 1.5% of respondents use the drivers so they may well be unfamiliar to many.
I find these sets of results to be among the most interesting, especially the difference between the number of AMD and Nvidia owners using open source drivers.
Question 9
- What CPU do you use on your primary Linux gaming PC?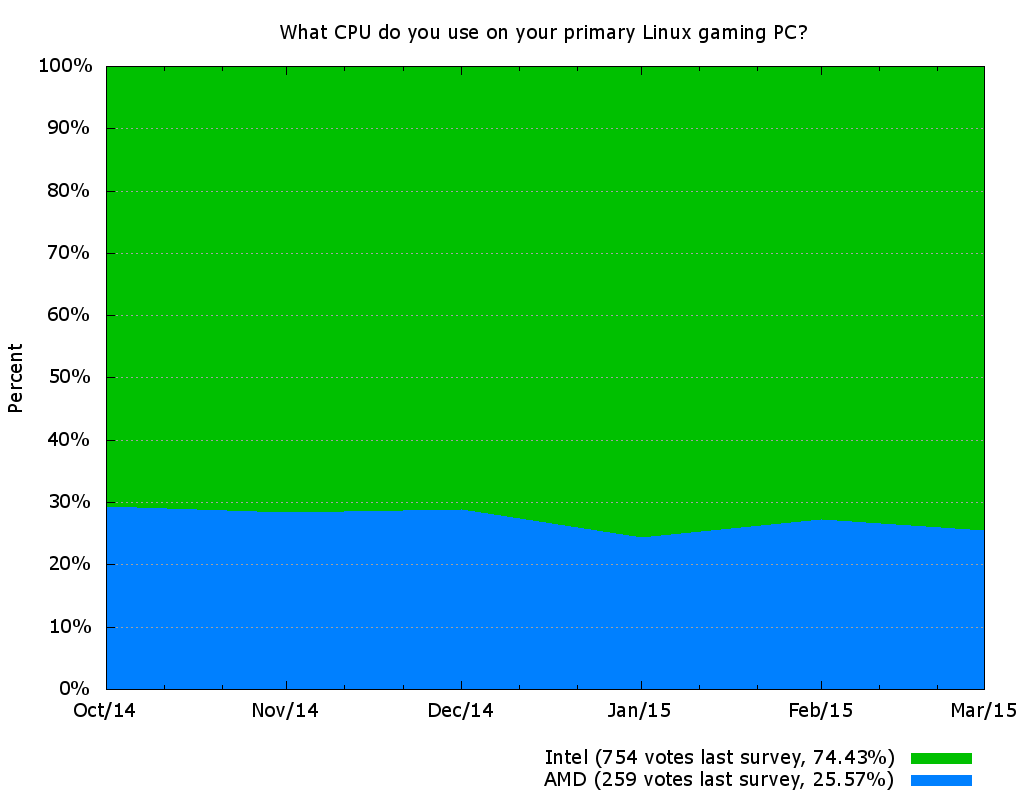 Question 10
- Did you exclusively buy Linux-supported games last month?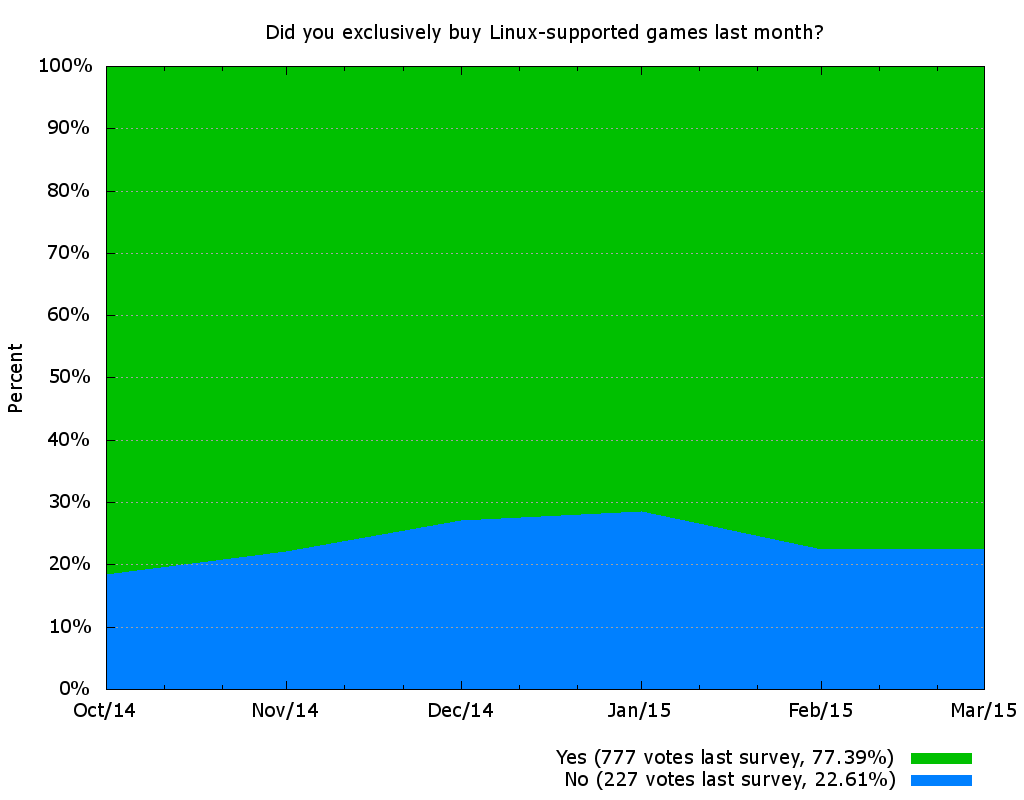 Question 11
- How many Linux games did you buy last month?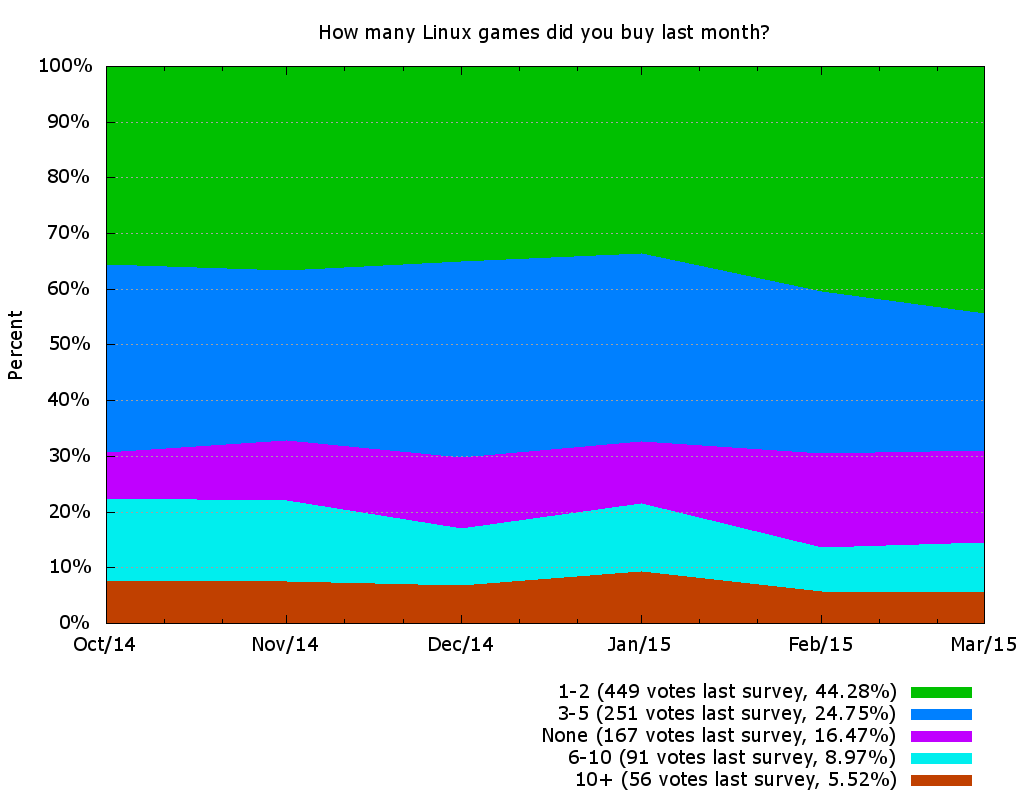 Question 12
- Which of these retailers did you use to buy your Linux games last month?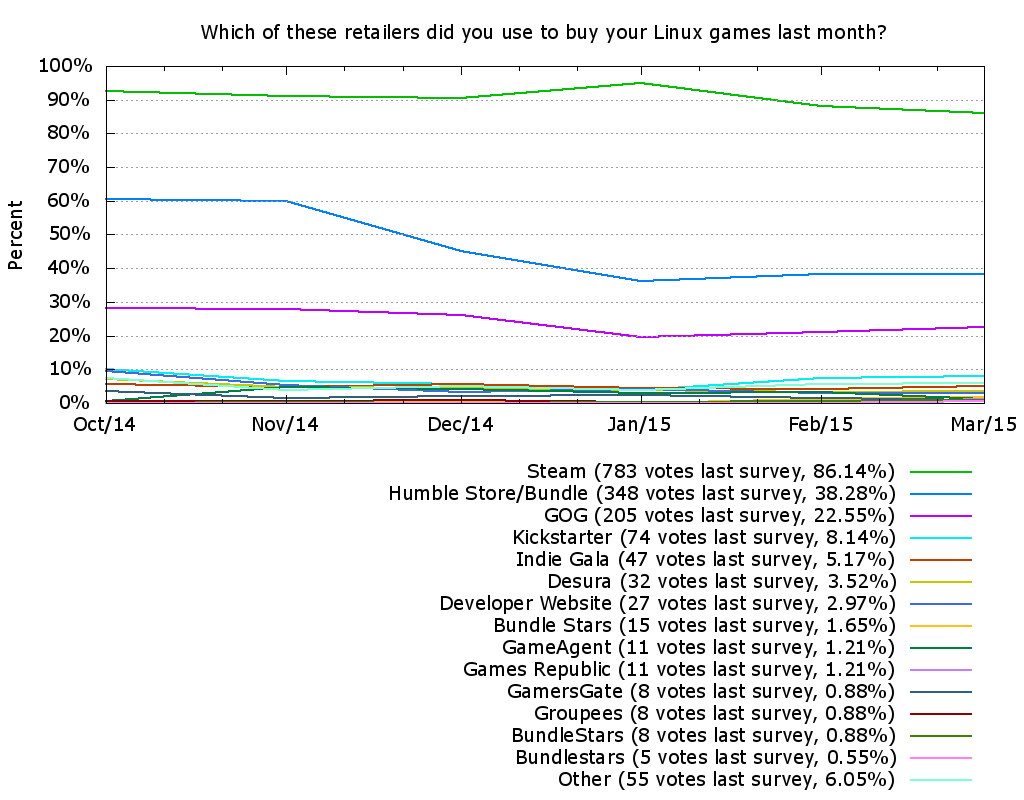 The steady decline in Humble sales seems to have levelled out, however after a recent bundle with plenty of Linux games, we may well see an increase next month.
I also added Games Republic to the list of retailers and it's nice to see a few people buying from there. Remember that doing so
helps GOL
financially, so may be worth checking out the
GOL store page
if they're selling the game you want before buying it somewhere else.
Unique Question 1
- Have you pre-ordered a Linux game in the last 12 months?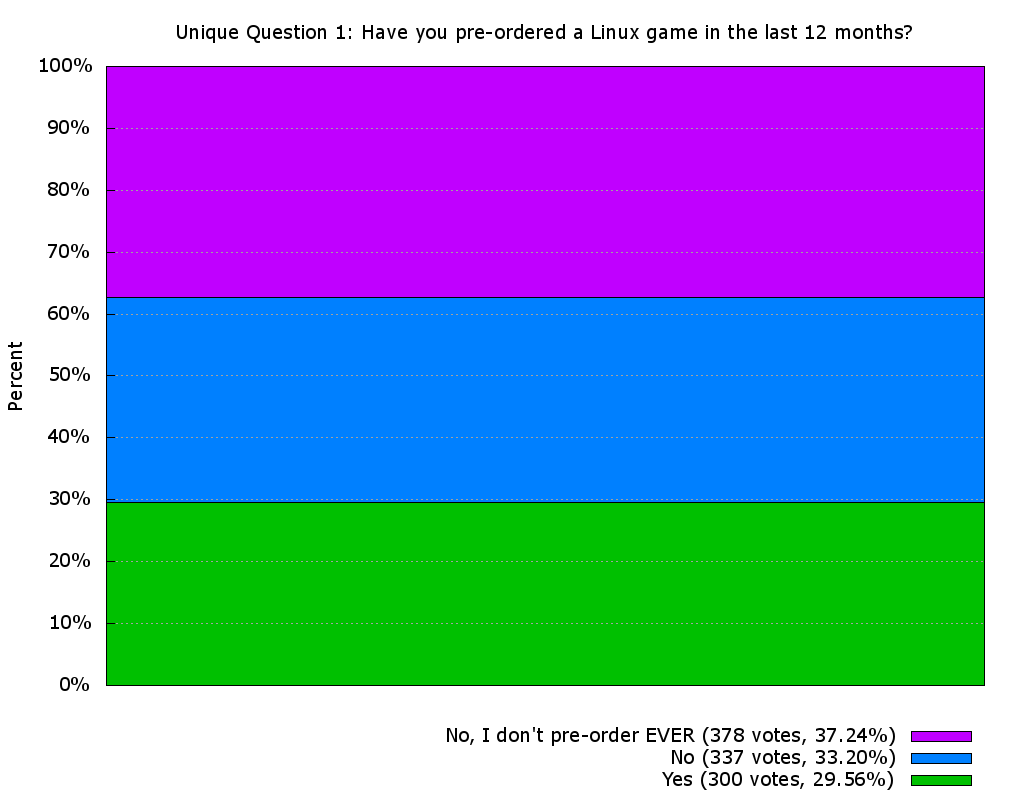 It certainly seems to be the case that people don't like pre-ordering, presumably for a number of reasons. Only a third of people pre-ordered a game in the last 12 months, and considering the quantity of awesome titles which have come out, it seems (to me) like quite a low number. However, this may not be unique to Linux gamers, even though we might be a bit more cynical about the quality of ports or tend to be people to stick to certain principles, so it may well be the case that these numbers would be different if this was a Windows-only survey.
Unique Question 2
- Will you be getting a Steam Machine any time after release?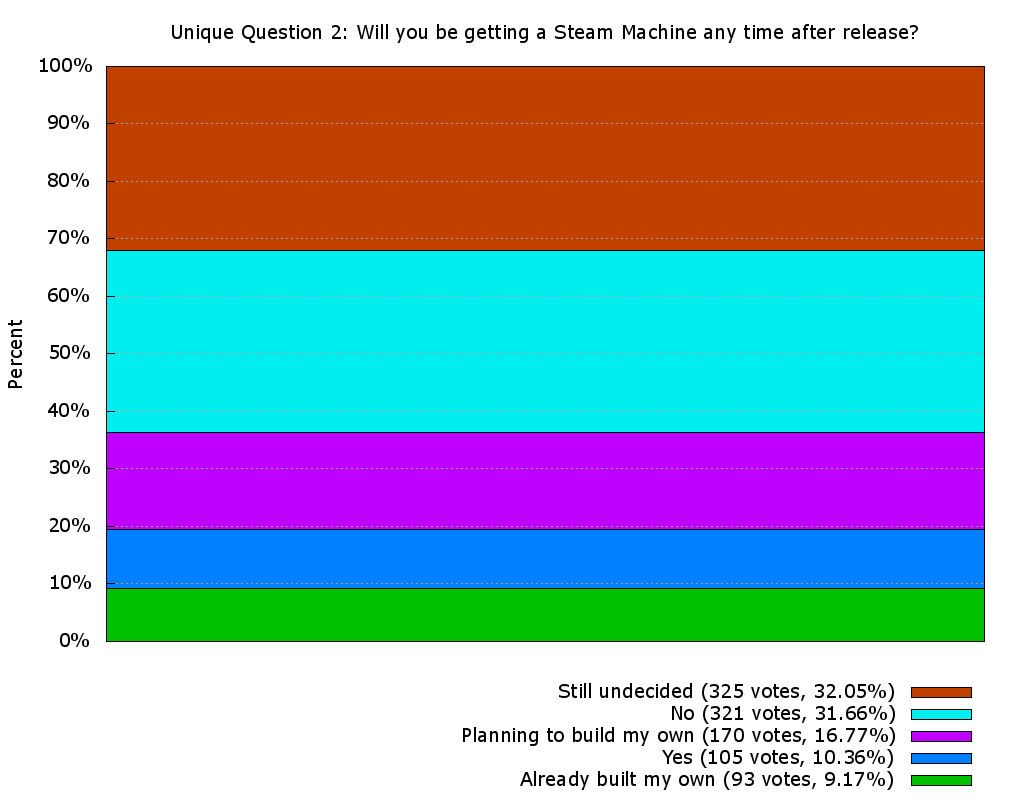 This is the second time I have asked this question and have included it again in the new survey to get some "before and after" GDC figures. The original results way back in September were:
Yes - 11.49% (77)
No - 29.25% (196)
Still undecided - 30.60% (205)
I already built my own (or planning to build my own) - 28.66% (192)
Based on this, it seems that people's views on Steam Machines hadn't changed significantly in these months and the minor 1-2% differences are certainly within the margin or error. We'll compare again next month to see if all those crazy GDC announcements shook things up at all.
Some you may have missed, popular articles from the last month: