Hello everyone, bit of a change up now as I will be taking on the surveys. We now have the results in for November's Linux gamer survey. Segata simply wanted to focus on other things, nothing to read into folks. So, first of all, big thanks to Segata Sanshiro for continuing it for so long and an amazing job he did on it. Also a big thanks to Feds for continuing to do the graphs for us and writing the app that does it.
The next survey will be available on December 1st, as usual will run for ~2 weeks. If anyone has any general improvement suggestions, by all means fire away.
Respondents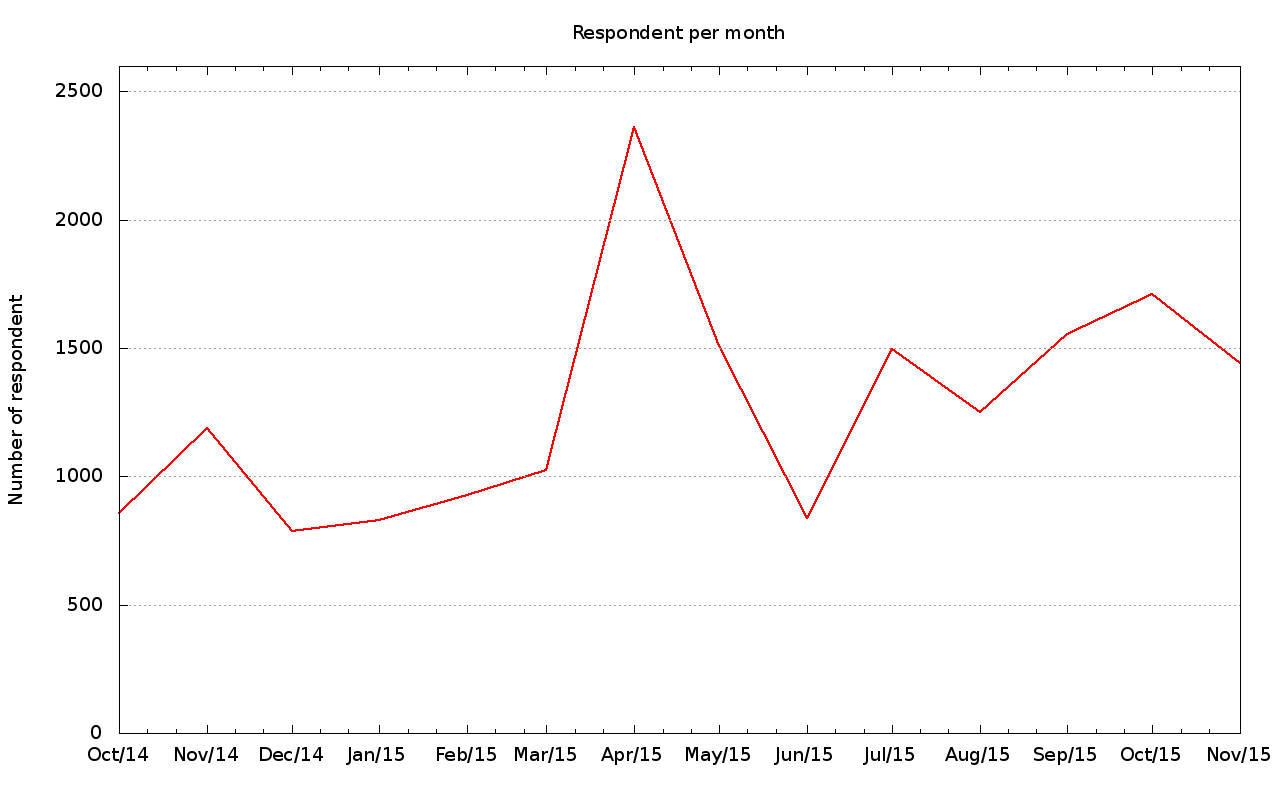 Bit of a drop this month, mainly as I haven't advertised it as much as usual, but still a decent amount compared with other months in general. If anyone has any thoughts on how to better advertise it on GOL and the wider community please let us know.
When the next one comes along, please share it to all the communities you know and help the reach of it.
Primary platform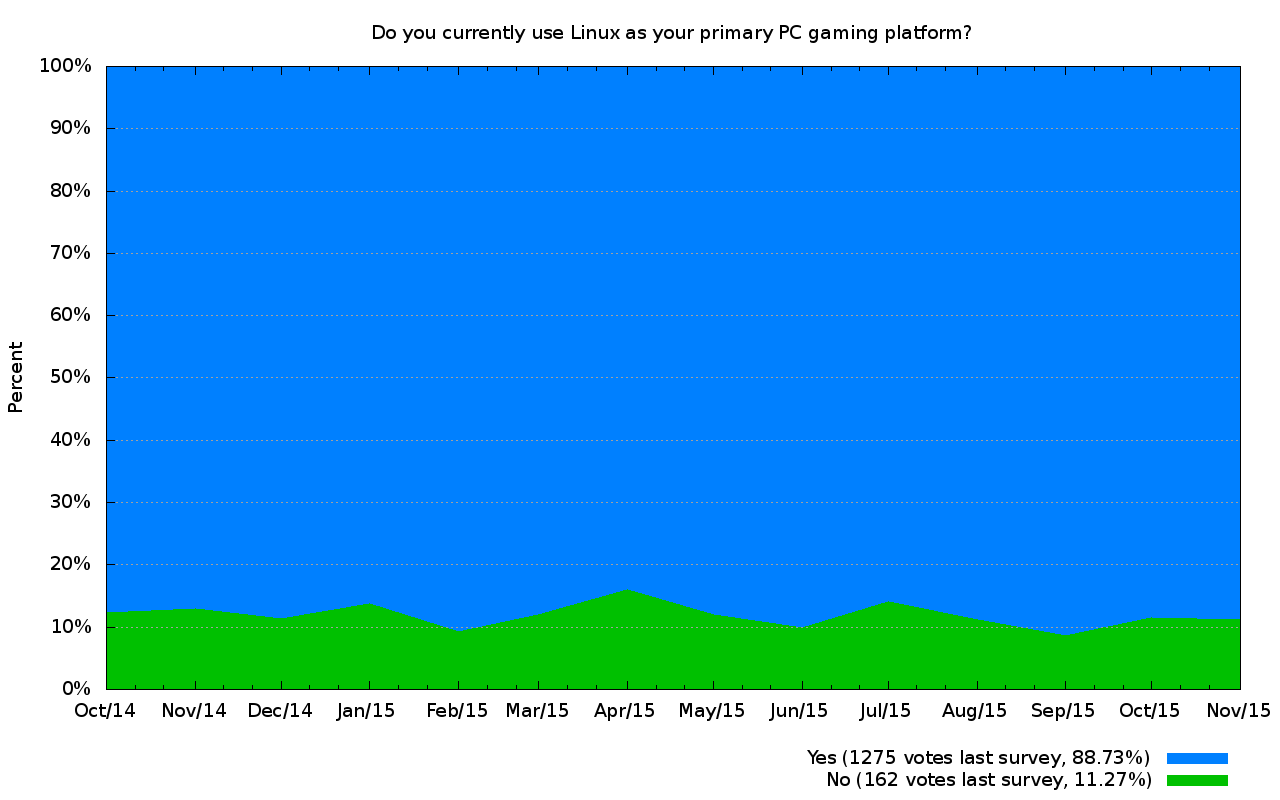 Practically no change here, which is interesting to see. I honestly doubt this graph will ever really change with our demographic.
Wine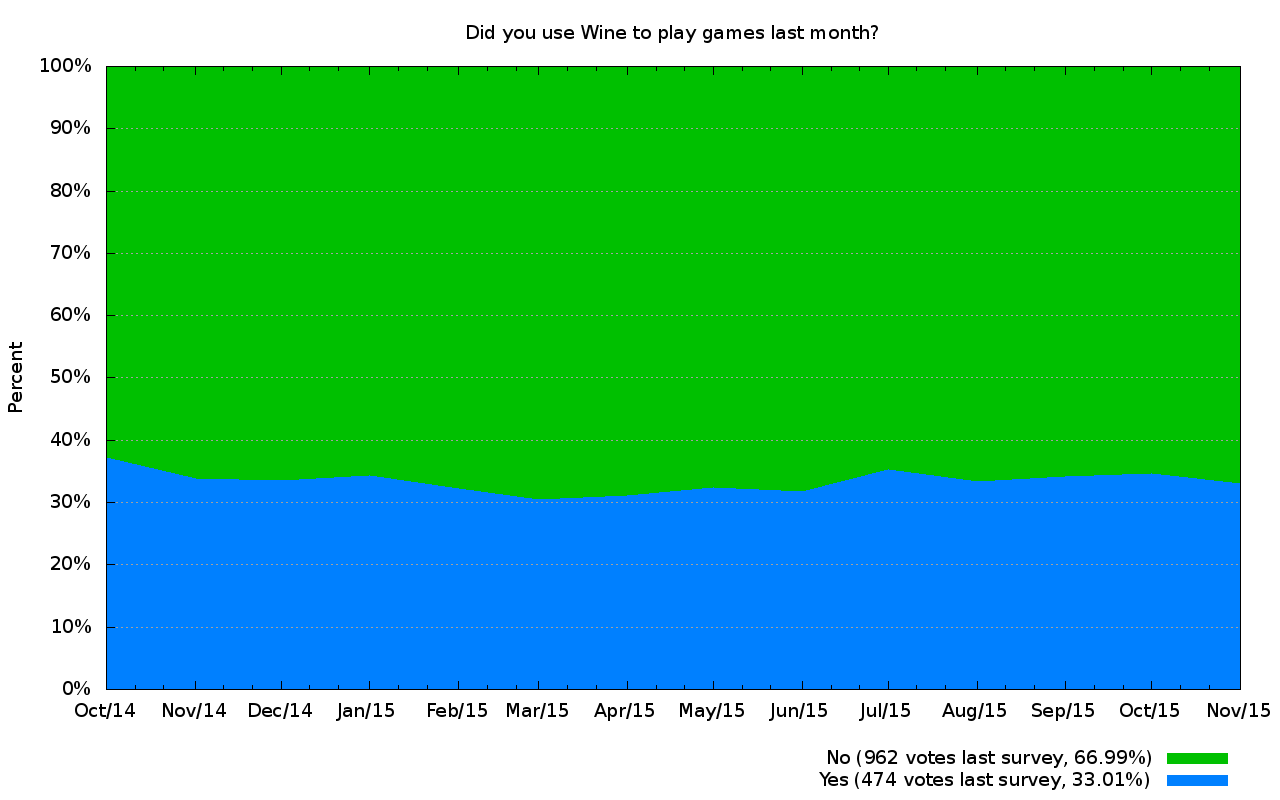 Again, not much change here at all. I imagine this will change in future if the amount of games we get slows down, but I don't see that happening any time soon.
Windows partition
Distribution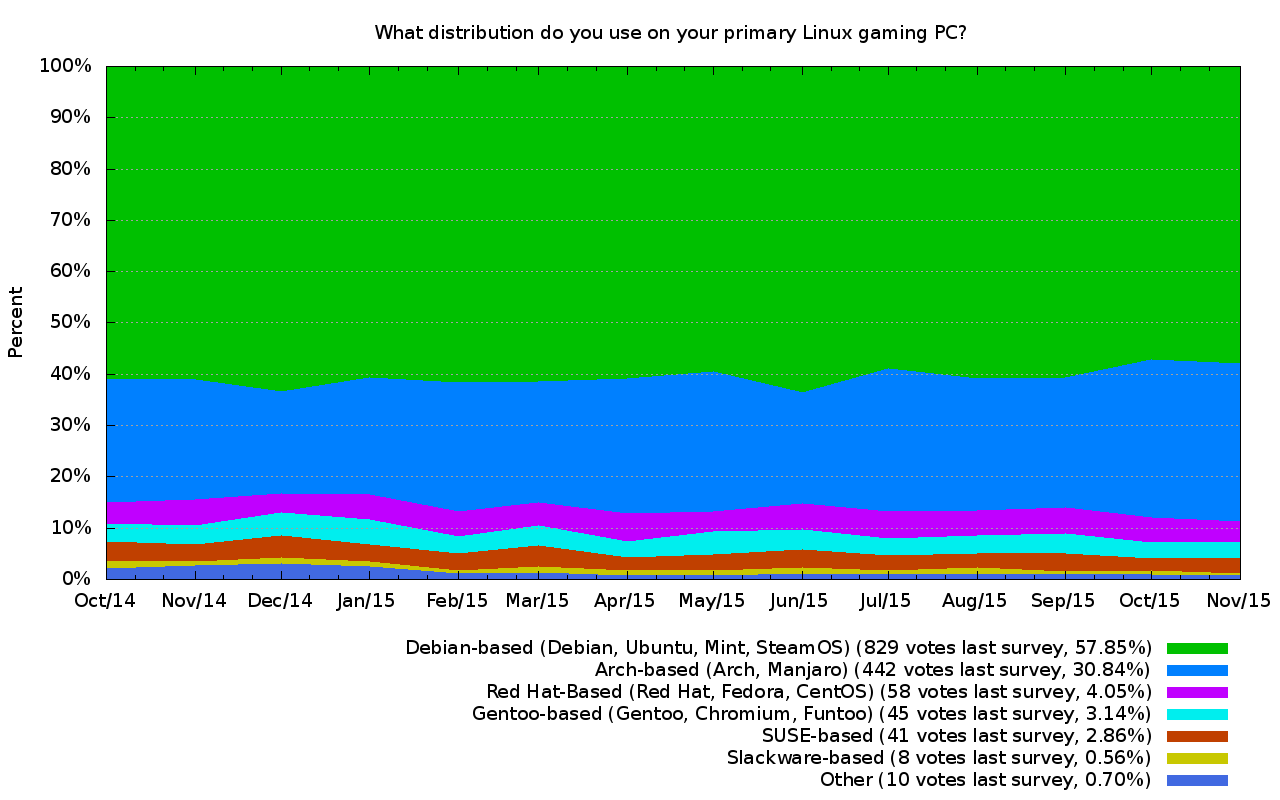 If you needed more proof that Debian/Ubuntu types are the most popular (apart from always being the case on Steam's survey), here you are. I am always surprised at just how popular Arch is too, I should probably install it one day and see what all the fuss is about.
Desktops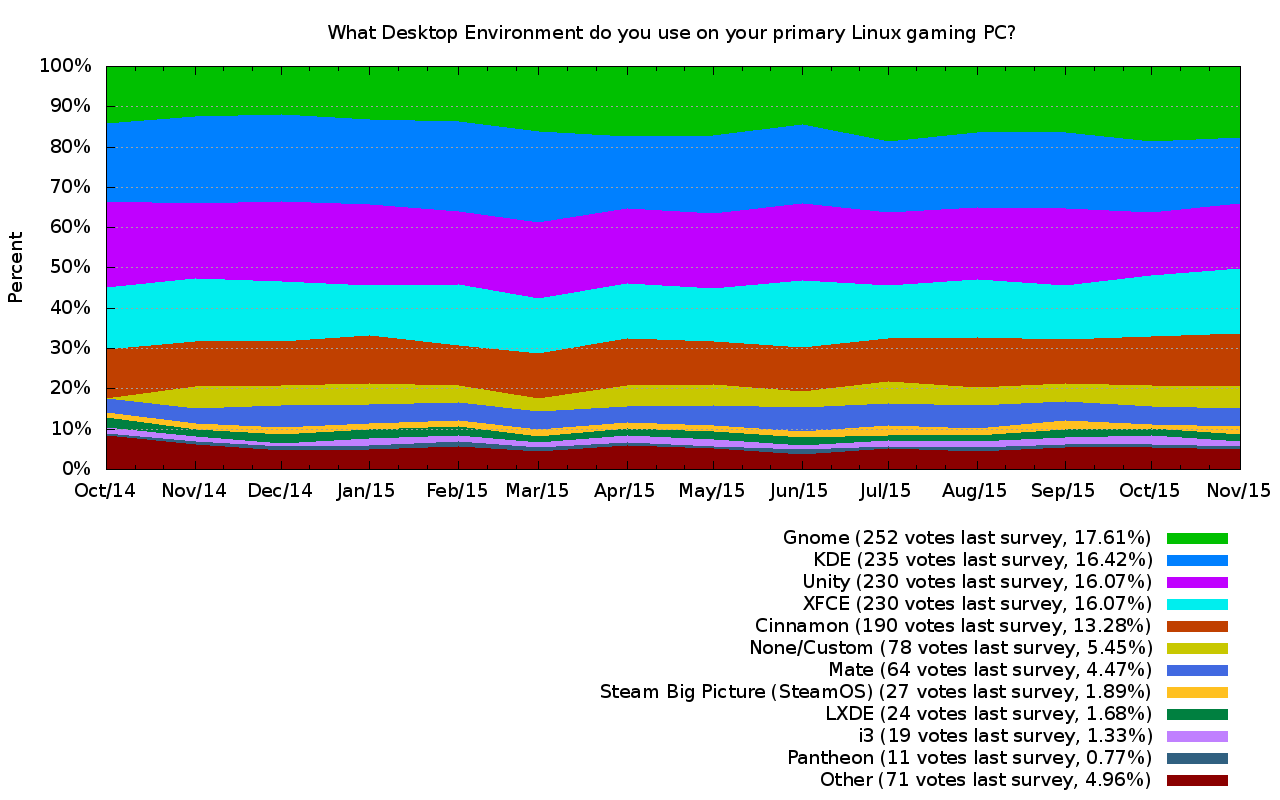 In the past few months I switched back to using Unity, as I found MATE had too many niggling issues. I still miss being able to have a "normal" set of tray icons, and I still personally dislike Ubuntu's choice of restricting theirs to indicators as plenty of apps
still
don't have an indicator. Luckily I have been able to find replacements for most apps now that do allow me to close them to the tray. So, I am finally 99% happy with Unity.
Distro movement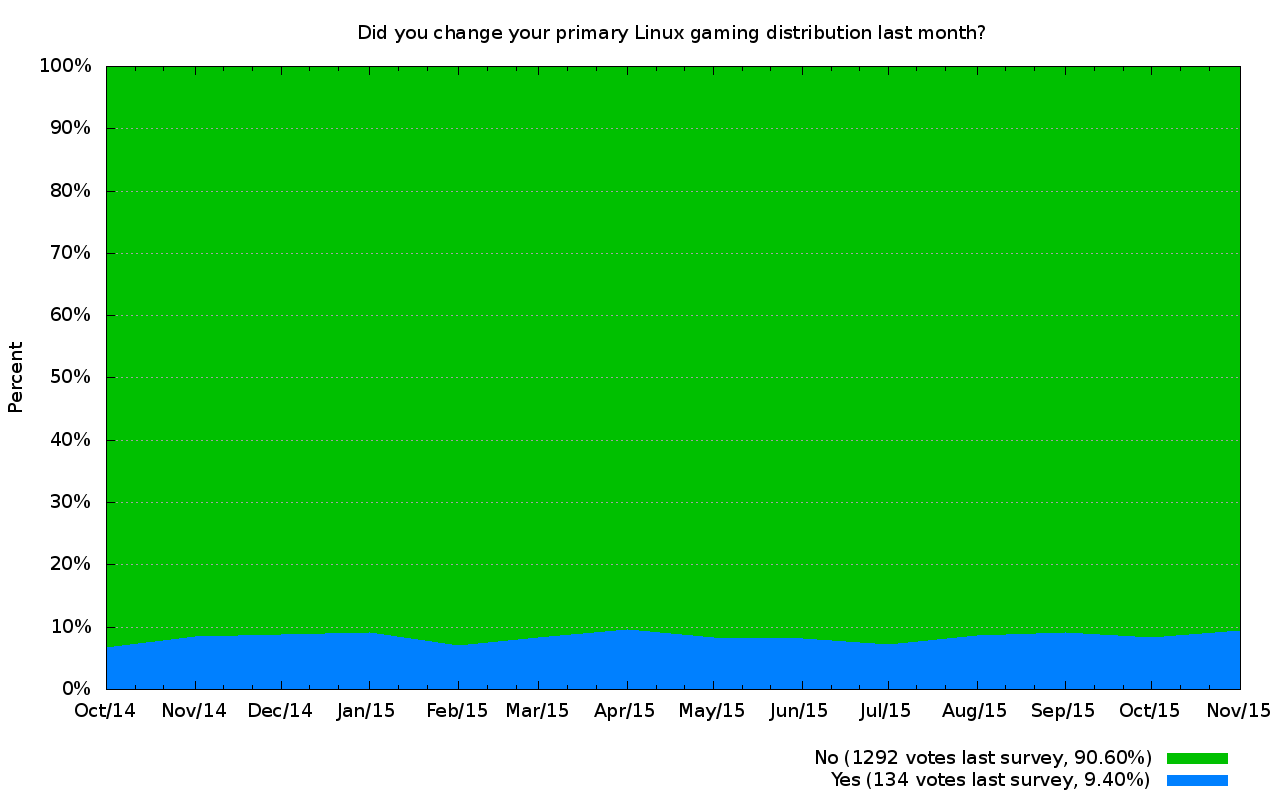 Seems most people are generally quite happy with their choice of distribution. Something really bad would have to happen to a major distribution to ever show a real change on this one. When Wayland and Mir become the defaults, I think we will see some change here, but who knows.
Graphics cards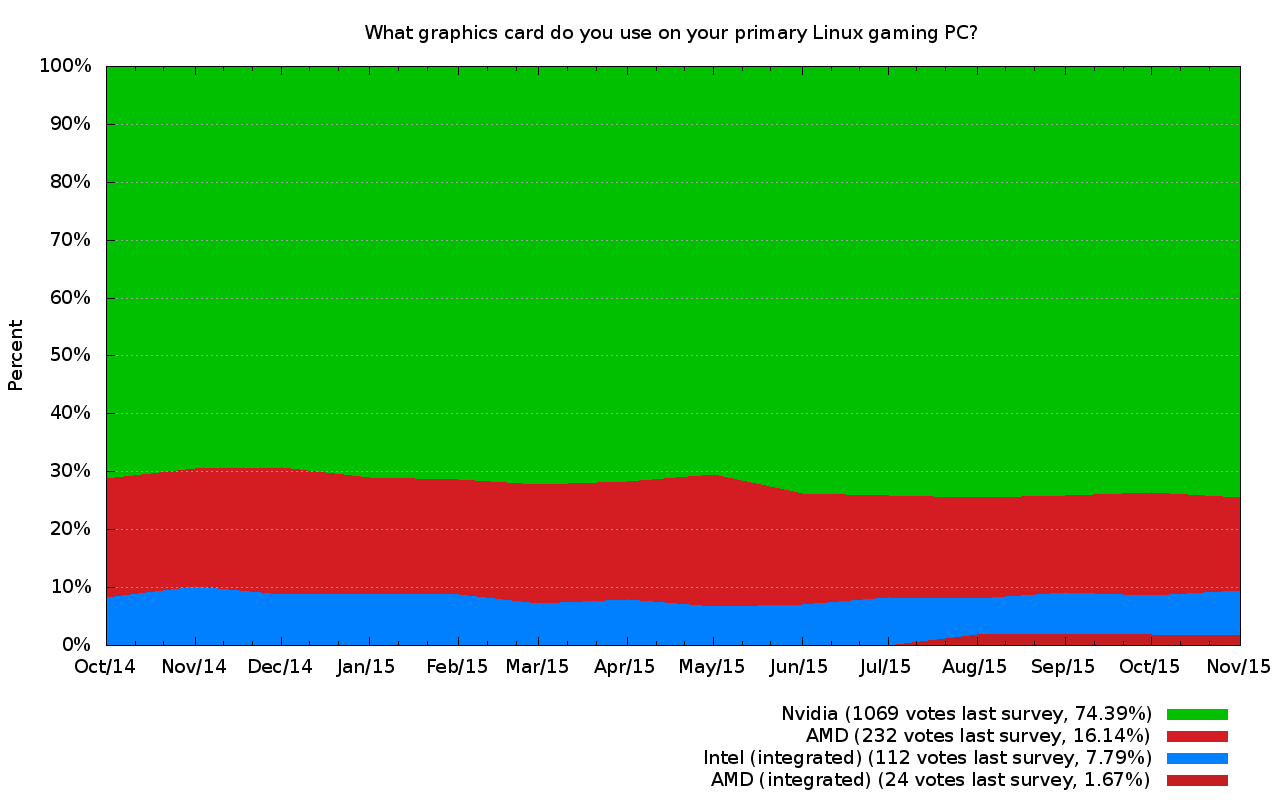 It will be interesting to see how this changes when AMD's newer open source driver becomes the normal thing. If it helps stability and performance, then we could see a change here.
Graphics drivers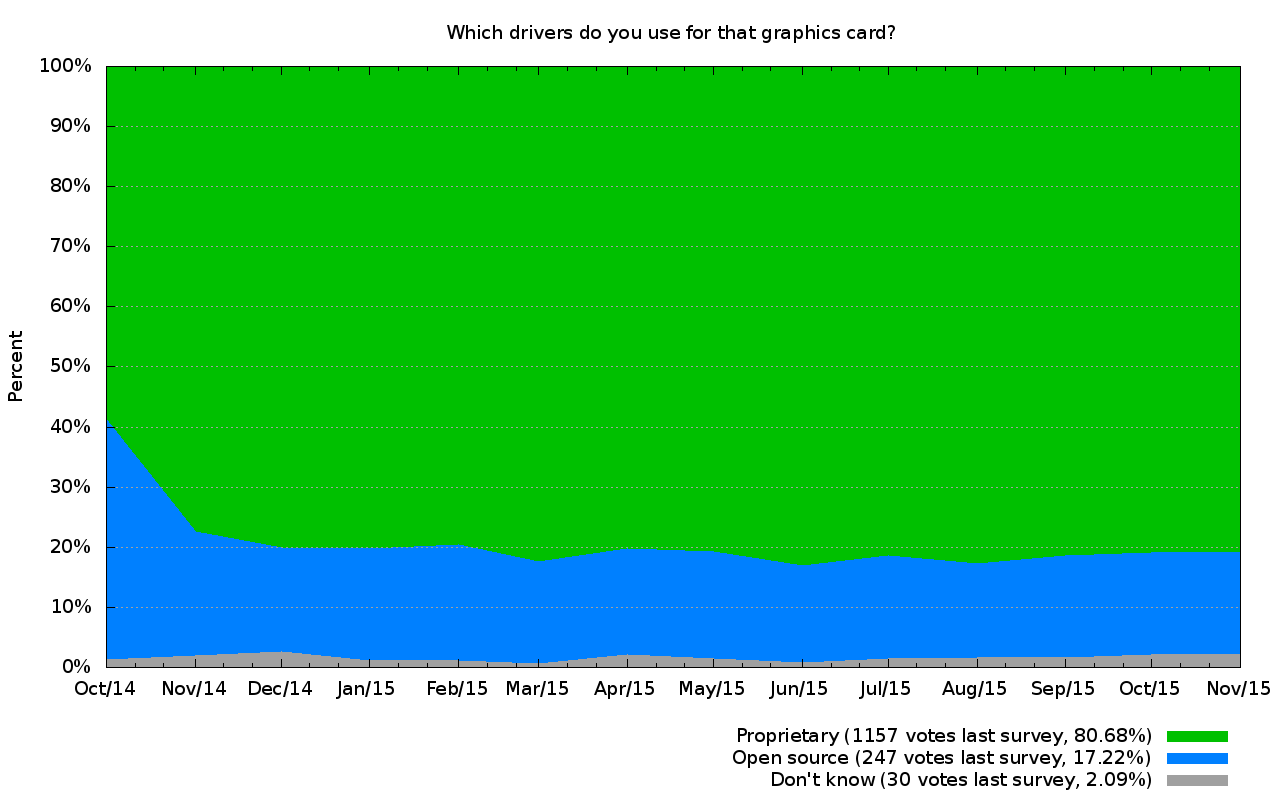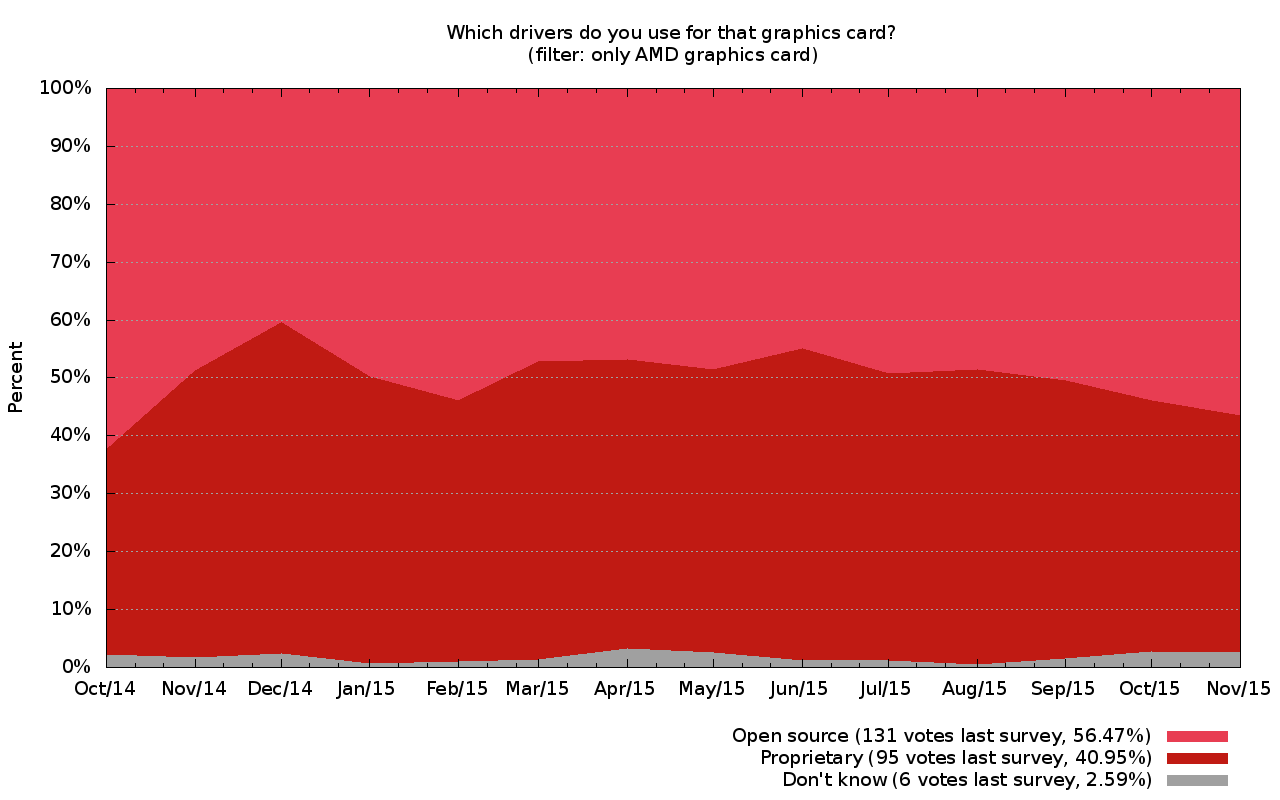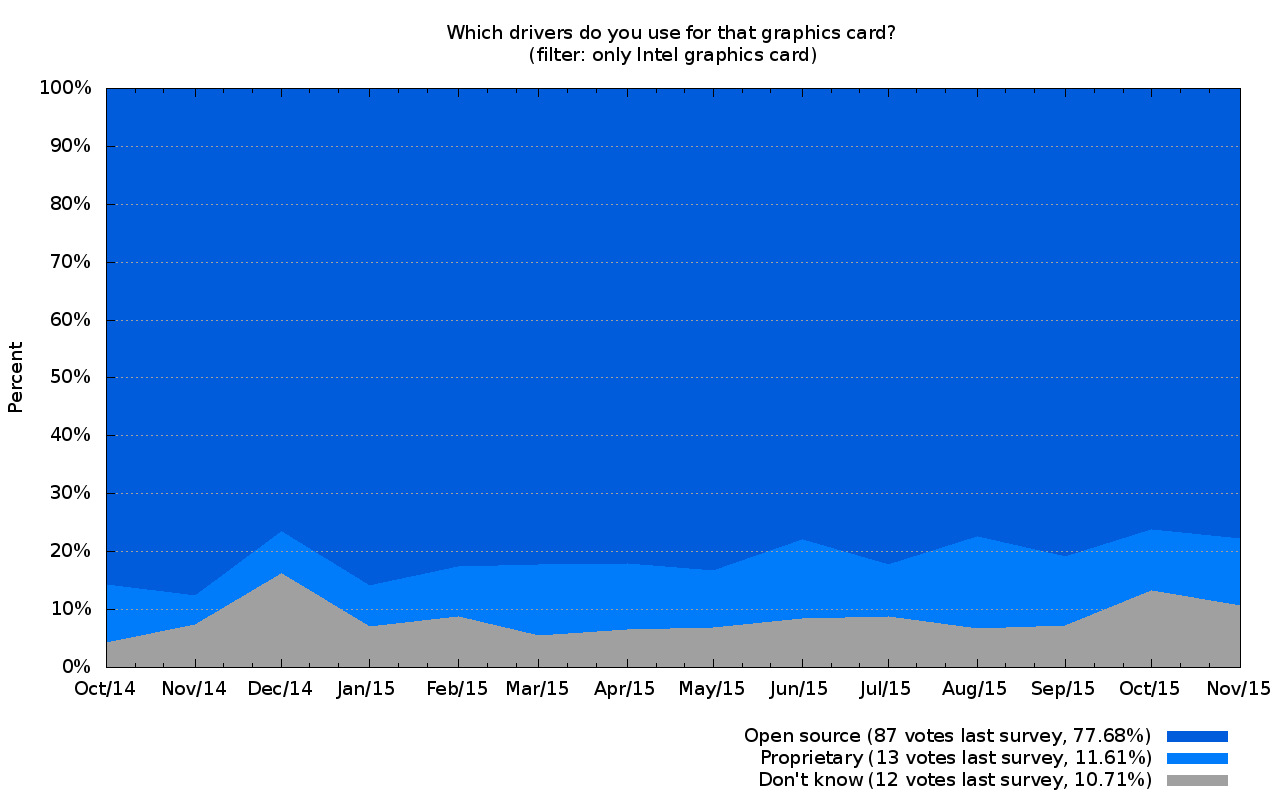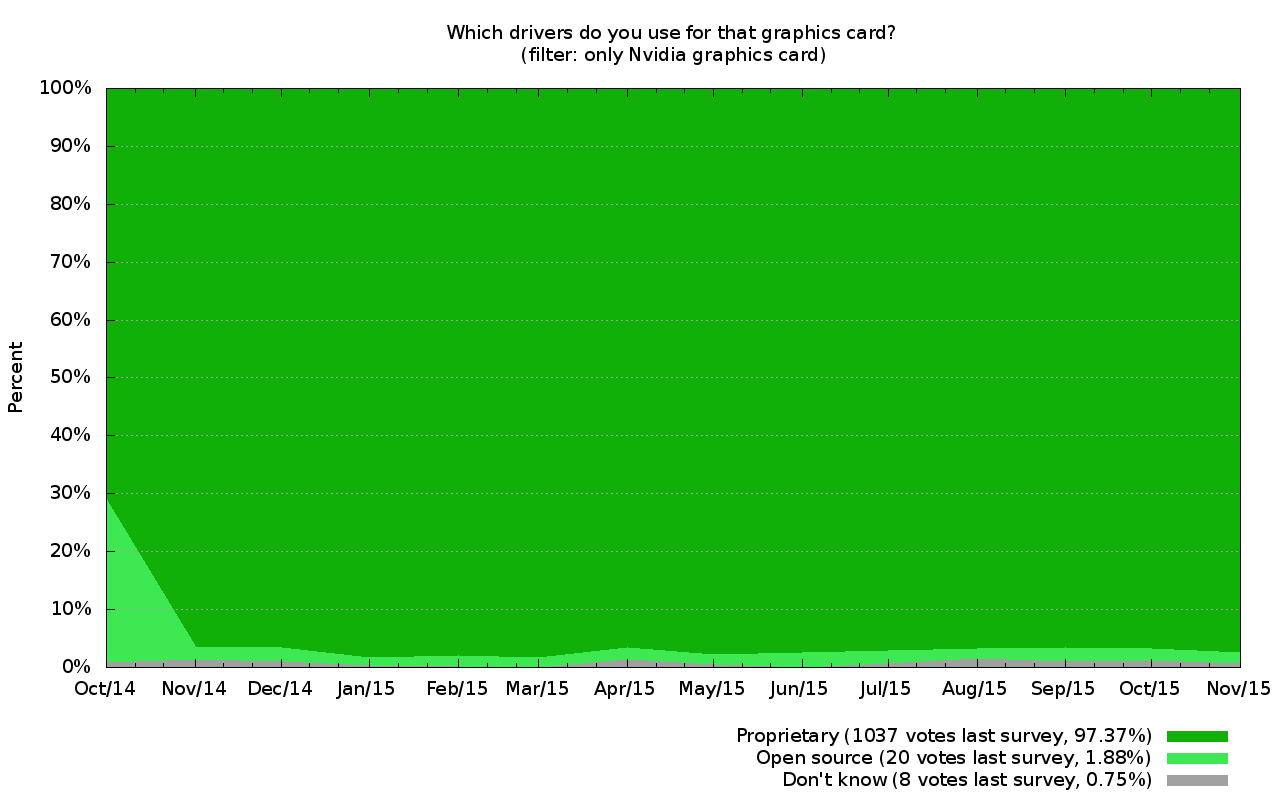 CPU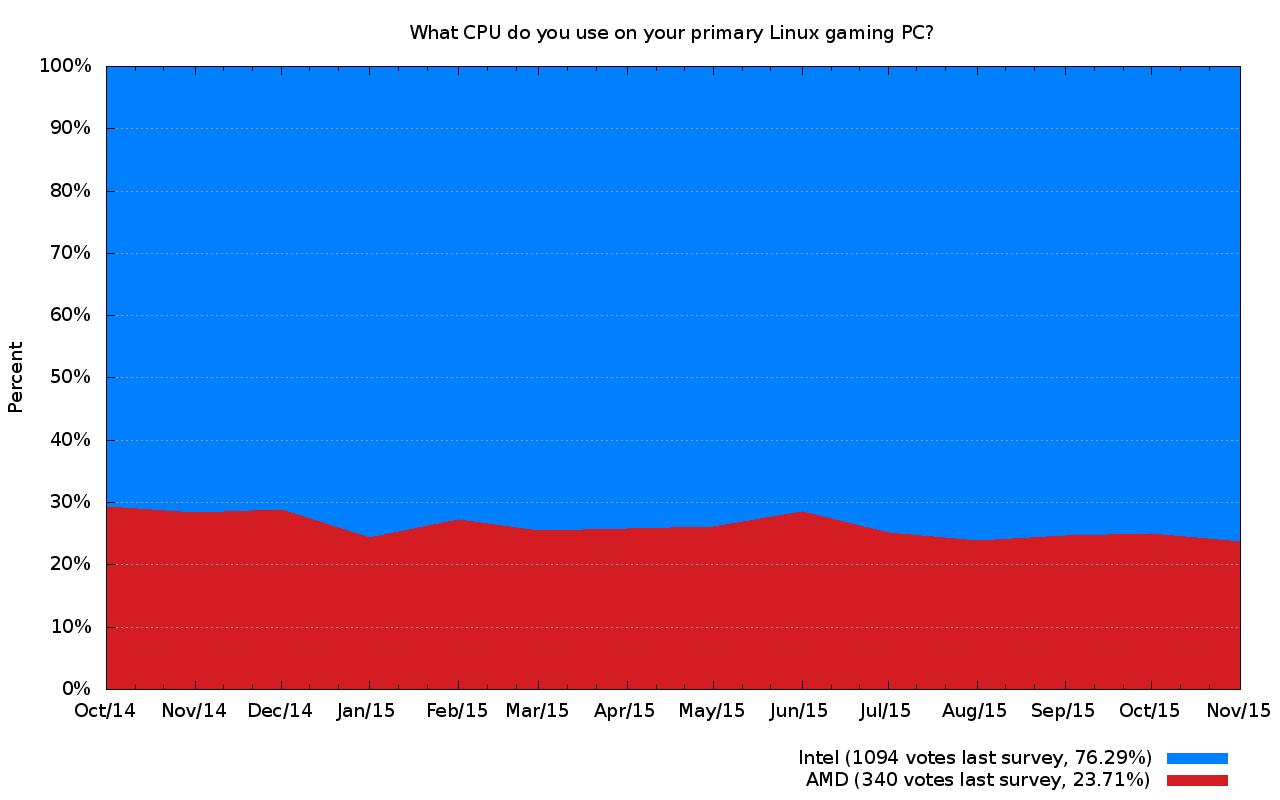 Hopefully AMD's newer CPU architecture will shake this up a bit, I remain cautiously excited about Zen. I really do hope it can bring AMD back into people's minds a little more. Intel really need more competition in the CPU market, so bring it on AMD.
Purchasing habits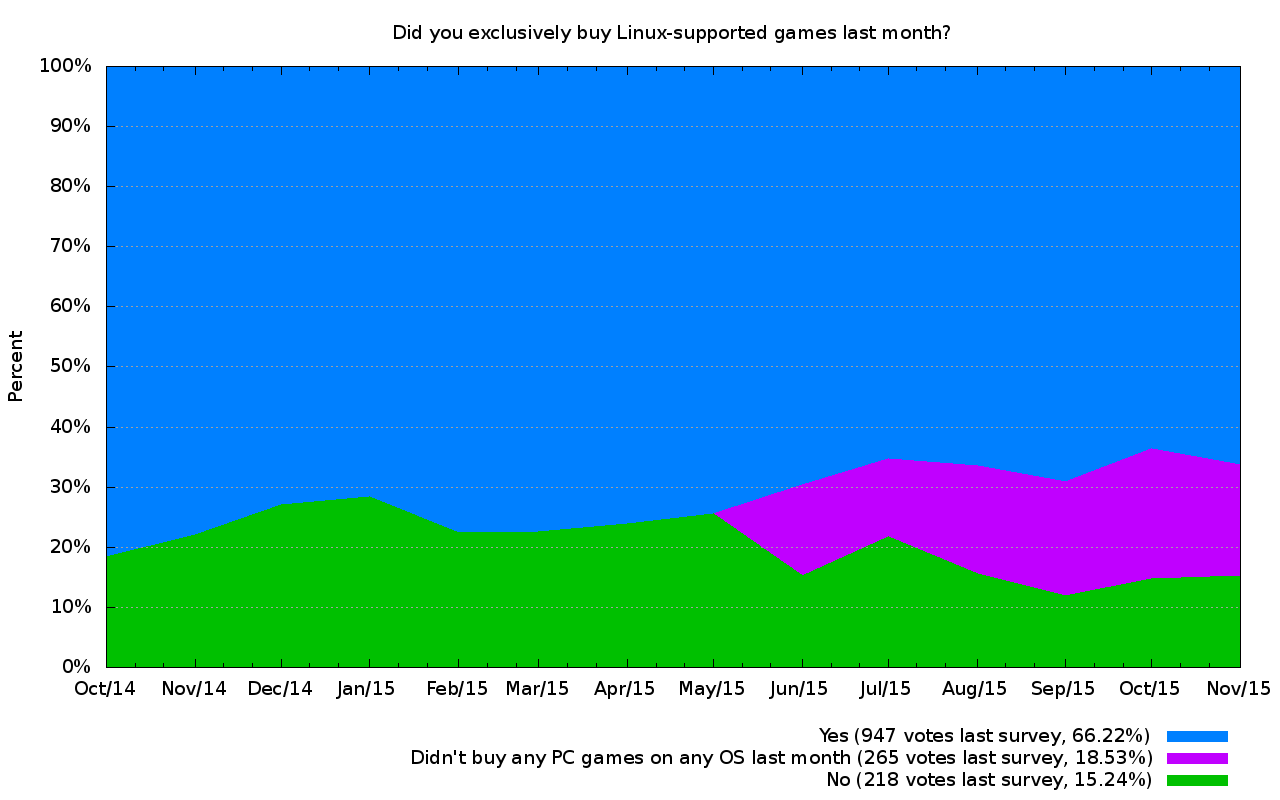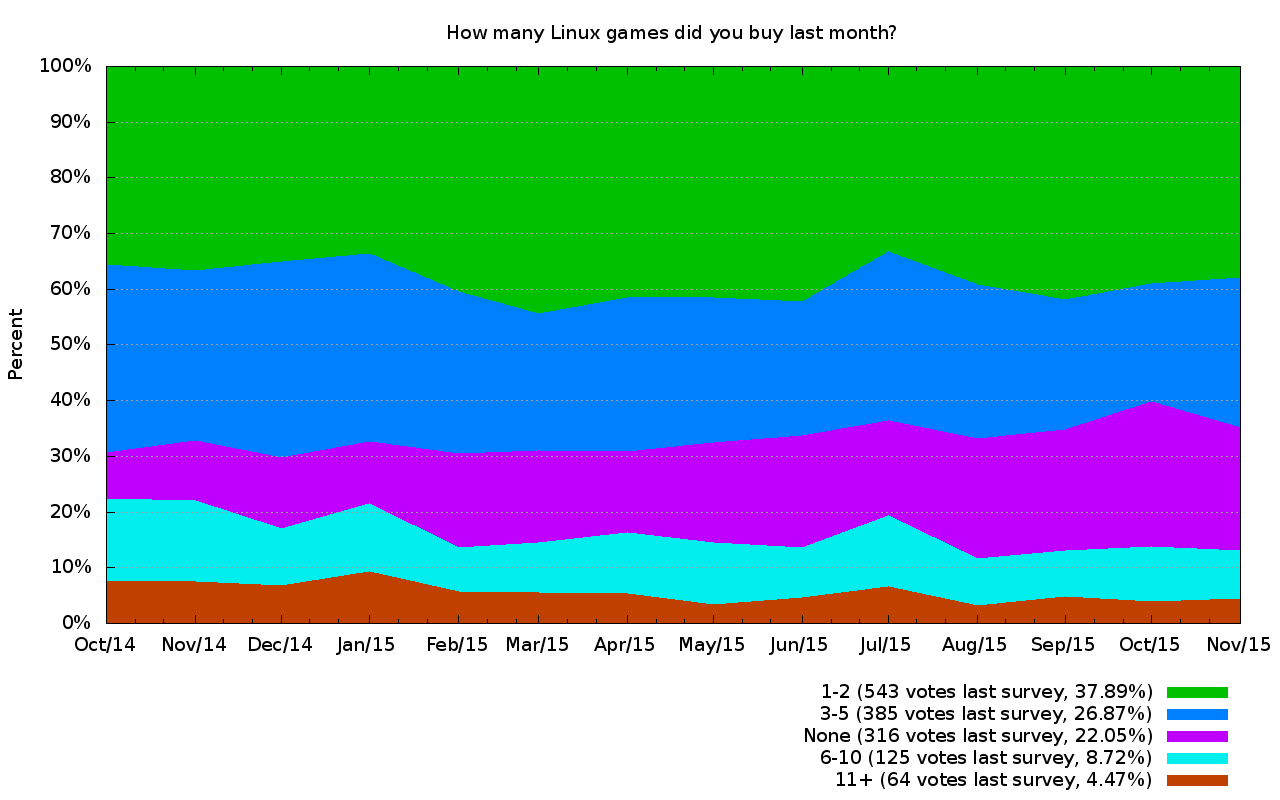 Ps. Remember we have a
Sales Page
, keep an eye on it for good deals.
Retailers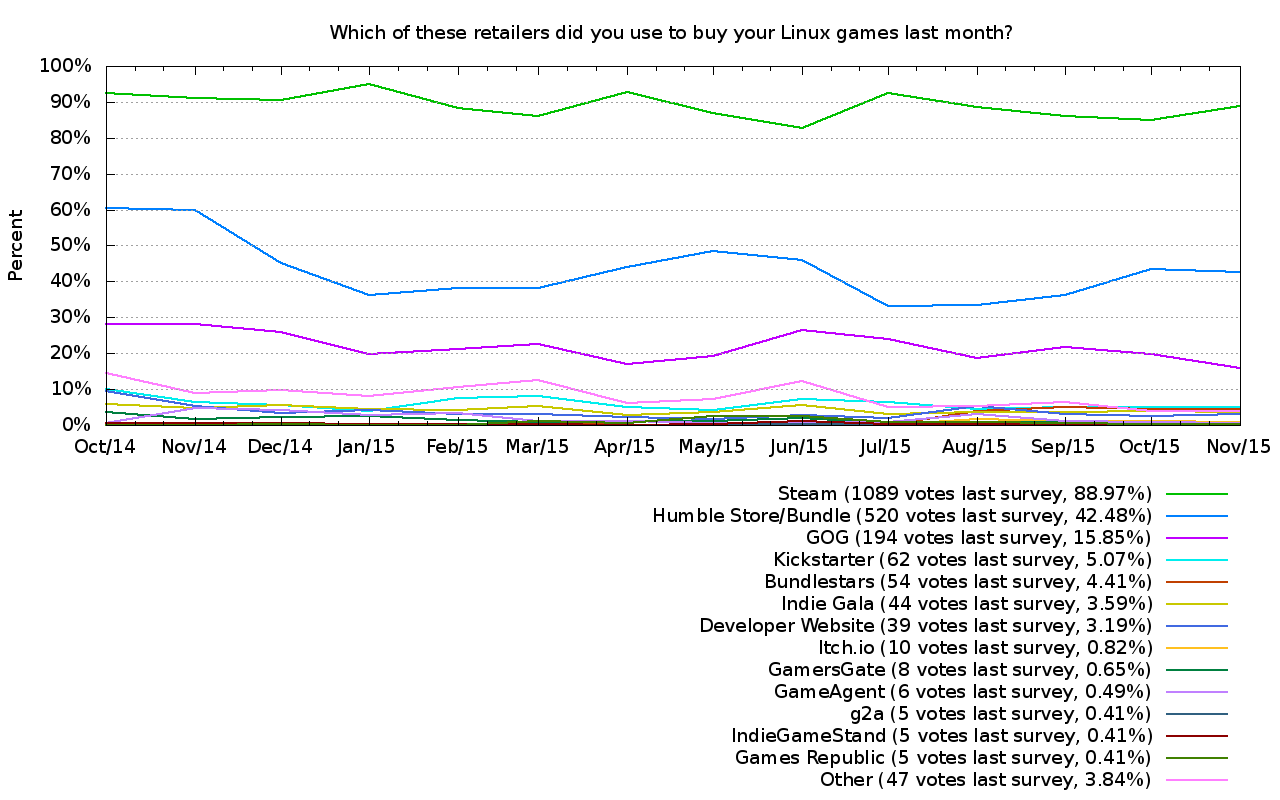 This month we removed Desura as a supported store on our survey, as it's pretty pointless having it. They went bankrupt, but even with the store still there it no longer loads properly for me and has been left to rot for months.
Gaming devices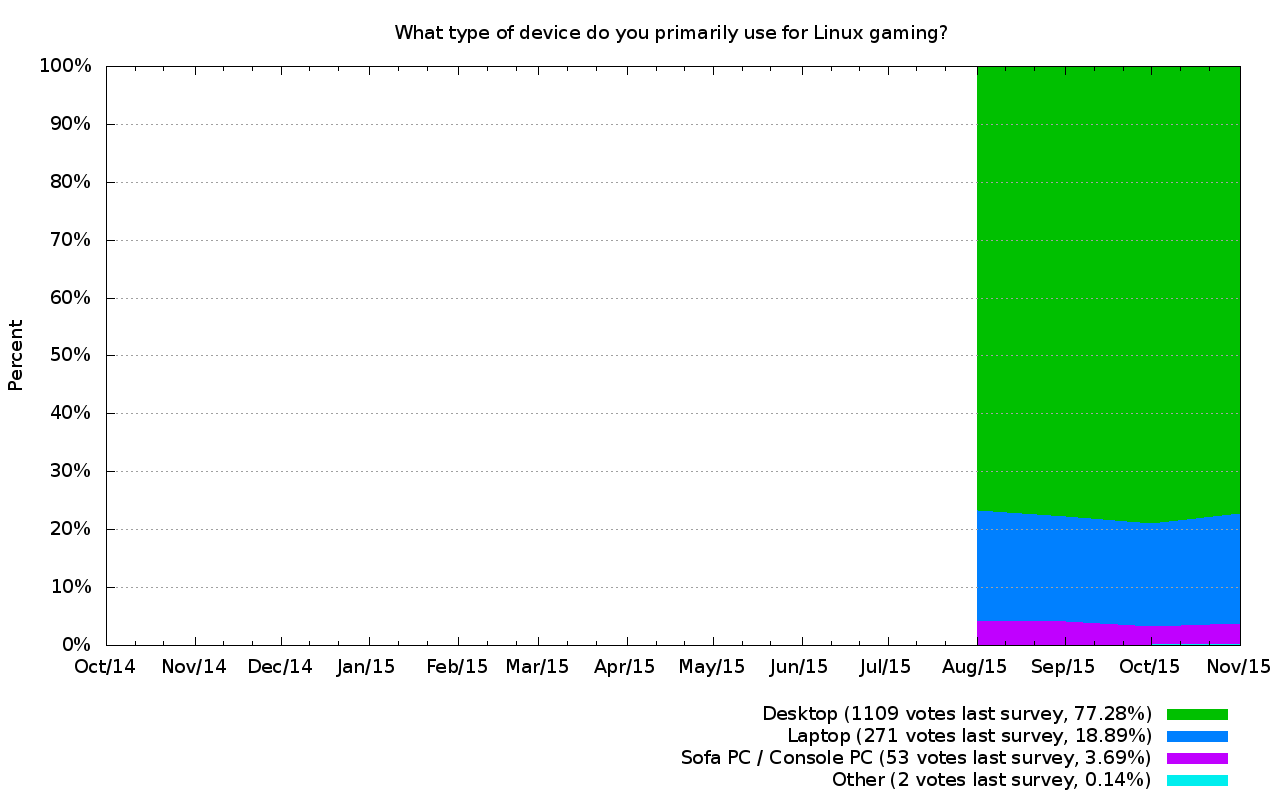 One of our newer questions, and quite a fun one to see the results for. I look forward to see it evolve and change if Steam Machines become a more normal thing, but I don't see that changing at all for quite a few months.
Unique question 1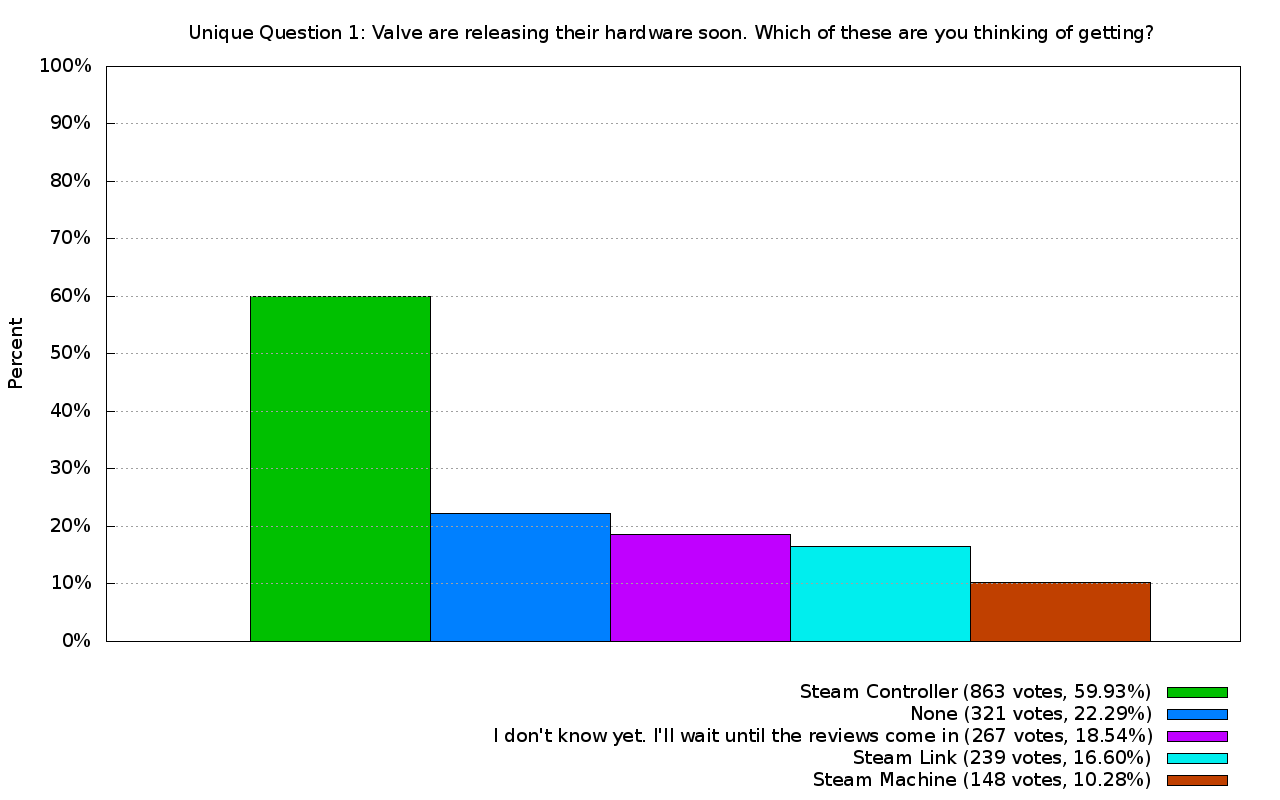 10% considering buying a Steam Machine seems pretty healthy to me, and a lot of you (me included) wanted a Steam Controller. Next month we will be asking if people have picked up any, so it will be interesting to see the change from thinking to buying.
Unique question 2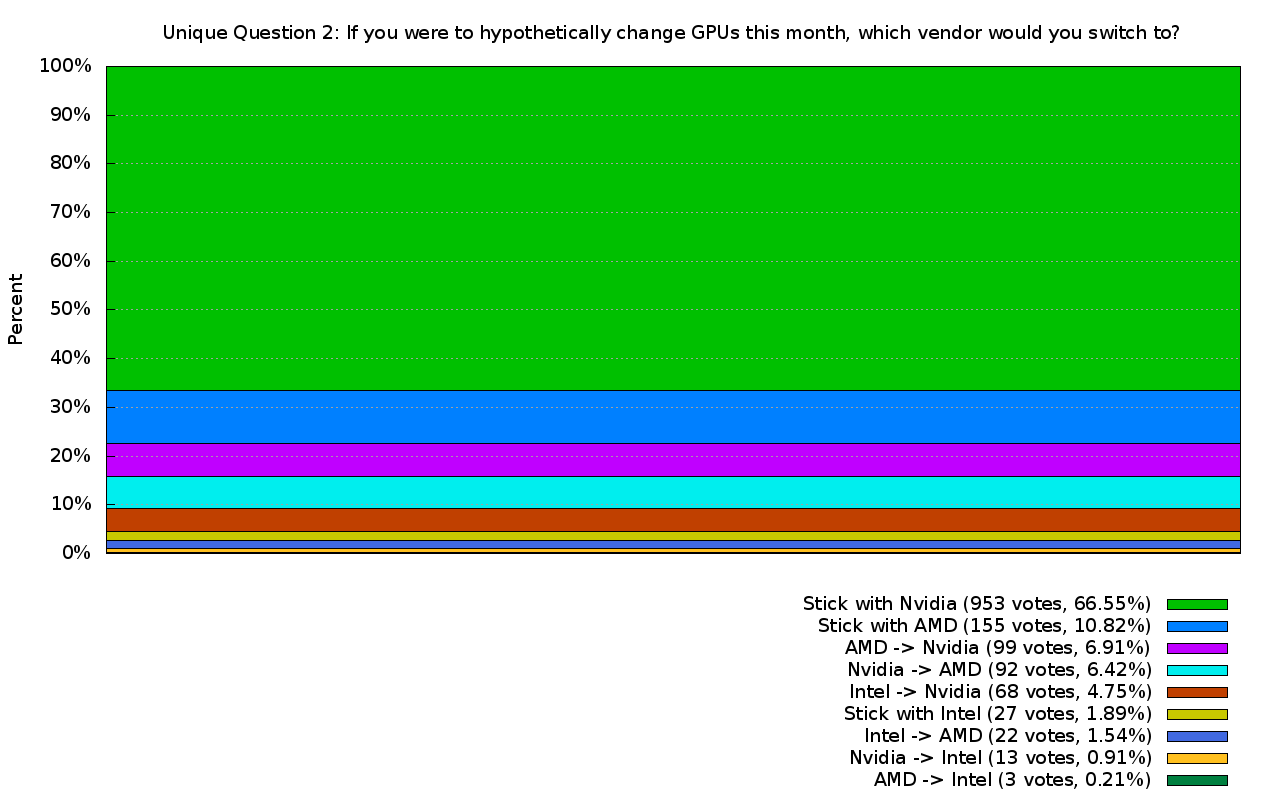 Pretty much a zero point change here, not really surprising right now.
If you have any burning questions you want included for our unique questions at the start of December, be sure to fire away in the comments.
Remember, let's have no distro or desktop wars please. Keep it civil, as it's all personal preference, no ones choice is better than another's.
Some you may have missed, popular articles from the last month: