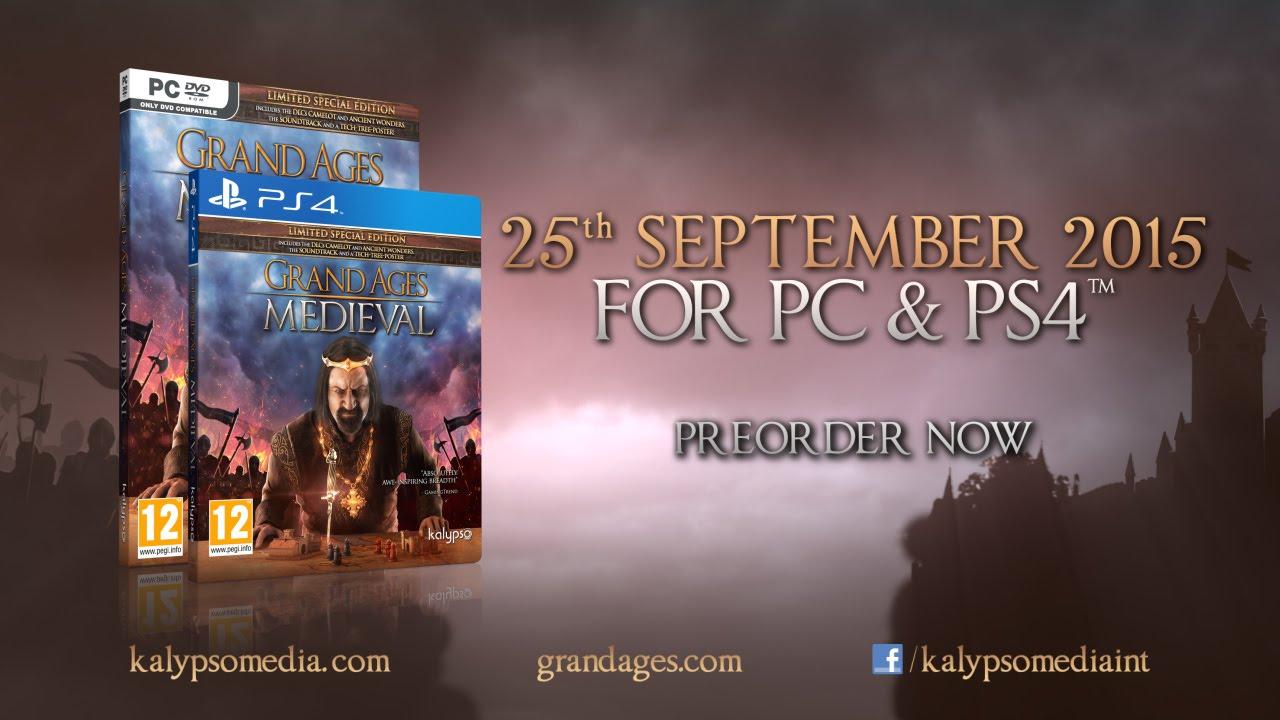 Grand Ages: Medieval is a blend of many different strategy games, but is it any good?
Disclosure: Key provided by Kalypso Media.
About the game
(Official)
Grand Ages: Medieval is a real-time strategy game from Gaming Minds. Lead your people and advance through the decades by utilising construction, research, expansion and conquest in an area extending from Scandinavia and North Africa; to Portugal, the Caucasus and the Middle East. Rise from the humble role of a simple mayor governing a small settlement and rule over all of Europe. Experience an exciting campaign with elaborately designed cut-scenes, play by your own rules in free play or test your skills in multiplayer against up to 8 players!
My thoughts
This might very well be a strategy game that I can get into, it seems to share features from games like Civilization and other more in-depth strategy games, but it hasn't overwhelmed me like Crusader Kings did. It does have a certain learning curve to it, so be prepare to spend some time doing the campaign before you go messing about in the open-world game.
Performance wise, I don't have any issues with it running it on High and everything has so far worked as expected.
I simply love being able to zoom right in and see what my villagers are doing, and the graphics aren't too bad either. Seeing them gathering crops and going about their business is quite a nice touch. I hope they expand on that aspect of it some more, as it is a little limited, but still great to see.
One thing that is annoying is the trade interface in towns, it can be more than a little twitchy and inaccurate. It's a pain to select an exact amount of a certain commodity to go off and sell. That is one area that really needs a bit of love, an area to enter the exact amount you want would be much nicer than the slider. Apart from that, the trading system was surprisingly easy to use, and setting up an automatic route is an absolute cinch, so it's pretty easy to get some good trade going to secure some finances.
You can earn more money by manually trading, this involves buying something like wood where plenty is produced, and simply selling it in a town that is in need, it's a bit of micromanagement, but not too annoying.
Combat is weird, as it's all automatic, but you can zoom in to see them going at it. It's a bit odd because I expected to have more control over my combat units, so I'm not entirely sure if I like that aspect of the game just yet.
Another minor annoyance, Alt+Tab doesn't work for me on Unity, as TAB is used by the game. I need to bring up the Steam Overlay to be able to do it. Minor, but still annoying.
The graphics options are also
very
limited. You only get one option to change, so I hope they work on that too.
Note: I've played well over an hour, but the game is rather big and I'm barely scratching the surface. I will probably give it another shout out once I've put more time into the various systems it offers.
Final thoughts:
It's an interesting entry, and one I will continue to play for a while to get a real feel for it, but I am quite liking what I've played of it so far. It runs great too, and I imagine a fair few of you strategy buffs will like it, especially if I am and I'm not usually into this type of strategy game!
Check out
Grand Ages: Medieval on Steam
.
We certainly aren't short on grand strategy games now.
Some you may have missed, popular articles from the last month: