If you're an old follower of The Funding Crowd and you have a pretty good memory you may remember Project Maiden by Super∴Try Studios, a successfully Kickstarted puzzle platformer that we covered back in the day. After two years of development the game was finally released last June, and you can go download it -for free- anytime you want on itch.io.

Now, I did back Project Maiden's campaign, I did download it when it became available, I have enjoyed it while playing it through a couple of times, and I intended to collect my thoughts on it and put them in article form, but I never got around to do it. Although I expect to straighten out this lack soon, in the meantime let me introduce you to Haque.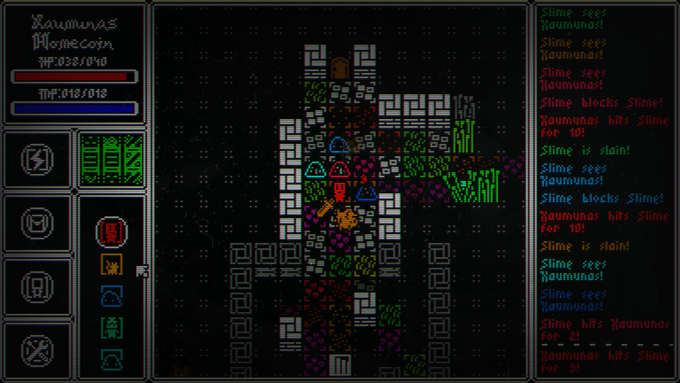 Haque (pronounced /hak/ like... you know... hack) is the second game and the second crowdfunding incursion by Super∴Try. As if with a desire for a radical change, Kevin Cole -the main figure behind the studio- has gone for a totally different genre and a quite interesting art style this time around: from a 2D pixelated action puzzle platformer, to an even more retro-looking roguelike RPG. Indeed, if you think NES-era graphics are the ultimate nostalgia-inducing visual stimuli, get ready to be overwhelmed by big, chunky, slightly chroma-aberrated pixels and a certain CRT screen feel.

Its roots and influences must be sought in the early days of computer gaming -the screenshots have an undeniable ASCII-era roguelike air about themselves-, but also in tabletop RPGs. Or rather, the physical experience of playing a pen & paper RPG: shuffling through character sheets, stats tables, bestiaries... In fact, this was exactly the goal behind the user interface design.

But after all, this will be a game made in the present day with present day technology so, stylistic choices apart, you can expect cool animations and modern game mechanics from it as well. Not to mention the plot, which on the surface can seem quite standard and bland but I'm sure Kevin's got a couple of surprises up his sleeve. Or at least that's what I'm anticipating after seeing the list of topics and themes include J.R.R. Tolkien, a morally ambiguous adversary, a haunted old computer, or a giant eagle werewolf, to cite a few.

Like he did in Project Maiden Joe Kenneally will be in charge of the game's soundtrack, so you can rest assured the music in Haque will be fitting and beautiful. You can get a brief taste of his work in the campaign's pitch video, or by listening to Project Maiden's OST.

The asked amount is a mere $6,400. That's roughly half of what Project Maiden managed to raise two years ago, so now the author has a successful Kickstarter and a delivered game under his belt, the success of Haque would seem almost a given. But strange as it may be, the current trend doesn't point towards a happy ending. Yours is the chance to turn the tide and bring this project to fruition. $15 will grant you a DRM-free Linux copy of the game (plus your name in the credits), or add $10 more to it to also get the soundtrack. Physical rewards start at $40, along with the option to contribute to the game content, be it by including your name of choice to the in-game random name generator, or by helping design a weapon, monster or item in the game.

The Kickstarter campaign will be running until the 31st of October, but I certainly hope we don't have to wait till then for Haque to claim victory!

Links:
Kickstarter campaign
Project Maiden on itch.io
Project Maiden OST on Bandcamp
Super∴Try Studios
Author's Twitter
Some you may have missed, popular articles from the last month: