Slayaway Camp might not be a new game but it's something I only jumped into recently and it's a really great puzzle game. In it you control Skullface, a psychotic slasher bent on slaughtering people at camp.
Not the nicest of settings for a puzzle game, it's a little (okay a lot) violent with decapitating, squashing, axe-to-the-face and all sorts of bloody murder going on. You can tweak the amount of gore and such but it's honestly pretty amusing with the blocky graphical style. The developer says it's actually a "diabolical logic game that also happens to be a bloody tribute to eighties trash horror" and it fits that quite nicely.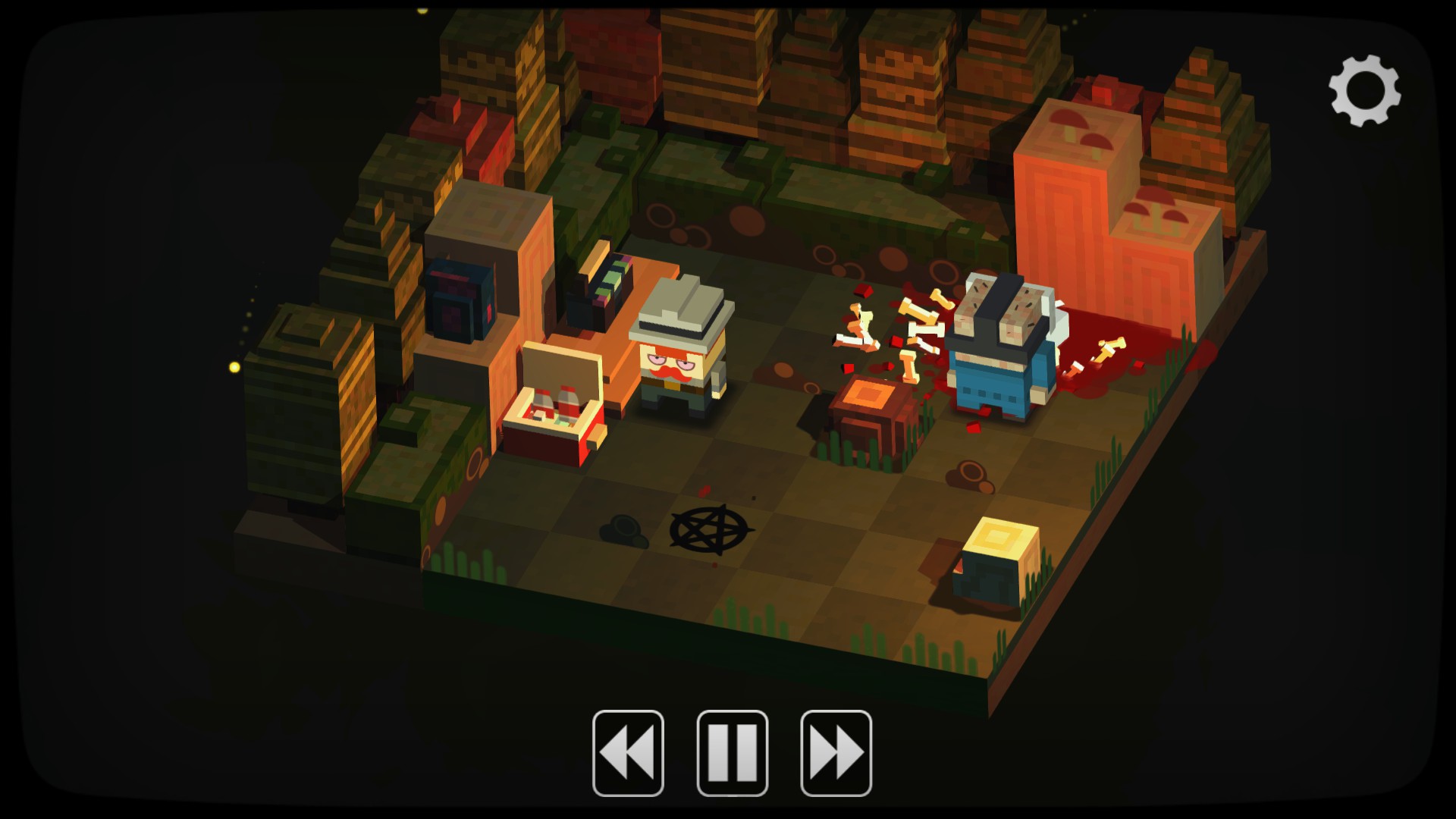 Slayaway Camp is all about positioning, you pick a direction and your chosen psycho slides all the way until they hit someone or something. A tile-based movement idea that's been done time and time again but with the design work and how much content went into it—it's a true cut above the rest.
It's this super easy control scheme that makes it so utterly gripping, you load it up and just keep on tapping around until an hour passes and your coffee has gone cold. I've genuinely laughed-out-loud quite a number of times while playing, sometimes because the stupidness of it startled me. Like the first time someone ran away into a fire, gosh that was hilarious. Slayaway Camp makes a puzzle game not feel like a puzzle game, you pretty much forget half the time you're actually working your way through it and using your brain to plan your steps because it's just so fluid and fun.
When you get further into it, the challenge does increase. It's not always so easy, I'll be clear on that. There's times where you have a limited amount of turns too, tiles you can't land on or you you're captured and so on. Quite a bit of customization and progression there too, with you gaining special coins to unlock Gore Packs for more death scenes and different killers like my favourite the Gelatinous Cube.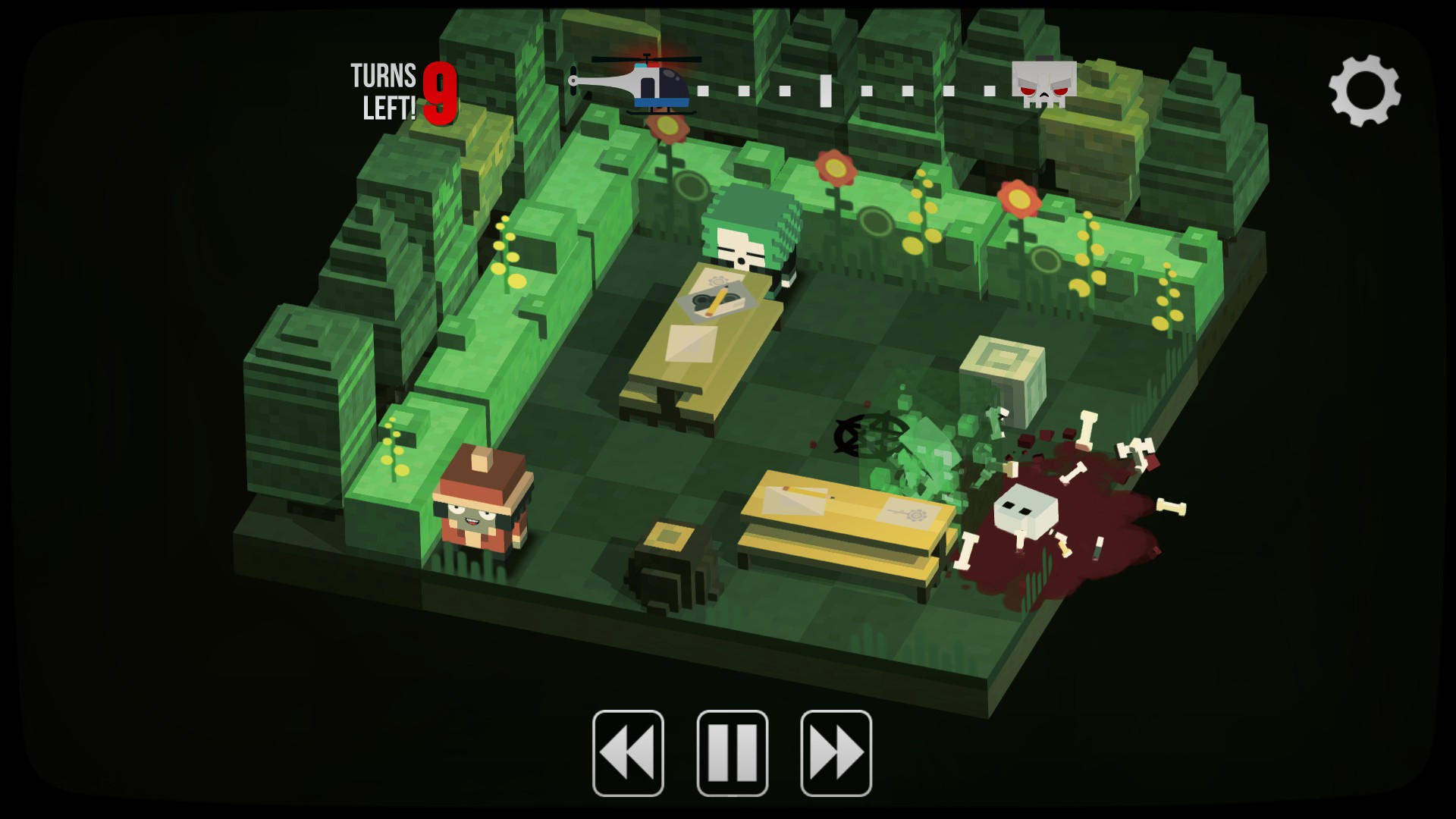 Many of the characters you can get are, like parts of the game itself, a homage to classic movie-killers like Gremling, Jill Frost and Nailface.
Feature Highlight:
10 gut-wrenching "videotapes," plus deleted scenes, for over 200 puzzle levels
Traps! Cops! SWAT teams! Land mines! Rotary telephones! Cats!
Unlock the NC-17 mode on all movies for even more puzzle insanity (+ censored shower scenes)
Starring Mark Meer (Cdr. Shepard from Mass Effect) as "Skullface" and Derek Mears (Jason from Friday the 13th) as "Jessica"
Unlock multiple psycho killers, including ones based on cult horror movies such as "American Mary"
Discover dozens of spectacular "Gorepack" kill scenes featuring wood-chippers, lawnmowers, Sumerian demon incantations, and more!
Genuine hair-metal soundtrack by legendary Canadian group GNÜ TRUNTION
Dark, brutally hilarious and really does give your brain a workout without you even realising. An excellent game to keep jumping back into to solve some more puzzles. Quite likely the most brutal puzzle game around and it works great on Linux.
Want to get slashing and puzzle solving? Slayaway Camp is available on Humble Store and Steam.
Some you may have missed, popular articles from the last month: