I'm always interested to see what happens with the Linux market share on Steam, especially the bigger picture. Here's an alternative look at the Linux market share on Steam.
Credit to GOL fan "hardpenguin" for his idea, to check on how the rise of "Simplified Chinese" as a market on Steam has directly affected the Linux market share. The results are—interesting.
I should state that, while obvious to some, people still get confused by all this (especially me, I'm only human after all). We are talking about percentages, not absolute numbers. We have no idea what the real numbers are behind this, only the percentages Valve give us by surveying a set of their user base.
First of all, let's take a look at what's happened to the overall Linux market share as shown by Valve in their hardware survey. It doesn't look good, but keep reading after.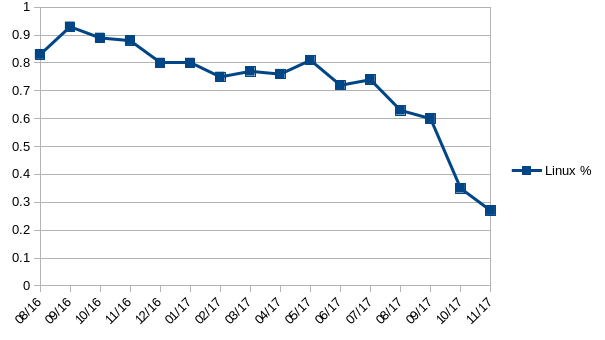 As I said, that looks like an unhappy chart. Over that exact same time period, let's look at what happened on Steam with "Simplified Chinese" as a language in comparison with English: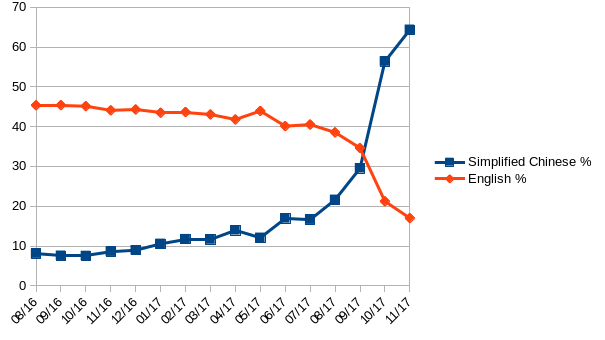 Well then—that's some big growth you've got there. One month can be written off as an anomaly, but the trend is clear there. So what happens when you compare what Steam shows as the overall Linux market share, against that same market share when you take out Simplified Chinese and when you're just looking at English: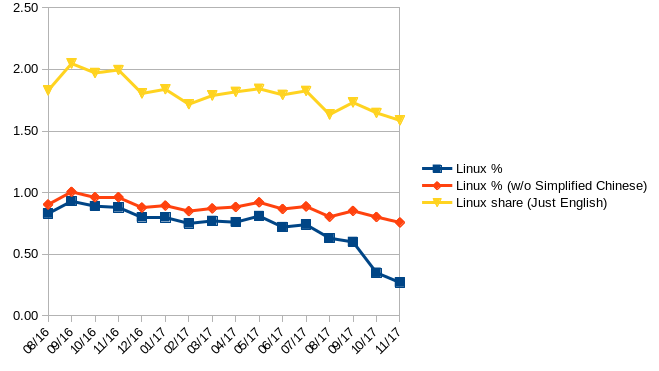 So, from our experiment here, it shows Linux is currently in a decline in terms of "overall market share" on Steam. No need to sugarcoat it or hide from it, the data is there. However, it's nothing close to how bad it may seem, given that you should obviously see how Simplified Chinese rising sharply has directly affected it, it's clear as day when you simply remove it.
To mention an important fact, Steam is not just growing in Asia, as shown by Valve's own info. Before we get people looking at the lines without Simplified Chinese and thinking Linux is going down by itself anyway. It's just that Asia has grown more rapidly than others. It's quite clearly a Windows-orientated marked too, so even if Linux has actually grown during that time, it's just been massively outpaced. The point? It's not as bad as it seems.
Something to keep in mind, that I've mentioned before numerous times: Steam is constantly growing. We don't know what the true numbers are, so it's literally impossible to get the real picture. As mentioned at the start, we just don't know what the total amount is each time they do the Steam Hardware Survey in terms of the amount of people surveyed and the total amount of registered Steam users.
The fact remains that a lower percentage for Linux one month, against a higher overall number of users, can end up as an increase in total numbers of Linux gamers on Steam. I'm not saying it is or it isn't though. For us to know if the real amount of people using Linux for gaming on Steam is higher or lower, we need Valve to release the actual numbers behind the curtains. Something many people have been repeatedly asking for.
What will be interesting to see, is how Linux bounces back once the hype around certain popular games begins to fade. I don't want to repeat what I've already said too much, but it will happen. I imagine it will be at least a year before we see that happen and how far will Linux progress behind the scenes in that time to be ready? The open source Mesa drivers have come along at a staggering pace to improve AMD performance on Linux, decent VR supporting is slowly coming along, we've got games being released all the time and more. What we need to think about, is preparing for the bubble bursting back in our favour.
This was an interesting way to spend a Saturday evening, I shall return to our normal Linux gaming news on Monday!
Note: All this data was manually gathered and sorted by me, using the data available from Valve. Credit would be appreciated it you pinch it.
Some you may have missed, popular articles from the last month: