HITMAN [
Steam
,
Feral Store
] is the brand new Linux port from Feral Interactive and what a game it is! This is some serious fun to keep you occupied for many hours!
Disclosure: Key provided by the developer.
Note
: I will be livestreaming the game, so be sure to follow us on Twitch:
https://www.twitch.tv/gamingonlinux
To get the elephant in the room out of the way first: The game does have an online requirement for certain features, these are extras and do not affect the main single-player story, which does not require you to be online.
Sadly, this isn't as in-depth as I was hoping it would be due to limited testing time, and Steam decided at one point to remove my access and delete the game files forcing me to re-download 38GB (a known Steam bug with beta branches), which also sucked away some time for testing.
Gameplay video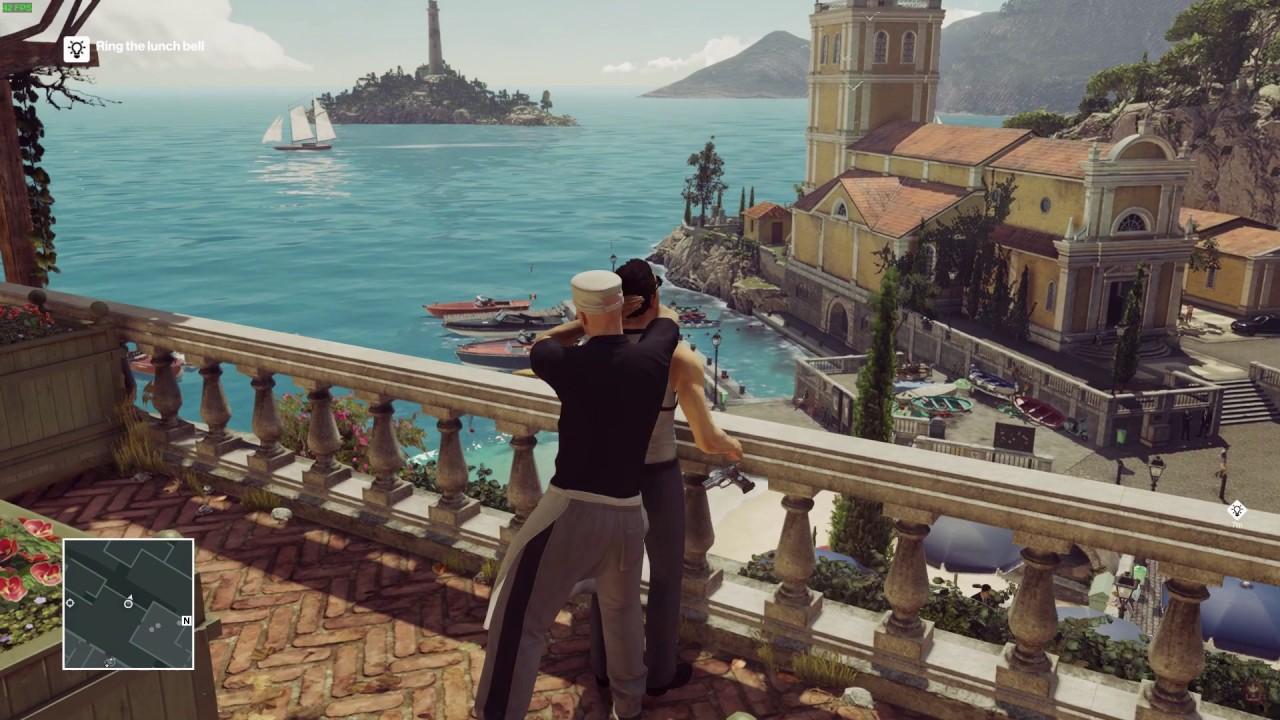 Fun fact: The music in the kitchen scene gave us a copyright claim, so if you see adverts it's because the rights holder chose to, not because we enabled them.
Port report
As usual, it features the rather useful Feral launcher, which has been styled appropriately for the game: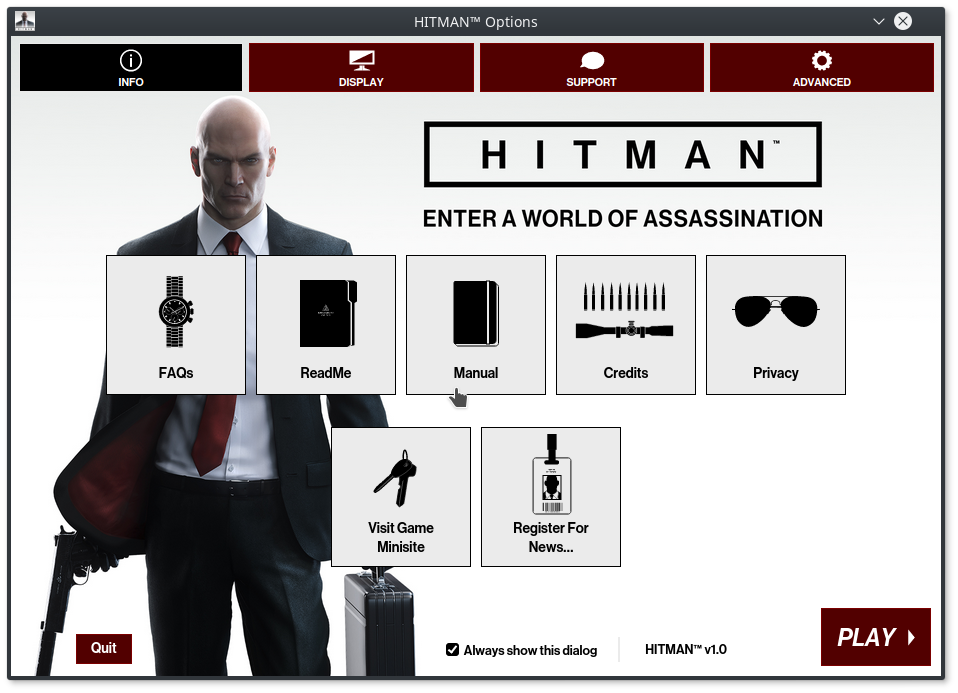 This utility allows you to pick your monitor, resolution and so on. I actually find launchers to be incredibly useful, since I have two monitors. I've never had a Feral game pick the wrong monitor, so that's fantastic.
The way the first scene drops you in after a short clip of a helicopter is so beautifully seamless I was actually quite impressed! It does this in each mission too; as you are introduced to the mission, it just fades you directly into the gameplay.
The performance has been reasonably good. With everything on High, I've been getting a pretty decent FPS, but it does depend on your location. This will drop quite a bit in the more populated areas (like a lot of games do), but it has been mostly smooth.
I do have a few issues with the game becoming sluggish, while the FPS counter remained high. If you're using KDE be sure to have it setup so that full-screen games do block the compositor, as that is what I believe was partially causing my issues. It did come back after doing that, but it doesn't happen as much.
There have also been two instances where the graphics became corrupted, with this being presented to me:
I still haven't found the cause of it, but it required me to save it, quit the game and load it for it to go away.
I also had a bug where in the third main mission, the audio was completed garbled forcing me to restart it.
Benchmarks
I did a range of different benchmarks on my main rig:
- Antergos, Nvidia 980ti, Intel i7 5960x, 16GB RAM, 1920x1080
Please note: These benchmarks will be different to scores you're likely to get, unless you have the exact same setup as me your scores will be different, remember that.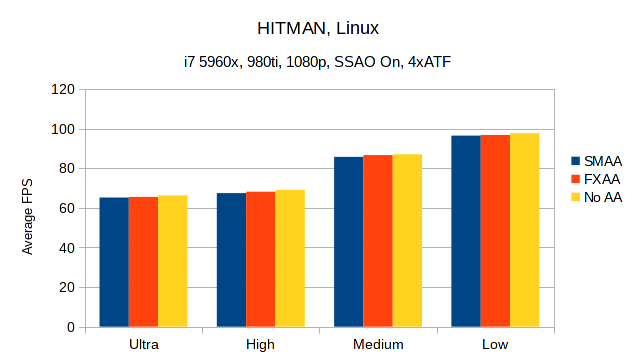 As you can see, the AA mode in use doesn't really make much difference and it's so small it's within the margin of error due to slightly different scores on each run. However, the choice of which AA option you use might make performance change more on lower powered GPUs.
General thoughts
Thankfully, a lot of the issues the game started with aren't an issue in the Linux version. There's something to be said for getting a game late, as we do end up with a much more polished experience. In the many hours I've put into the game, I haven't had any issues with online connections. The game originally launched with poor offline support, but this has constantly been improved since release.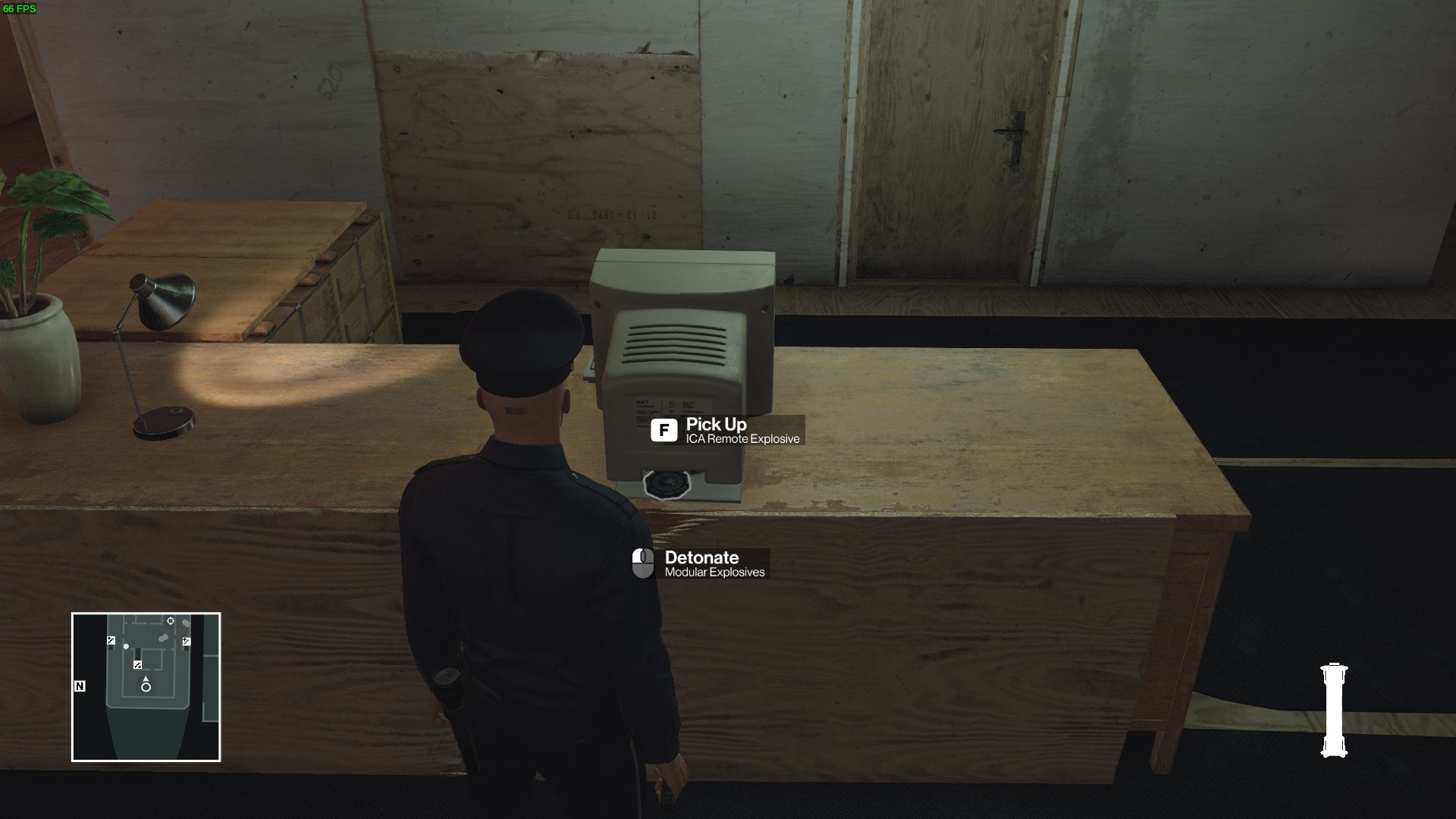 You do not need to play any other HITMAN game to enjoy this one, as it's actually set before the others. You start off by being introduced to International Contract Agency (ICA) by doing some training missions, but things heat up quickly after as you go straight into the story.
One thing I don't particularly like is the main menu, it feels cluttered and unclear with too much presented to you at once. It's easy enough to navigate when you've spent a few hours in it, but initially it did overwhelm me somewhat.
As expected, you have many ways to achieve your objectives, as the game is rather open to any approach you feel like doing. You could go in loud and proud, but unless you have a seriously good exit planned out you might want to go for a more stealthy approach. Still, it's fun to see what happens if you try going guns-blazing. Not well, is often the case, but it is doable.
You have the ability to knock out people and steal their clothes, which I've had a lot of fun with. One disguise won't last forever, though. Your disguises can cause an issue with certain people who become suspicious of you, so you will need to repeatedly change your outfit depending on the location you're trying to access.
The game relies heavily on the reactions from various NPCs and some of it can be truly hilarious. Bumping into people, for example, will annoy them and they will say something like "oh yeah, you're tough!". Hitting someone and having someone else see it, is not game over, but you will need a good plan to hide out as they will give out your description. A quick outfit change and you should be good to go if you do get discovered. Being discovered doesn't instantly mean everyone will be looking for you, either. It also depends on how quickly you react in taking down whoever found you out.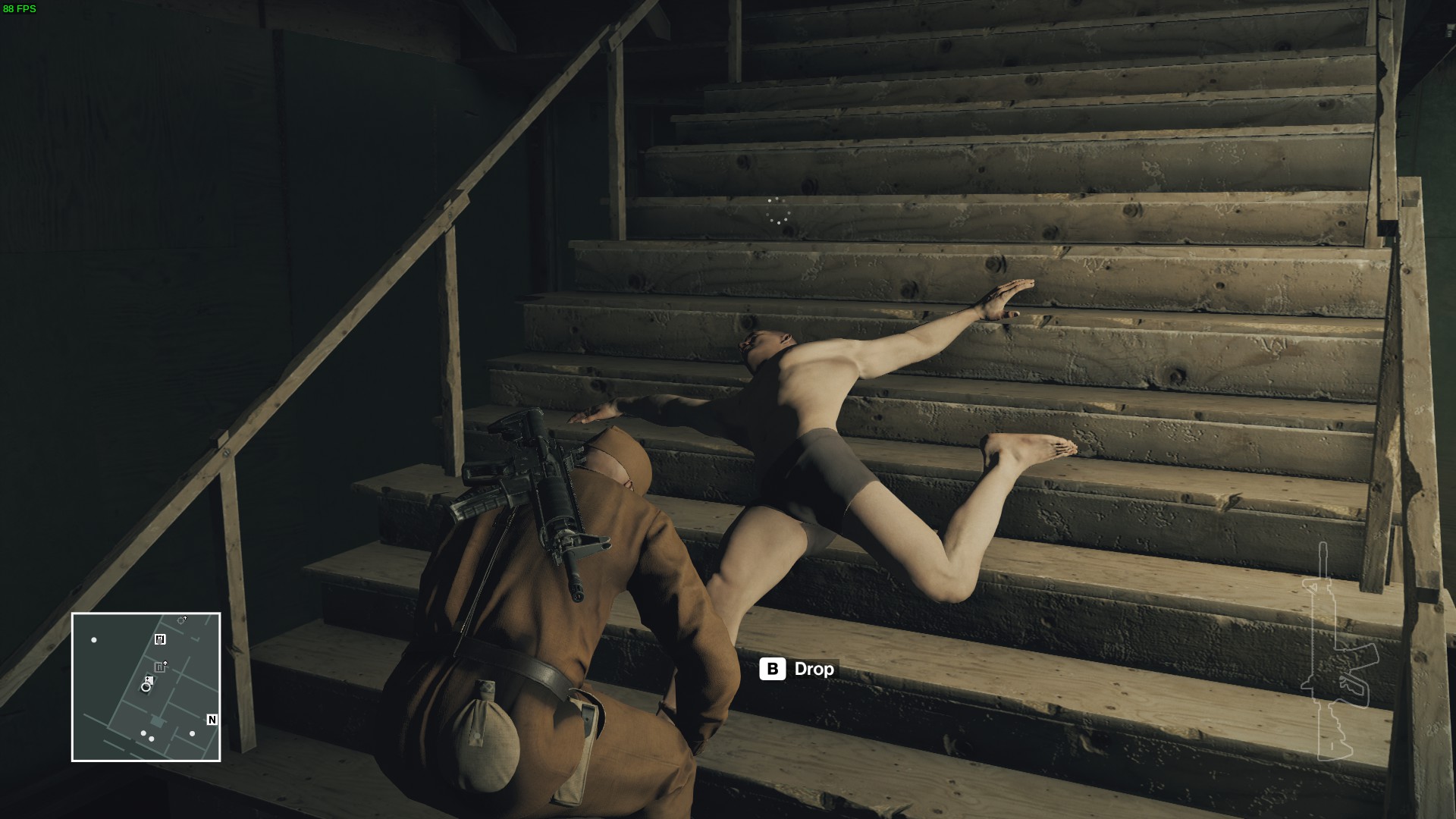 At one point I took out a guard, stole his gun and uniform, and proceeded to drag is body down the stairs. What was hilarious, was that his head kept bumping on the steps as he went down and I couldn't contain my laughter during it — sometimes physics really is amusing.
The first two training missions are a piece of cake, but the third and final training mission is where the game begins to expand. There's multiple paths you could take and I kept switching between them until I found the way to eliminate the target that sounded the most fun. Surprisingly, the training missions by themselves were actually damn fun and a great introduction to the gameplay.
Thanks to the Linux version being fully up to date with the current Windows patch, we are able to enjoy all the extra content. I've been able to play one of the timed elusive targets, which are not linked to the main story. These elusive targets are difficult to achieve since you start off with zero intel on how to go about the mission, which makes them really interesting to try. You have a limited window to start them, you cannot save you progress during them and if you die you cannot re-try them. I failed my first miserably too, as I tried to subdue a hotel worker to gain their uniform, but I didn't notice someone had walked in mid-act and some soldiers quickly took care of me. I look forward to the next one!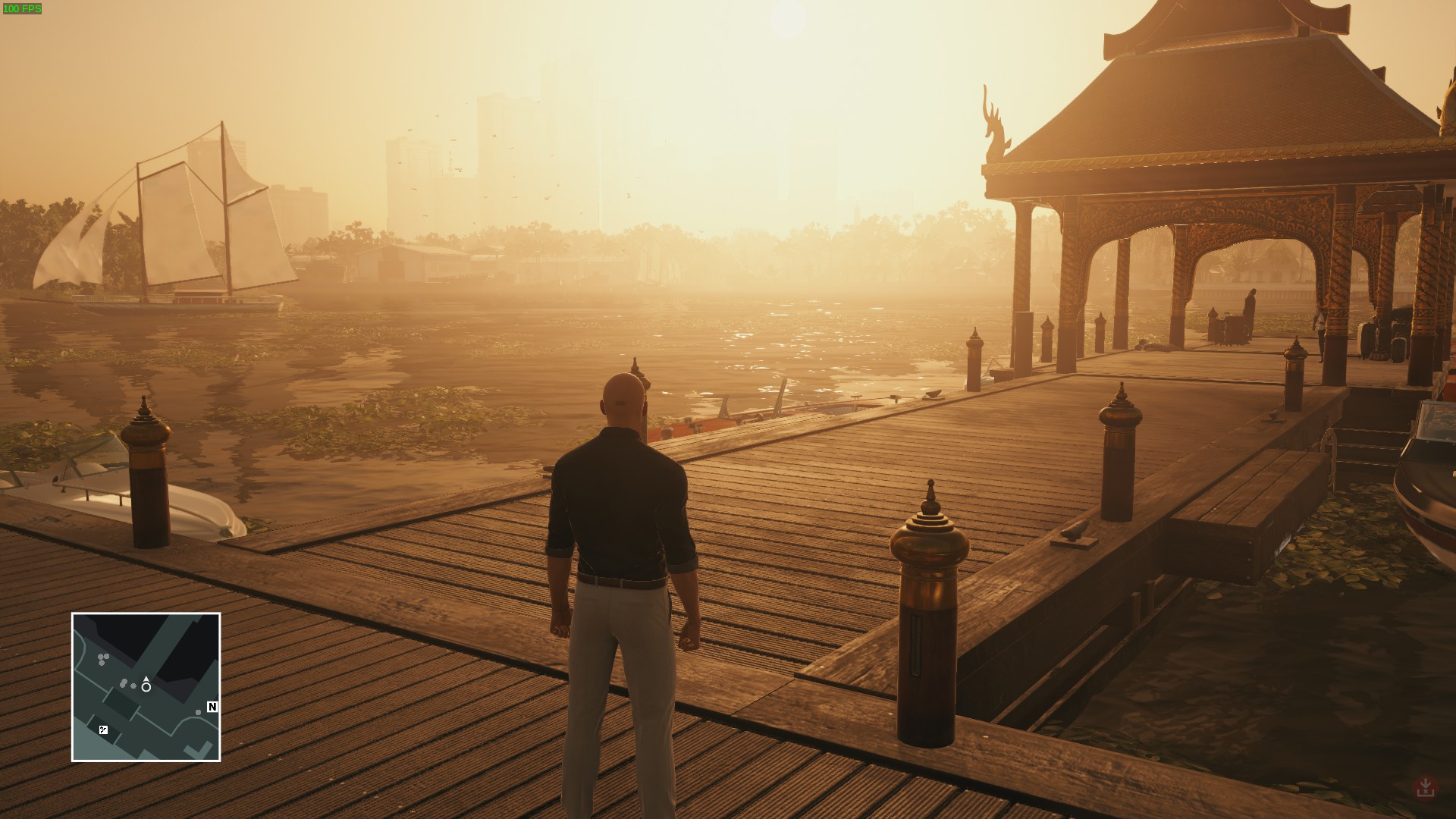 The game does have a habit of hand-holding, putting markers all over the screen which can be a little immersion breaking. Luckily, this can actually be disabled. Personally, I've found them to complement the experience as I often get a bit lost. You don't really get them in the elusive targets, which is part of the reason that they're so difficult.
If, like me, you're a terrible assassin and you fail the various big opportunities that come up in trying to take care of your target, don't fret! The game has more ways to kill your target than you might initially think. Watch where they go, look around for items that could be used in your favour — like wires and puddles which could make for a very entertaining outcome. However, if like me you're pretty stupid, be sure not to stand in said puddle while you expose a wire.
In the end, each mission has the same main objective — kill your target. How you do that, of course, is up to you to decide depending on the mission requirements. When you complete a mission, you unlock various items and starting locations/disguises based on what you did during the mission. You can then use these as you re-play the mission, so it has a lot of variety on offer. The great thing about HITMAN is how open it is, so you might watch how someone does it, like me on the livestream later, yet how you play through would likely be entirely different.
The extra feature of being able to make your own contracts, or play through contracts created by others is amusing too and I look forward to the challenge. I might have to livestream some Linux-gamer created contracts to see how I do, as it could make for some great fun for us all.
There are some places that the game falls short in, one of them is the animations. Dumping people inside objects, for example. Instead of a smooth transition from dragging to dumping, it just skips to you dumping them inside and then jumps back to you. A small oversight, but noticeable when you've done it a number of times. There's also a time someone is on a set path to put up posters in a mission, but he does the animation for getting one out and putting one up where there already is one. Another small, but silly oversight.
The second place it falls short are the boundaries for interacting with items, like you may notice at the end of my video at the bottom of the article. I had an annoying time getting into the correct position to interact with the helicopter door to actually finish the mission. Stuff like that has happened a few times, where I'm literally a single step away from being able to interact with something. That kind of thing happens in a few games and it's a real nuisance.
In many ways the game has surprised me, from being able to tamper with objects I honestly thought the game wouldn't let me mess with, to being able to climb up drainpipes to avoid guards. It has more options than I expected it would and it's been a very enjoyable experience.
It's the kind of game I have been longing to have on Linux and it's absolutely fantastic (bar those minor annoyances). I've had so much fun with it, especially trying out different outcomes in each mission! I couldn't be more pleased when it comes to the gameplay and it's going to suck away a lot of my time for sure. The first night I had it I sunk many hours into it without realizing it had gone past midnight.
I have completed the first four episodes, so I have a pretty good grasp of the gameplay now if you're wondering how much time I have been able to put into it. I'm far into the fourth episode too with over 11 hours under my belt. The whole season consists of 6 episodes, a bonus episode and then you have the extra user-created contracts, challenges and so on. I think the length of the main story is fine, with how much playtime I have in it already, I don't consider it too long or too short I think it's exactly right for the gameplay.
The game is also on sale right now, so that should help some of the less fortunate amongst our readers!
Now, if you'll excuse me I'm going back to my cave to ignore the world for a while and play more HITMAN.
Another shorter gameplay video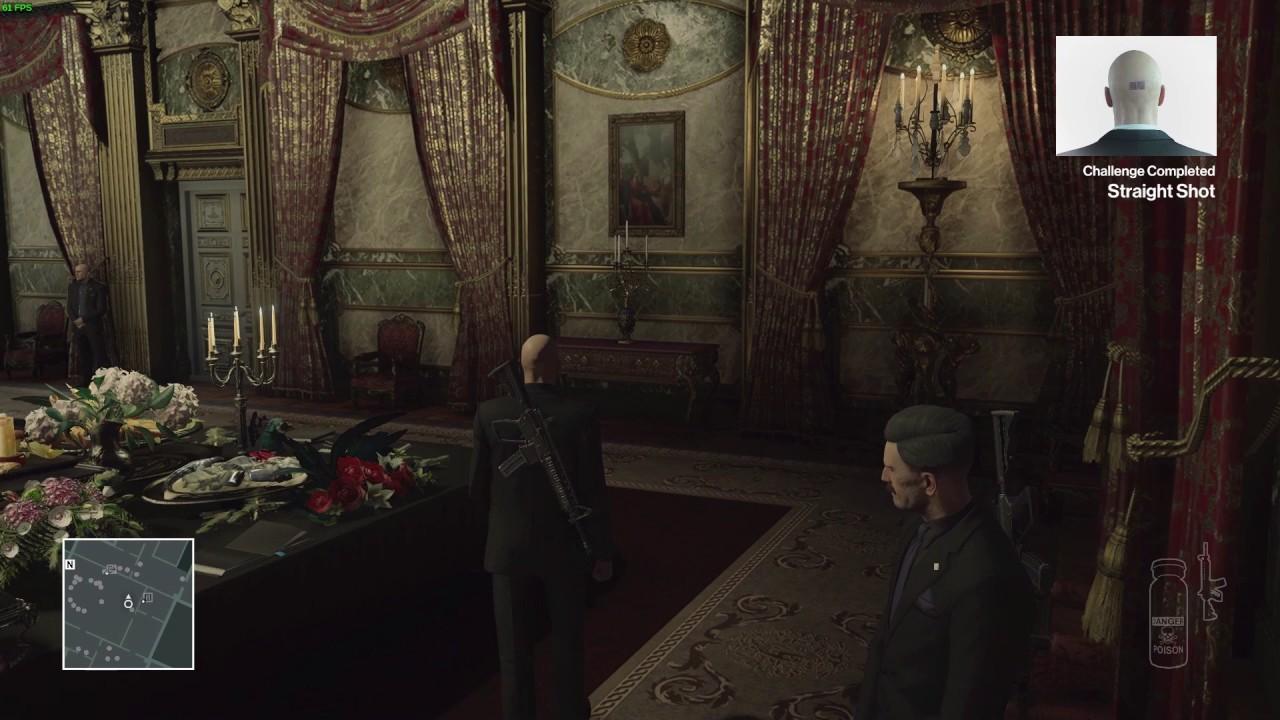 Some you may have missed, popular articles from the last month: