American Truck Simulator arrived on Linux day one, which is fantastic, and I was eventually sent over a key by SCS directly to check it out.
It's really not all that different to Euro Truck Simulator 2, with the same engine and the same issues. I will start with the issues to get them out of the way.
Issues
Their fullscreen support is a bit weird. It's another game where going into fullscreen will still show the Ubuntu Unity bars; although doing alt+tab away from it and then back to it seems to solve it, which is really odd.
The game audio only supports .ogg files, so no MP3 support and we have no Radio, again.
Force feedback is a bit hit and miss on Linux, as it only works on a few devices. Saw quite a few people annoyed with this.
Thoughts on the game
Performance at 4K resolution was terribly unplayable on my 980ti as it was 30FPS and below, which is far too sluggish for a game like this. A real shame, but the developers have hinted that they will look to use Vulkan in future:
Yes @gtuxtv, our graphics programmers have high hopes for #Vulkan in their effort to speed up our #ETS2 and #ATS games.

— SCS Software (@SCSsoftware) 4 March 2016
Don't ever let me drive, seriously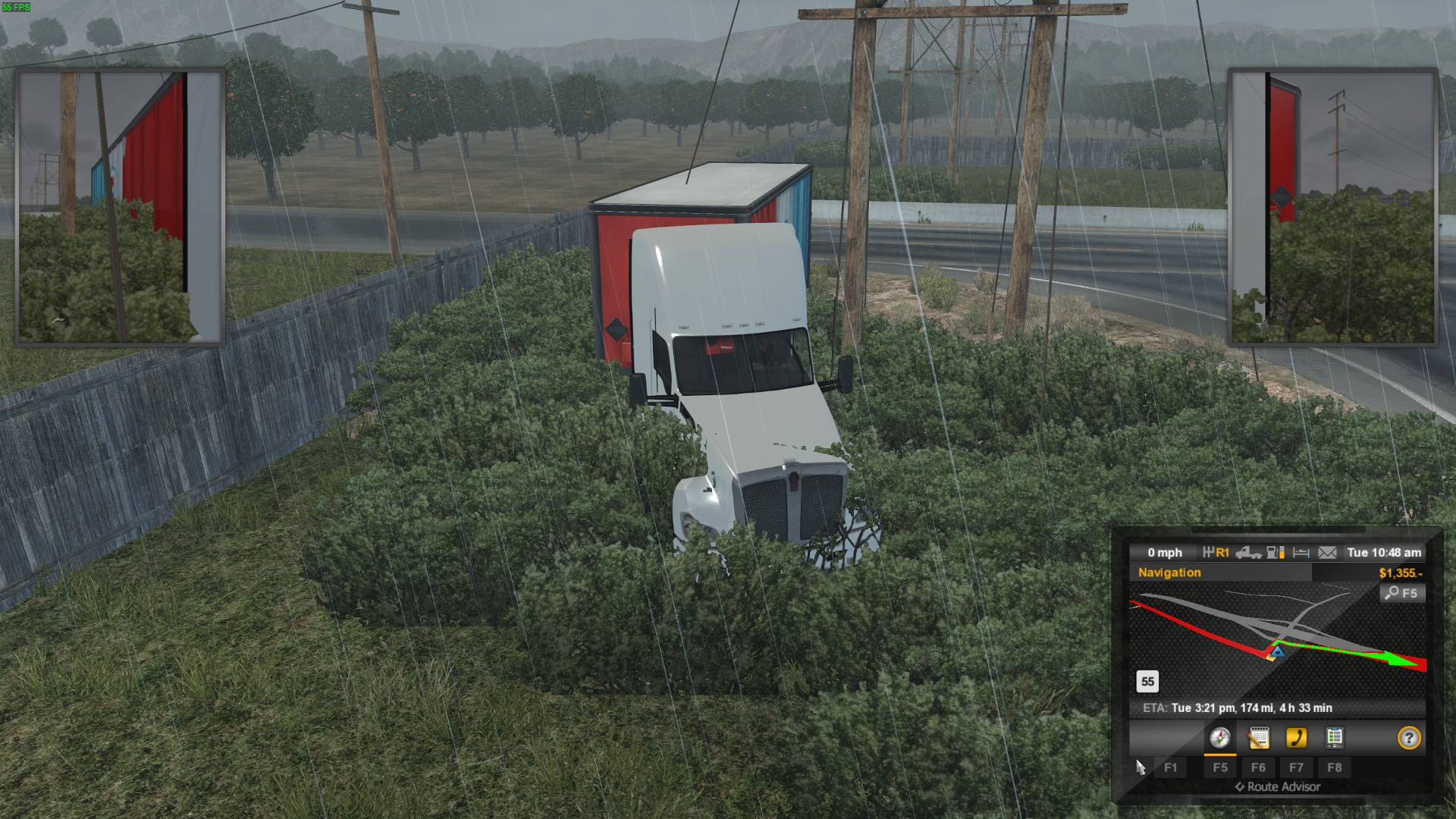 If you find the graphics don't look too good, change the "scaling" graphical option to something higher. It's not very well named, but it makes the game look better at higher values. This will affect the performance too, of course.
For someone like me who doesn't drive, I actually find the game somewhat fascinating. I imagine I'm not the only one. In fact, I think that's one of the bigger draws of the game. People who cannot drive get to experience not only driving in general, but driving some pretty big trucks and I really do quite like it.
The amount of viewpoints you can pick between on your truck is quite awesome, from a cockpit view to an aerial view above right down to a leaning out of your window view. Nothing says safety like a truck driver leaning out of his window looking behind him as he's reversing!
Note: It's not a good idea to hang out your window to see what's behind you when you're approaching traffic lights, especially when there's a police car right next to you.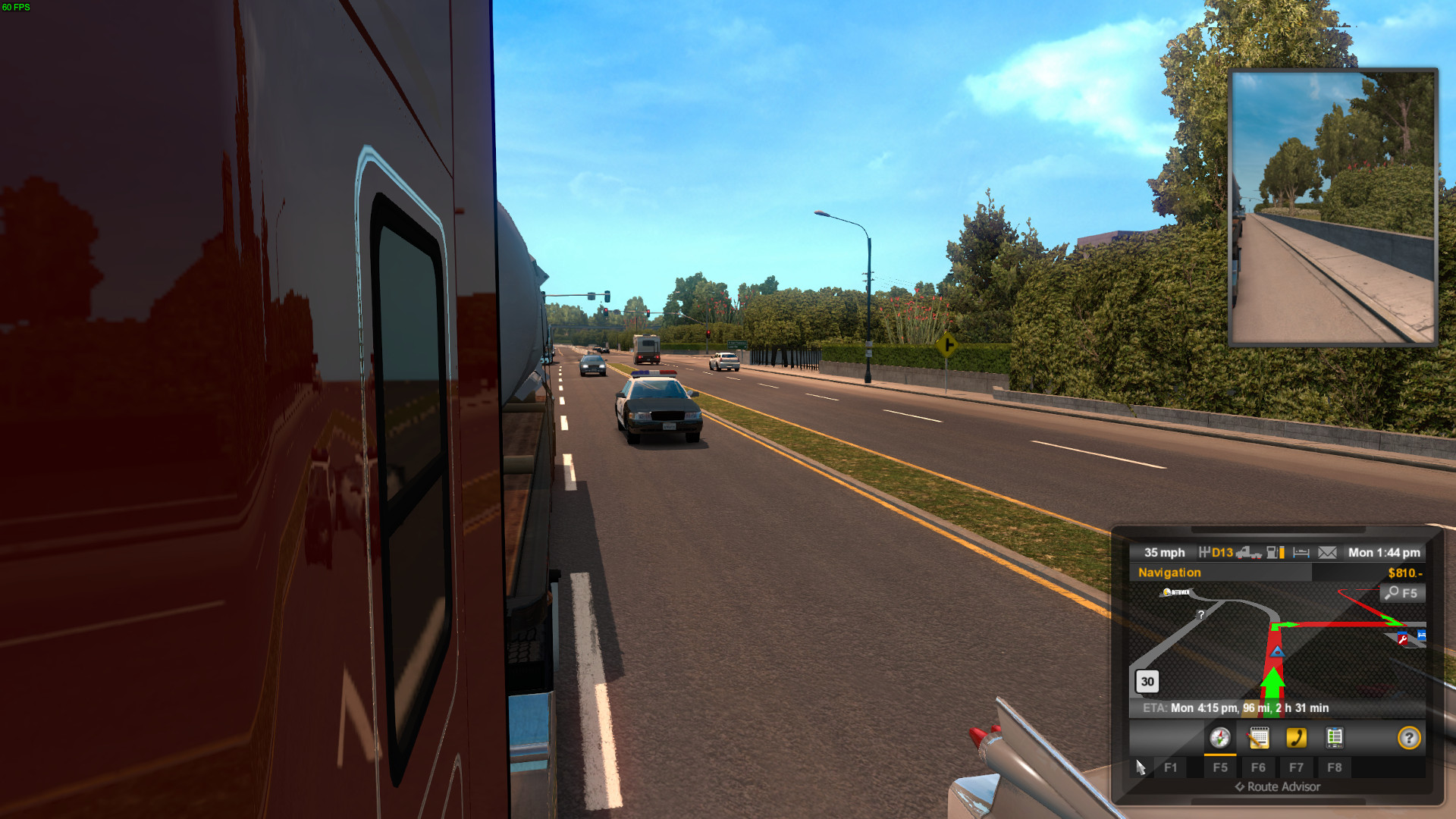 I was given a fine—damn.
I also like the different control schemes you can pick. Initially I went for keyboard for the throttle and mouse to steer but found it to erratic on the steering. I settled for mouse look, and keyboard throttle and steering which suits me much better. I think being able to look around with the mouse gives the game a much better feel; I love when you turn so far towards the driver's door window, you then peer right out of it—excellent attention to the details is what I like to see.
I can certainly see why people spend as many hours as they do in this game, as some parts of it really can be quite challenging. The parking in particular can be quite difficult to get your trailers in the correct spot for the right rewards.
I'm probably the worst truck driver around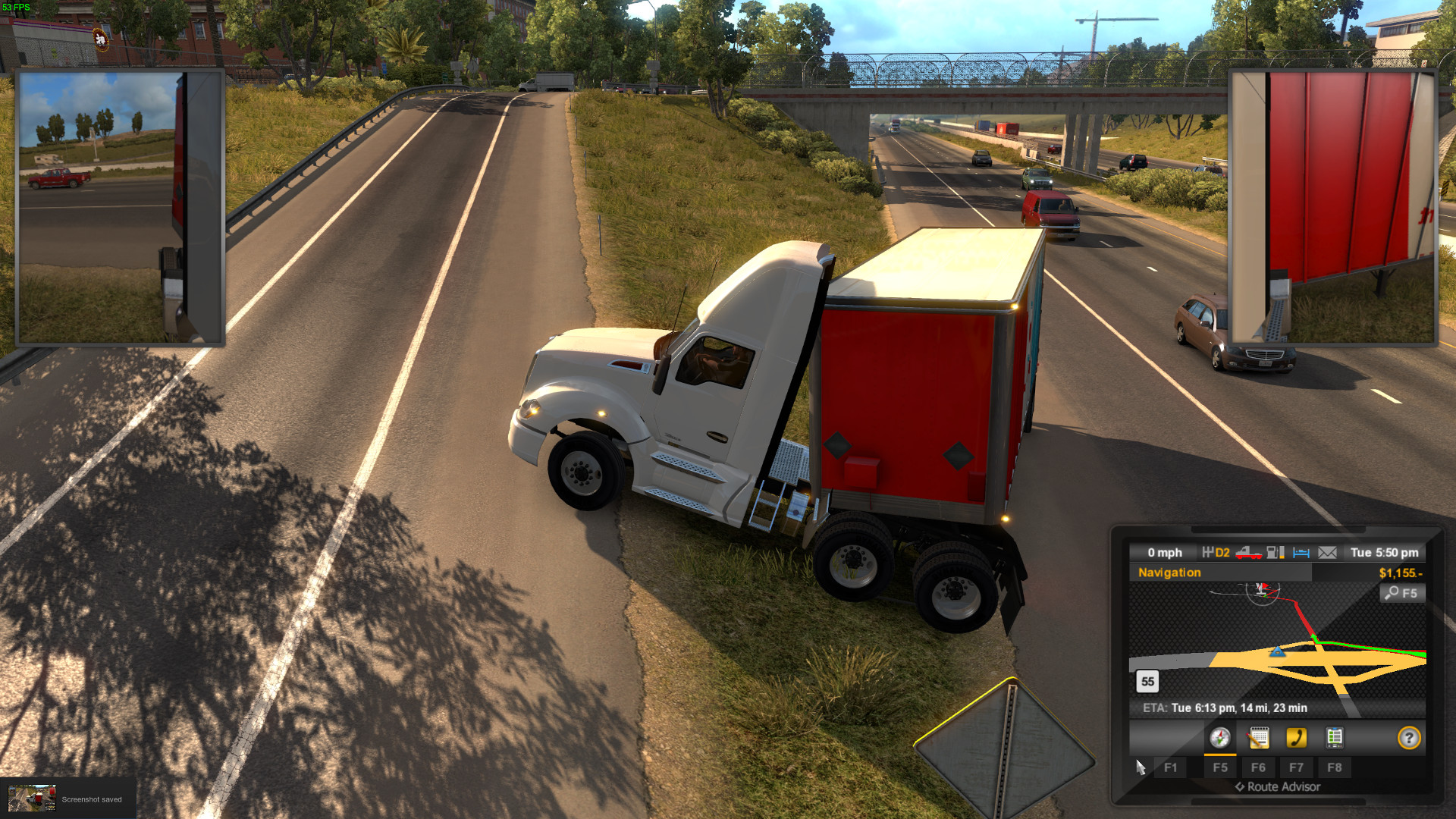 At one point I took a wrong turn, and so I ended up having to do a
million
point turn to get around properly. Okay, slight exaggeration, but it's really damn hard not to jackknife your trailer when reversing! After that I
may
have googled how to reverse with a trailer like someone who isn't an idiot, when I say may I mean I totally did.
The game has a lot of options which makes me really, really like it. Although a notch against it is that I can only chose between USD and EUR for prices, where's the GBP option? A minor thing, but would have been nice.
At one point I sneezed so hard (talking real life sneezing here) I veered off into the next lane and head on smashed into a truck. Was quite amusing in an "oh crap" kind of way, but it caused 100% damage to the truck I was in which was a real pain in the ass for my finances. What was disappointing was to see zero visual damage. The game could be a lot better if it had real visible damage on vehicles. This image was taken right after a speedy head-on collision, yet the beast looks like new: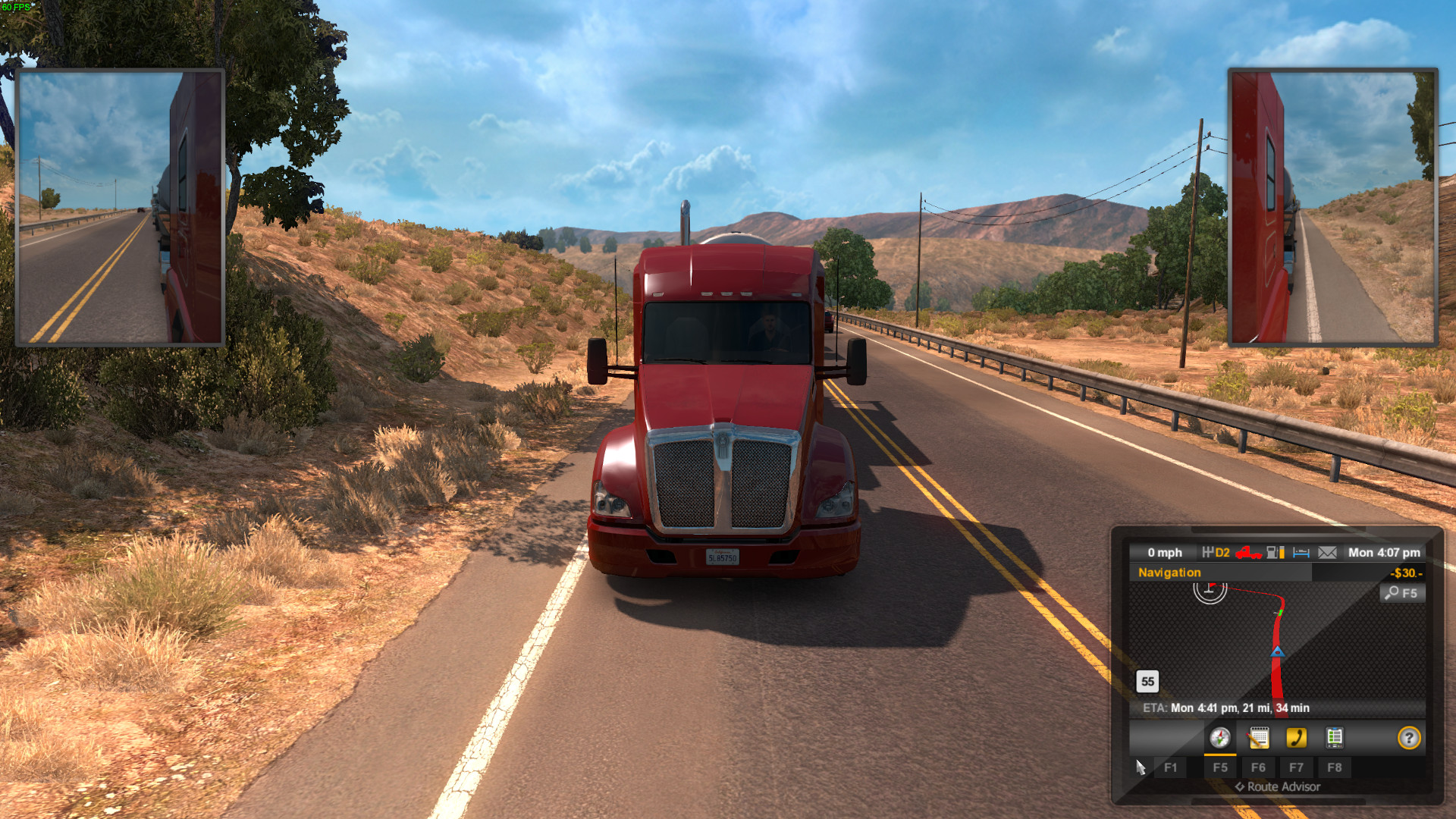 Overall I think it's one of the few "Simulator" games actually worth buying. I find it to be more fun and relaxing than I thought it would be, but not seeing damage on vehicles and still no MP3 or Radio support on Linux really does disappoint me.
What would a game be without upgrades? I'm impressed at the amount of upgrade options, and I look forward to hauling some explosive cargo: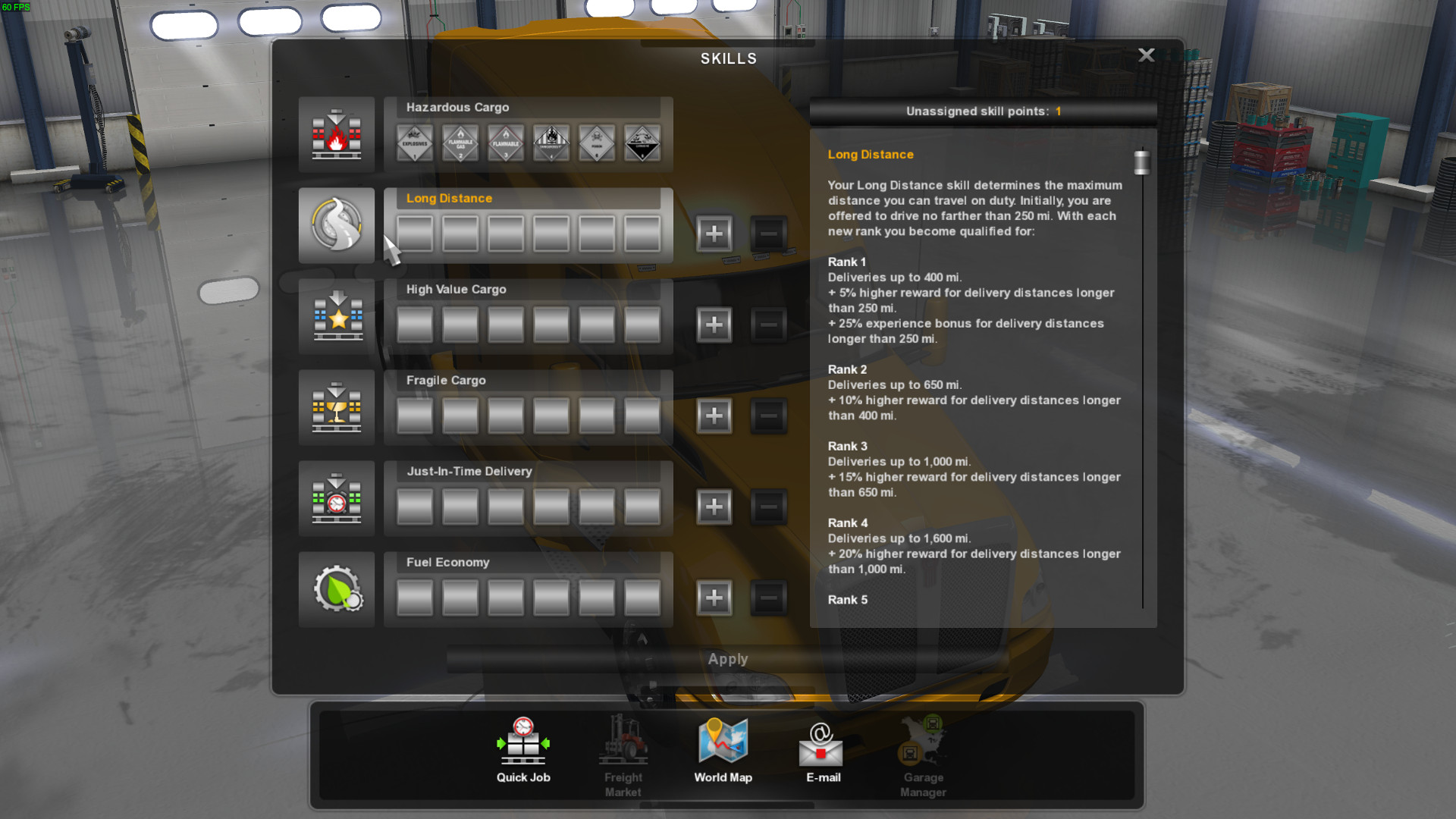 I haven't even got to the stage where you can hire other drivers and run your own business, yet I'm having a blast.
I'm really excited to see what the upcoming Steam Workshop support will bring for the game. Hopefully some mods to make the drive a little more interesting, as it can be boring on longer journeys at times.
There's also not too many trucks in the game yet, but they have already added some new types since the release. No doubt there will be more as time goes on. SCS are pretty good at patches and content for their games.
You can find
American Truck Simulator
on Steam now.
Now if you'll excuse me I need to go buy a trucker hat.
Some you may have missed, popular articles from the last month: