Monster Prom is a game I honestly completely ignored when it released. I will hold my hands up to that and tell you how much of an idiot I was for doing so. Note: Key provided for me.
Oh, right, that headline. I will get to that later.
What's quite nice, is that it caters to different situations, especially with two game modes depending on how much time you have. Don't have a lot of time? The 30 minutes option is good, have all night? Go for the full-blown 60 minute version. You can play it by yourself, locally with friends and even online as well. There's no matchmaking though, you have to give out your online room ID for others to join.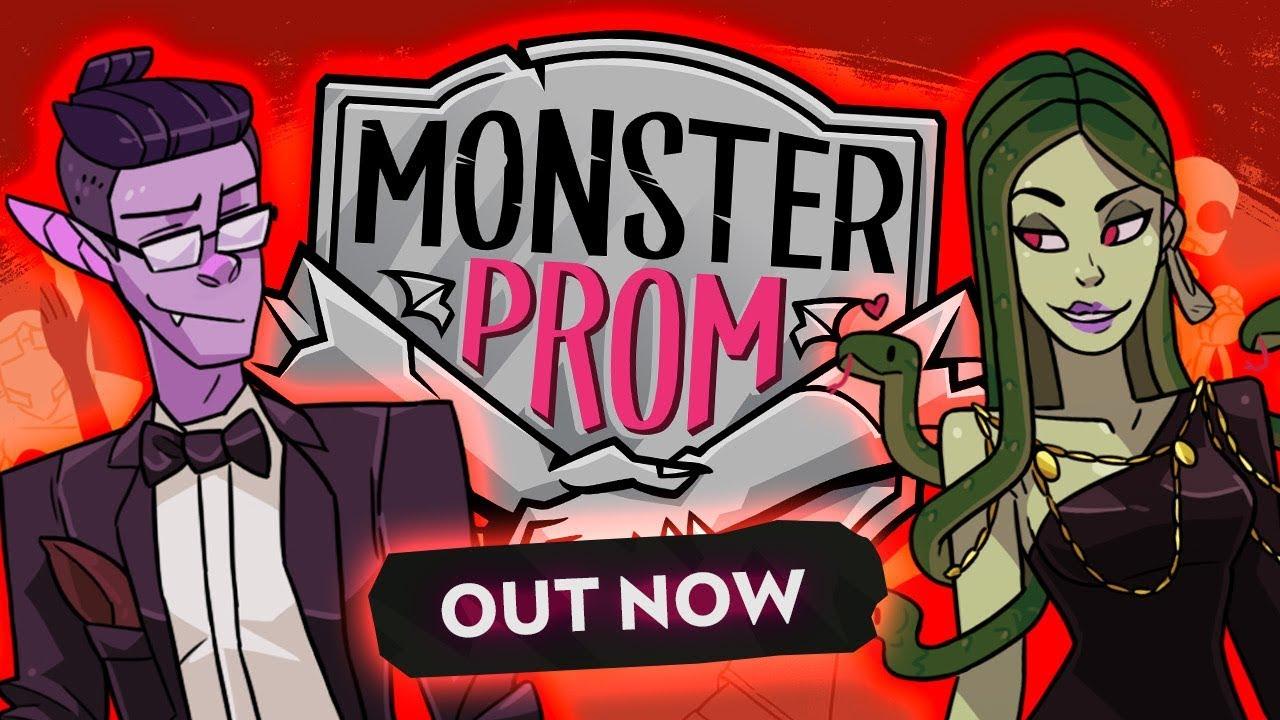 I'm never usually one for visual novels, dating sims or anything like that. After going back and taking a look at Monster Prom properly, I didn't honestly think it would be as amusing as I found it to be. I never went to my own prom many years ago, so this felt like my time to finally shine! If I was a weird monster that is anyway, but I was in luck as the game has you choose a strange character, a name, gender pronoun and so on.
You proceed to choose locations around the school, with each location presenting you with some event. These can be so many different things, from a simple chat to having a wild rave. Each event ends up giving you an option or two, which can buff certain statistics like your Charm or Fun. There was a time I was turned into two helicopters, which led me on a bit of a wild night and eventually I was turned back and gained a nice Creativity buff. These events also serve as a way for you to bond with whatever character you've decided to woo, not all of them do though.
You can also buy items from a particular character, who changes their location on each round. I'm not sure what I was expecting, but some of the items made me laugh out loud. Although, some were also a little gross too. Like the used tampon from a former queen? Sure, I'll buy that, I'm a monster after all it might come in handy for some kind of blood ritual…up pops a "Perv!" Steam Achievement—well then! I've been had! Deception! There must be a point to it though, I will find it…
Having a character in the game who shares your name is a little…weird. Especially weird, when they want to admire their own face and they can't because they're a vampire, so you suggest surgically removing their face so they can see it…and they do it. Naturally it doesn't show you the horrors of that, since it's a clever game and the dialogue that accompanies it makes it quite harmless as Liam admires what a work of art his face truly is.
I should also never let Sin play this, since there's a very specific "Frowny Liam Scale" and I do not want that to become a real thing…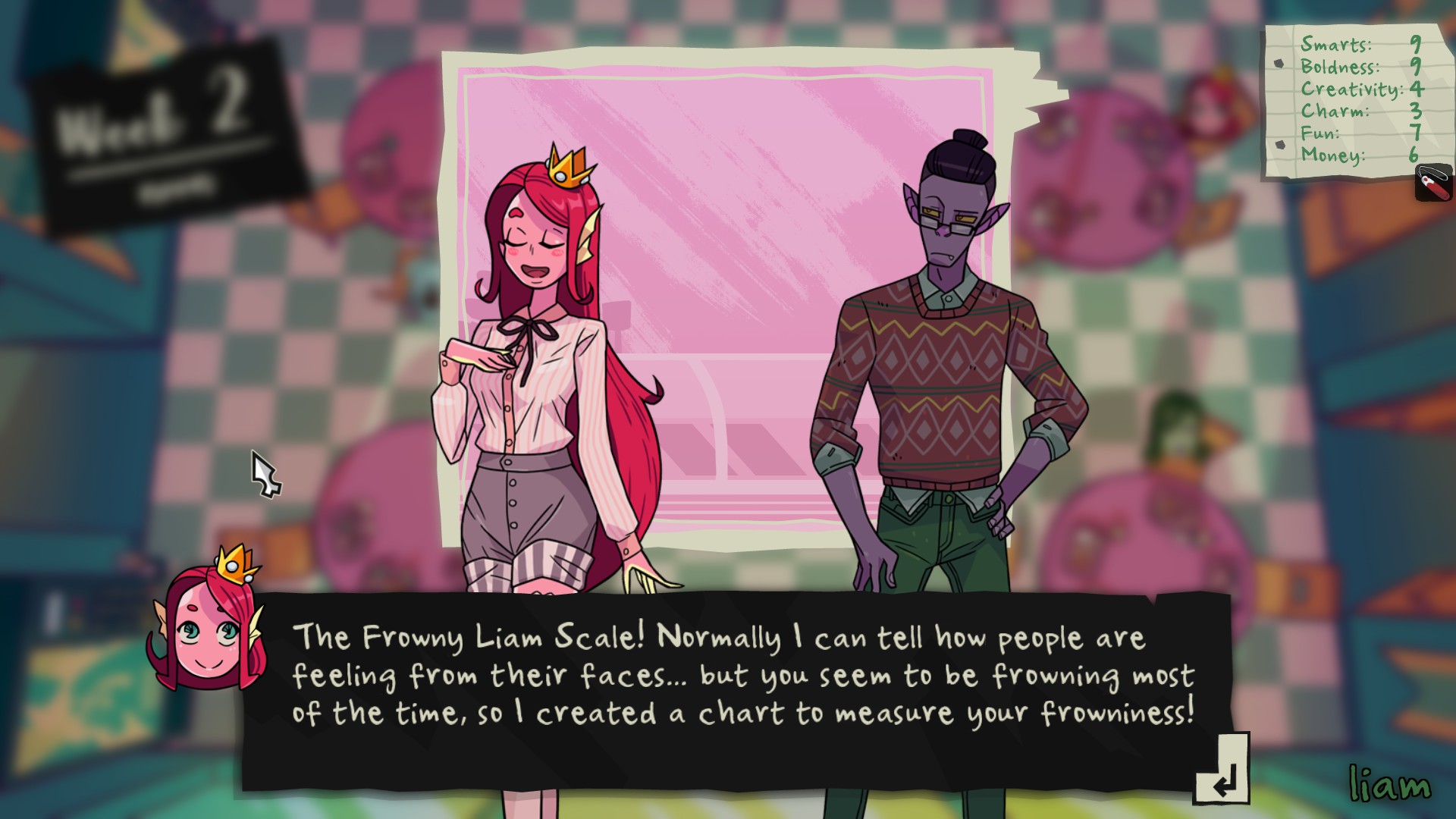 I will admit that's actually quite amusing…
The dialogue is surprisingly funny and not in a corny way either, some of it genuinely made me laugh at how it pokes fun at certain trends. Like how one character wanted her photo taken with her face in her food, claiming "foodpoisoning" was a new trend. So much silliness, but practically all of it made me smile away. That's what makes the game truly shine and its biggest strength, it doesn't take anything seriously at all.
Oh yeah, I said I would explain the article title, well…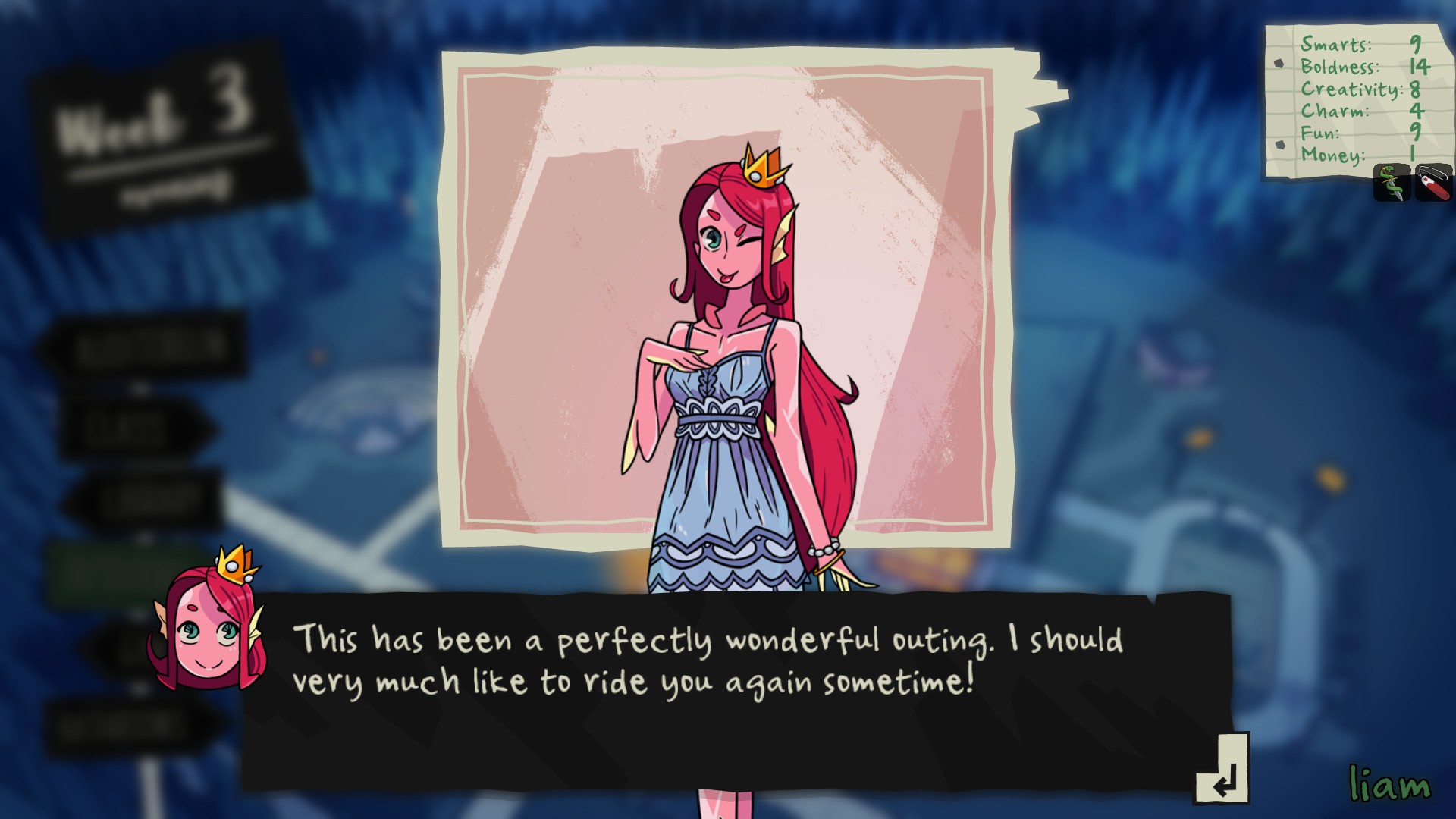 I'm still not going to explain what we got up to, find out for yourself.
It also had a "F*ckin' Hot Update" recently too adding in seasonal outfits, a new secret ending, new event screens, a photo gallery and steam trading cards.
What a ridiculous delight! Totally sold on it, as it's nothing like what I expected. I actually wanted to dive right back in and play more after being rejected! Only to be rejected by a different character…
You can grab Monster Prom on Steam, with 15% off right now.
Some you may have missed, popular articles from the last month: