Northway Games
decided to make their game 'Incredipede' free for Linux users because of Linux philosophy and community.
You can get the Linux version of the game
here
.
Alternatively, if you want to support the developer you can buy the game from Humble or the many websites listed
here
.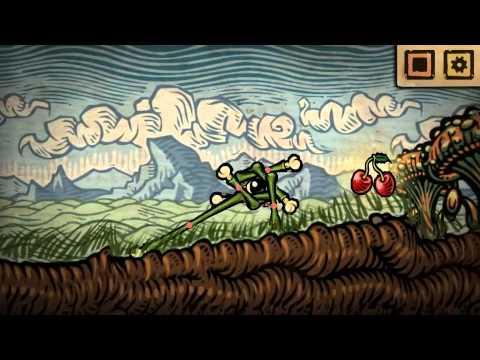 Quoted from the developer's website:
 "Incredipede is a puzzle game that celebrates the vast diversity of life in the world. The game follows Quozzle, a lone Incredipede on a dire quest to rescue her sisters. She has a unique ability to grow new arms and legs wherever she needs them, transforming into a snake, a spider, a horse, a monkey - anything you can imagine. You can give her antlers or a tail, use nature as a blueprint or strike out in weird new directions.
  Control Quozzle as she learns to swing through the trees, climb sheer cliffs, dance over rivers of lava, and even soar through the air on thermal winds."
 "Incredipede features 60 levels in three beautifully crafted worlds. The first world introduces placing muscles and controlling Quozzle using the keyboard.
  Futher worlds give you full control over Quozzle's limbs, as you stretch her into new shapes to better navigate her surroundings. Long arms can reach up high to grab ledges, while many feet make for faster crossing over dangerous terrain.
  It doesn't end there. Use the level editor to create your own puzzles, or challenge others to control your Quozzle designs to the finish line. Browse thousands of user-made levels and creatures, and experience the vast diversity of human creativity."
There is a tini tiny catch however:
"You need a browser with Flash 11.2+ to play. If you want fancy graphics you need to run
Chrome
with a special flag.
To Make it Look Pretty (GPU support):
Download and install Google's Chrome web Browser
Close Chrome
Start Incredipede with the shell script provided, or start Chrome with the "--ignore-gpu-blacklist" flag and open incredipede.html from inside it.
If you don't jump through these hoops the game will play exactly the same, it just won't look as good or run as smoothly."
...still, it is free and fun, so thank you
Colin Northway
, 
Sarah
, and 
Thomas
!
Happy Incredipeding everyone! Post us what cute abominations you've created. ;)
Some you may have missed, popular articles from the last month: