The developers of Ballistic Overkill [Steam] have pushed out a new update which features a major change to the way Team Deamthmatch works, they also added in Steam Workshop support.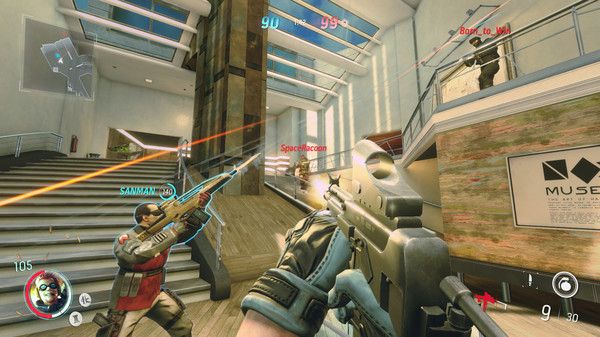 Ballistic Overkill was one of my favourite online FPS games for quite a while, but the base-camping in the Team Deathmatch mode really did ruin it quite often. The problem was, that each team had a special safe zone that was shielded so no enemy could enter. With that, people would often just jump in and out and each time ended up camping outside. It became tiresome and just ruined the fun of it, especially when you were unable to even exit the spawn due to your base exits being covered by enemies.
This is a good change for another reason, since it opens up those sections of the maps that were shielded-off for everyone to now go through, resulting in maps that feel a bit bigger. This means it also opens the maps up for more options to get around the enemy if they're all bunched up in the middle.
The new beta rework of TDM is in-game on their official servers as an additional mode to the existing TDM, so you can play them both together while they gather feedback. I hope it works well, as it was my biggest complaint about the game, so I'm really happy they finally acted on it.
I've tested it out and I can safely say I hope they absolutely remove the old way of doing TDM. The new way was much, much better and allowed me to enjoy the game once again—I missed it!
They've also added in Steam Workshop support for players to be able to create and put up their own maps. This is great too, since the current maps have felt stale for too long as there's just not enough of them.
You can read the full update notes here.
Some you may have missed, popular articles from the last month: