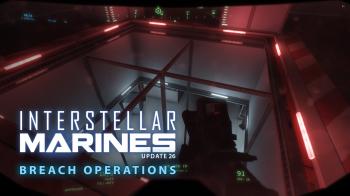 Interstellar Marines [
Steam
] was once an incredibly promising FPS game with nice visuals and interesting gameplay. Sadly, their money pretty much vanished, but it's pleasing to see it still being developed.
The lead developer and last remaining member of Zero Point Software now has a part-time job which manages to pay the bills, so he can continue working on the game.
The main focus of this patch was to fix Unity issues and work on their major online mode called "Wargames". They added a new mission into Wargames, along with tons of fixes and additional features. Sadly I can't test it out, as Wargames are time-limited and you can only get into it at specific times. This kills it for me, as the community is tiny and the current major feature of the game is so limited. I have no idea when I can next join a Wargame, as the timer for the only server says -14 hours and the time is getting further away, which makes no sense.
I am hoping a publisher does agree to help him out, as it does still show a lot of promise. I would really like it to focus on the single-player and co-op play like it did originally, rather than their online modes. The atmosphere in the co-op was rather good, and it was a major draw for me.
You can find the
full changelog of update 26 here
.