Overload [Official Site] is easily one of the best six-degree-of-freedom shooters in my eyes and the full release is now available with great Linux support. I've played a number of similar games, but nothing has come as close to perfection as this for me.
Disclosure: My key was provided by the developer some time ago.
Even during the Early Access builds of the game, I spent quite a few hours happily roaming around the challenge levels. The great style to it, along with the silky-smooth gameplay showed how Revival Productions knew exactly what they were doing. With good reason too, since their team is made up from some of the original creators of Descent.
The full release comes with everything I could want in such a game, including a singleplayer campaign with plenty of levels, a ship you can keep upgrading, 20+ different enemy robots with different attacks and behaviours and a story written by the writer of FREESPACE 2 (one of my all time favourite games).
It has such exceptional combat, with weapons that feel as meaty as they look and sound. Firing off a rocket and seeing it impact on an enemy, it's absolutely glorious. It's not just the combat that makes it great, graphically it's really quite impressive too. The textures as well as the lighting, especially during combat-heavy sections is very impressive with all the reflections of the weapons bouncing off the walls, it's really quite a sight.
Since this is the full version, this also comes with online and LAN multiplayer for up to 8 people, with multiple game modes. I was a little cautious in my optimism for the online mode, I wasn't too sure how it would feel in comparison to the singleplayer as it's so focused. Silly really, because it's wonderfully fun and really gets your blood pumping. See this awesome shot I managed to grab during a firefight: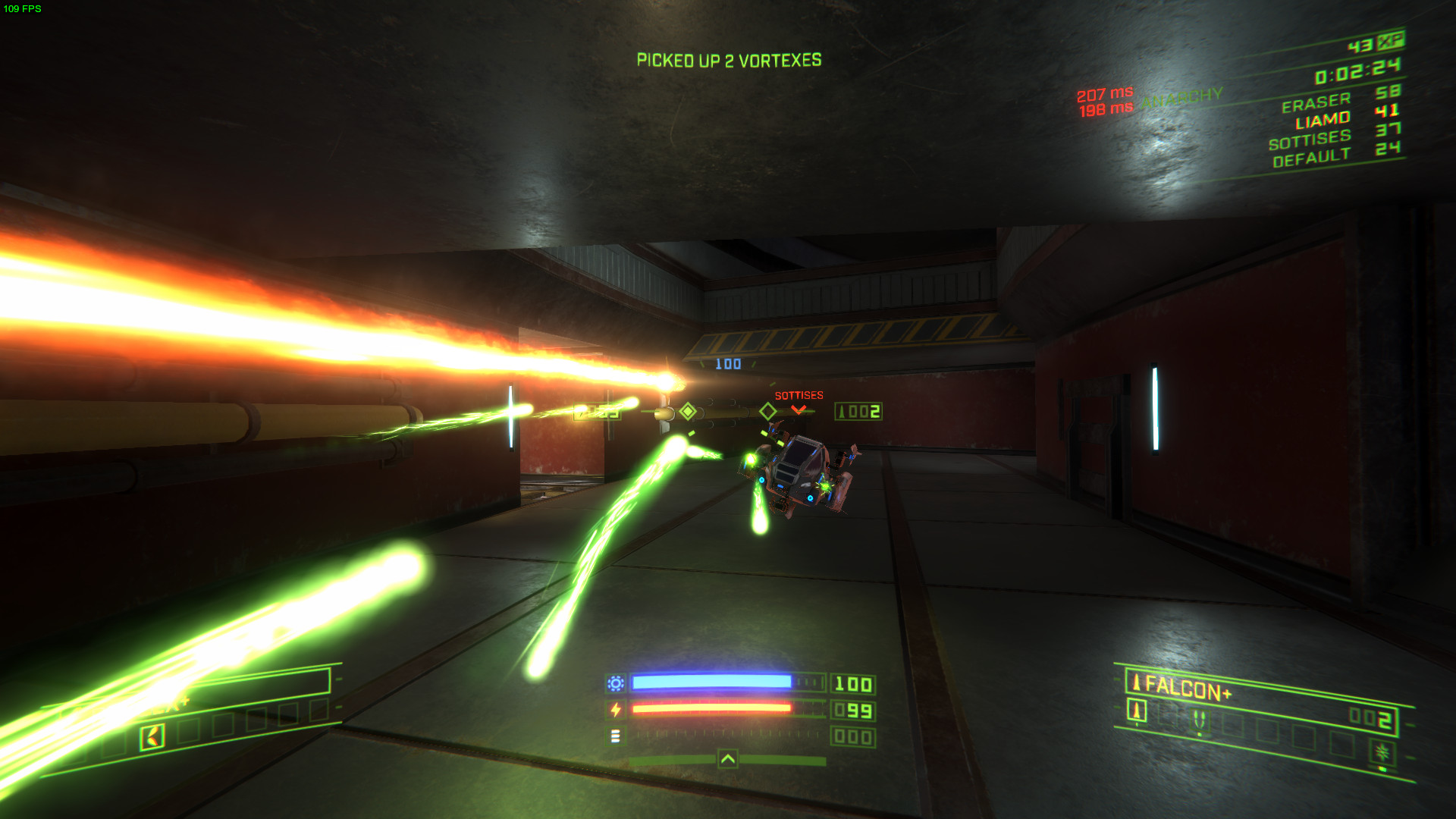 Pretty sure I died shortly after this was taken.
The Linux version is absolutely quality too. It looks good, it performs well and I haven't actually encountered any Linux-specific issues at all (aside from the menu still saying it's a development release—woops). All through development they've managed to have a Linux version that could put others to shame. Seriously, I'm amazed by it.
It deserves your time and attention. You can find it on Steam. It's supposed to be on GOG too as per their announcement, but it seems to not be showing up right now.
They're also doing a launch livestream on YouTube and Twitch.
Some you may have missed, popular articles from the last month: