Jupiter Hell [Kickstarter, Official Site] looks and sounds very exciting, especially since it will have full Linux support. It's from the same developer who made DoomRL.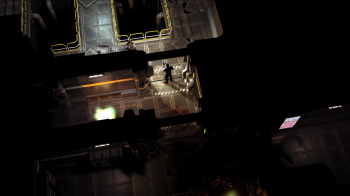 The developer told me they are excited to bring Jupiter Hell to Linux, as apparently DoomRL has been popular with the Linux community. Linux support for Jupiter Hell is included from the beginning, so that's fantastic to hear.

They are looking to get £60,000, with funding already at £16,396. With 27 days left to go it's looking like this will easily meet the target. It's currently trending to hit nearly 400% of the target, but that can easily change as time goes on.

I'm so pleased with this one, I have even backed it myself.

Press release copied below:
Quote*The maker of Doom the Roguelike brings mainstream appeal to traditional roguelikes*

Sci-fi action, 3D graphics, heavy metal and the deep tones of Mark Meer (voice of Commander Shepard) are all wrapped around this otherwise traditional turn-based, tactical roguelike.

Jupiter Hell is a roguelike game in a 90's flavored sci-fi universe. Set on the moons of Jupiter, the game pits a lone space marine against overwhelming demonic forces. Rip and tear undead, demons and unmentionable monstrosities, using classic weaponry including shotguns, chainguns, railguns and the trusty chainsaw. All to the shine of CRT monitors and the tune of heavy metal!

This is the true form of the 30 year old roguelike game genre that has resurged in popularity. It features turn-based, grid-based permadeath and fully procedural levels, all in glorious 3D visuals (or ASCII mode, if preferred). Jupiter Hell is the spiritual successor to DoomRL, the parody roguelike that years ago streamlined the traditional format and popularised a new wave of accessible roguelikes. Distilled, hardcore gameplay, fast-paced challenge and limitless death are all core to the game.

"The new X-COM games have shown that challenging, tactical games can have wide appeal if given the right presentation," says lead developer Kornel Kisielewicz. "I want to do the same for roguelikes. I want to go beyond randomised action games and get people into the turn-based, hardcore gameplay that has kept people hooked to roguelikes for decades."

Kornel has been working on Jupiter Hell for four years, and now heads an international team of developers from his offices in Wroclaw, Poland. "I'm pulling out the stops for this," he says. "I've built the engine from the ground myself to achieve the procedural systems I need. We've got detailed 3D graphics, a fluid interface, an awesome metal soundtrack, and the voice of Commander Shepard as the playable marine. This will look and feel fantastic, whilst still retaining hard, meaty gameplay."

Jupiter Hell is planned for release in Q3 2017, with some Kickstarter backers receiving access by January. It will be released for Windows, Mac and Linux.
Some you may have missed, popular articles from the last month: