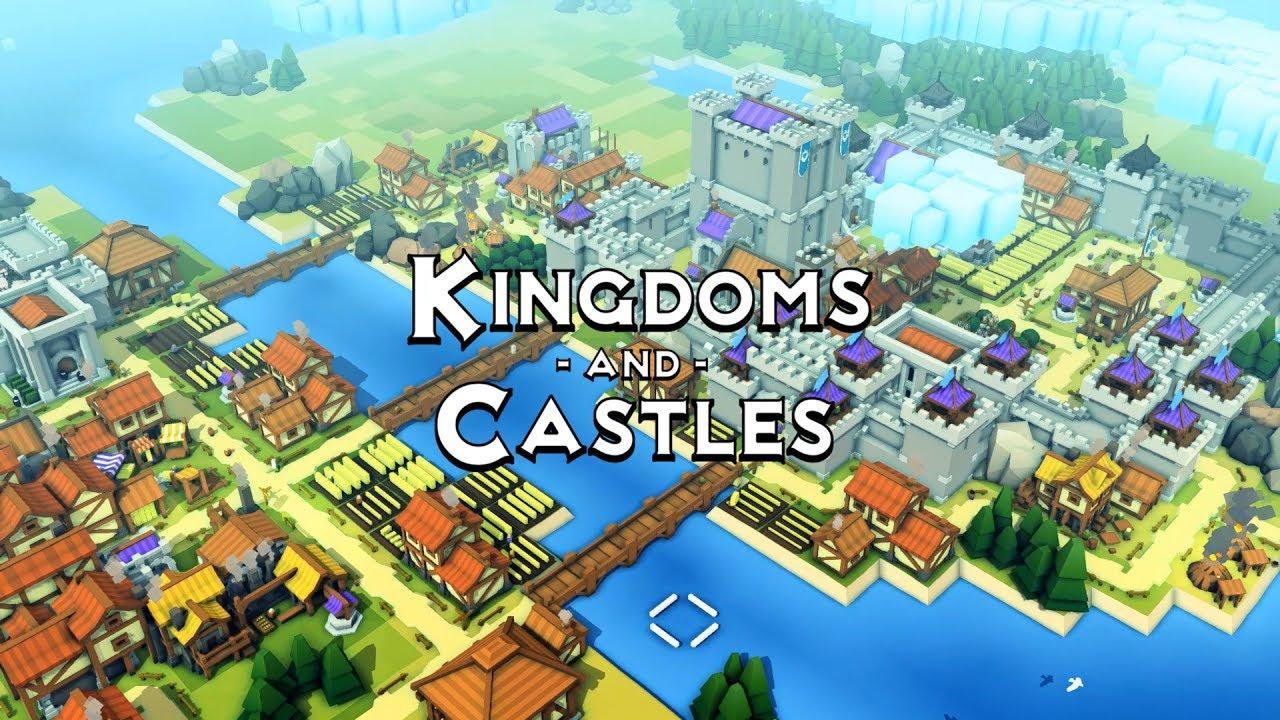 Kingdoms and Castles [
GOG
,
Steam
,
Official Site
] is the first title to be released after being crowdfunded on
Fig
and it has day-1 Linux support. This city-builder has a nice style to it, but is it any good?
Disclosure
: Key provided by the developer.
I must be honest, I'm quite surprised at how limited it is for a full game release. It's being reviewed reasonably well overall, but I do have to echo the complaints others have made. The game does feel a little shallow in terms of features and things to do. They do have more planned for it, going by
this small roadmap
. Honestly, I've found it hard to write about because of how it just lacks a bit of everything.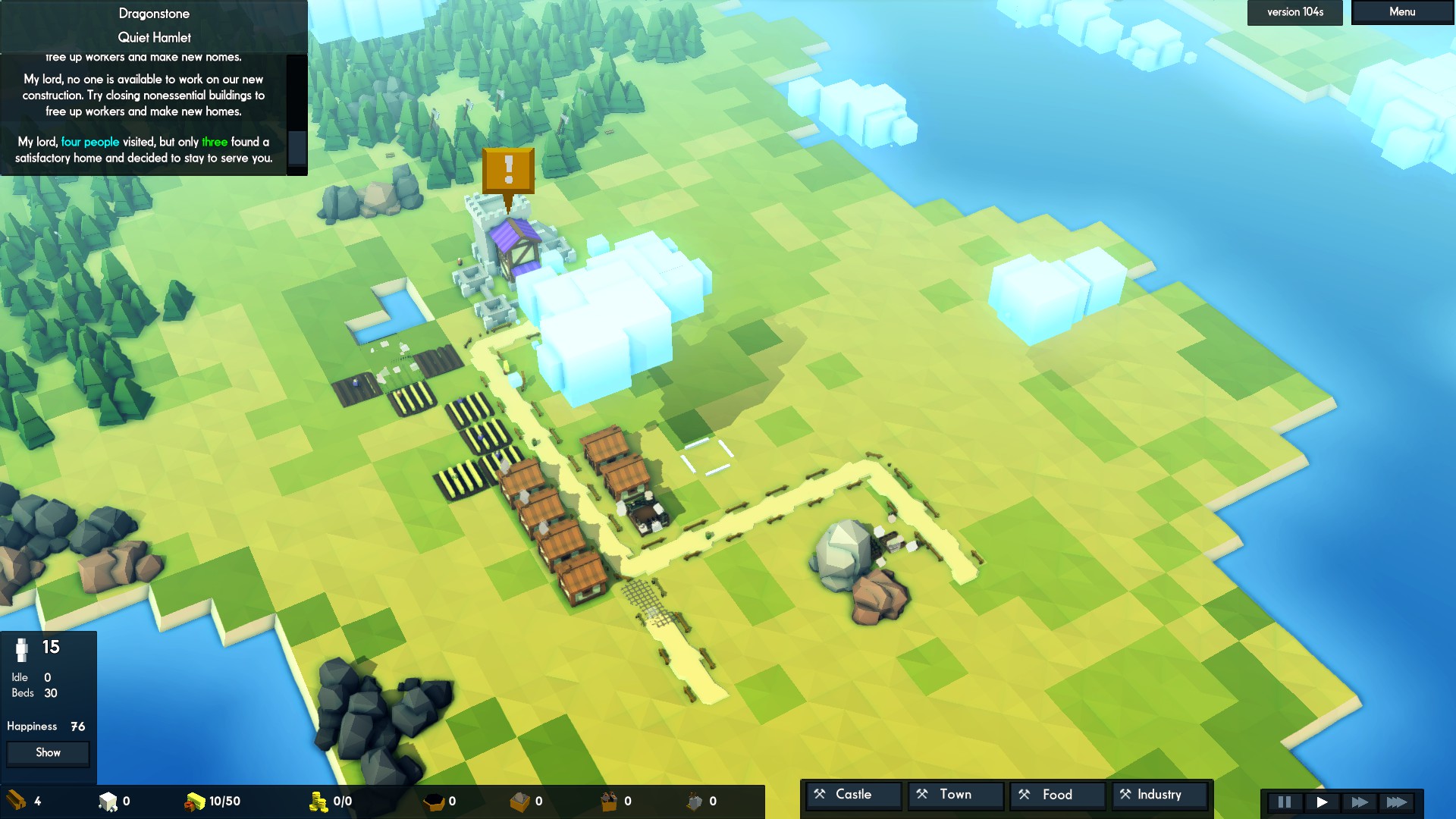 Even with the lack of depth and content, it's still a pretty nice game. Relaxing as hell at the start, while you watch your little fledgling kingdom start coming to life. It certainly reminds me of The Settlers and Hearthlands quite a bit, with you seeing you little villagers chop trees, carry resources to your castle or your stockpile.
With a really sweet, colourful and low-poly art style it's certainly an accessible game. The way the clouds flow in and out is really quite clever too. While the art style is nice, the UI could use a little work. The rather huge message box in the top left corner feels like it's always in my way.
One thing that does bother me is how small the maps are, there's not a great deal of room for expansion, so it really doesn't take long to end up filling the space you have. I suppose right now, the maps are
sufficient
, considering your limited build options. That's another thing that bugs me, there's no upgrade system, so once you've built up that's basically it.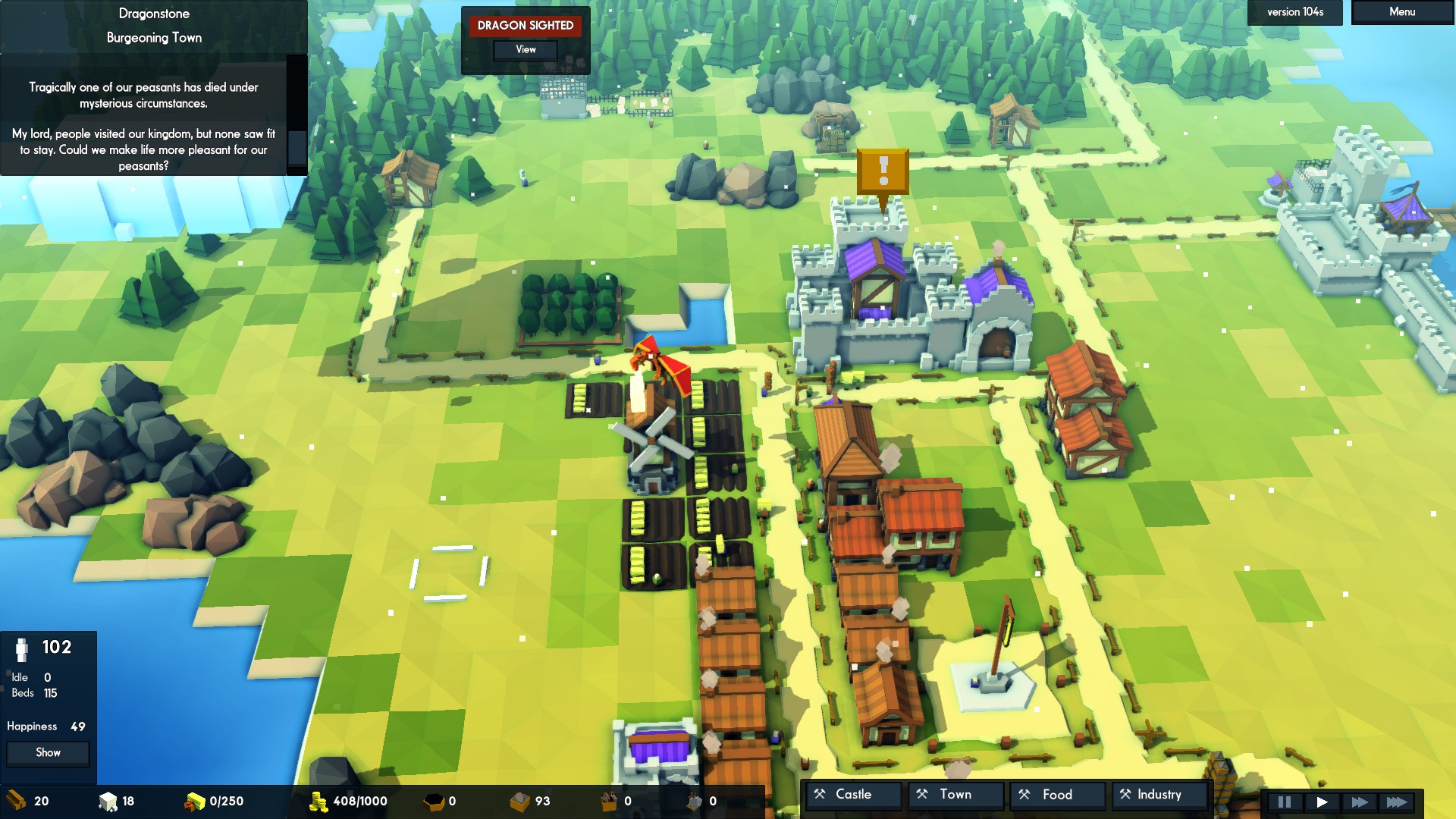 I've encountered the Dragon a few times, but it's nothing more than a mild inconvenience. It flies around for a bit, roars a few times and it set fire to a single thing and then flew off. Can be quite easily countered by having a few high walls with some defences. I think having some more difficulty options would be a good start, like making the dragon much more menacing, but having more control over the experience by toggling a few options. Right now it's either peaceful, easy or hard. A very flat difficulty experience for such a game.
Same for the Vikings, they came by sea with their silly little armies, but a few walls and towers and they're not really much of a threat. If they had more interesting equipment and perhaps came in bigger numbers, it might be a bit more interesting.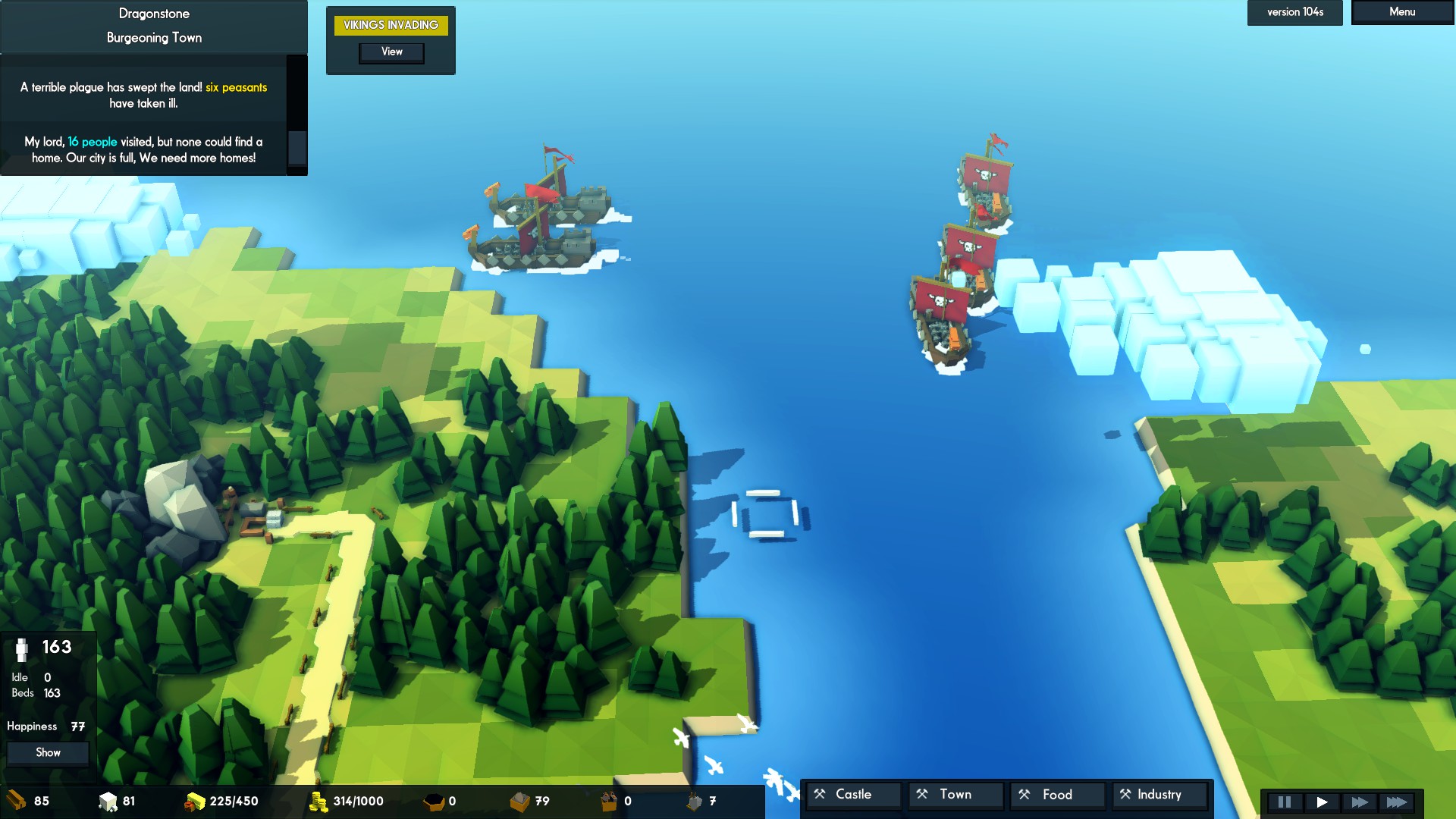 Fires are probably the most annoying thing in the game right now. You either need water close by, or Wells. It still takes your citizens a while to get the water, then get to the fire. Ideally, for a city-builder where buildings catch fire, it needs a dedicated fire service, especially when citizens choose to ignore your wells and gather water elsewhere from the map.
Another little annoyance is rubble. You have to manually clear each individual tile of rubble to be able to build again. For the small buildings it's not so bad, but for bigger buildings it's a downright nuisance since they don't just have one big rubble pile, they have lots of little piles. It needs lots of little quality of life tweaks, like just letting us build on top of rubble.
Overall, it's cute, but it lacks any real depth right now. I've not had a single crash or bug that I could see, it's been a pretty solid release so far. I like it quite a lot, I just want more of
everything
.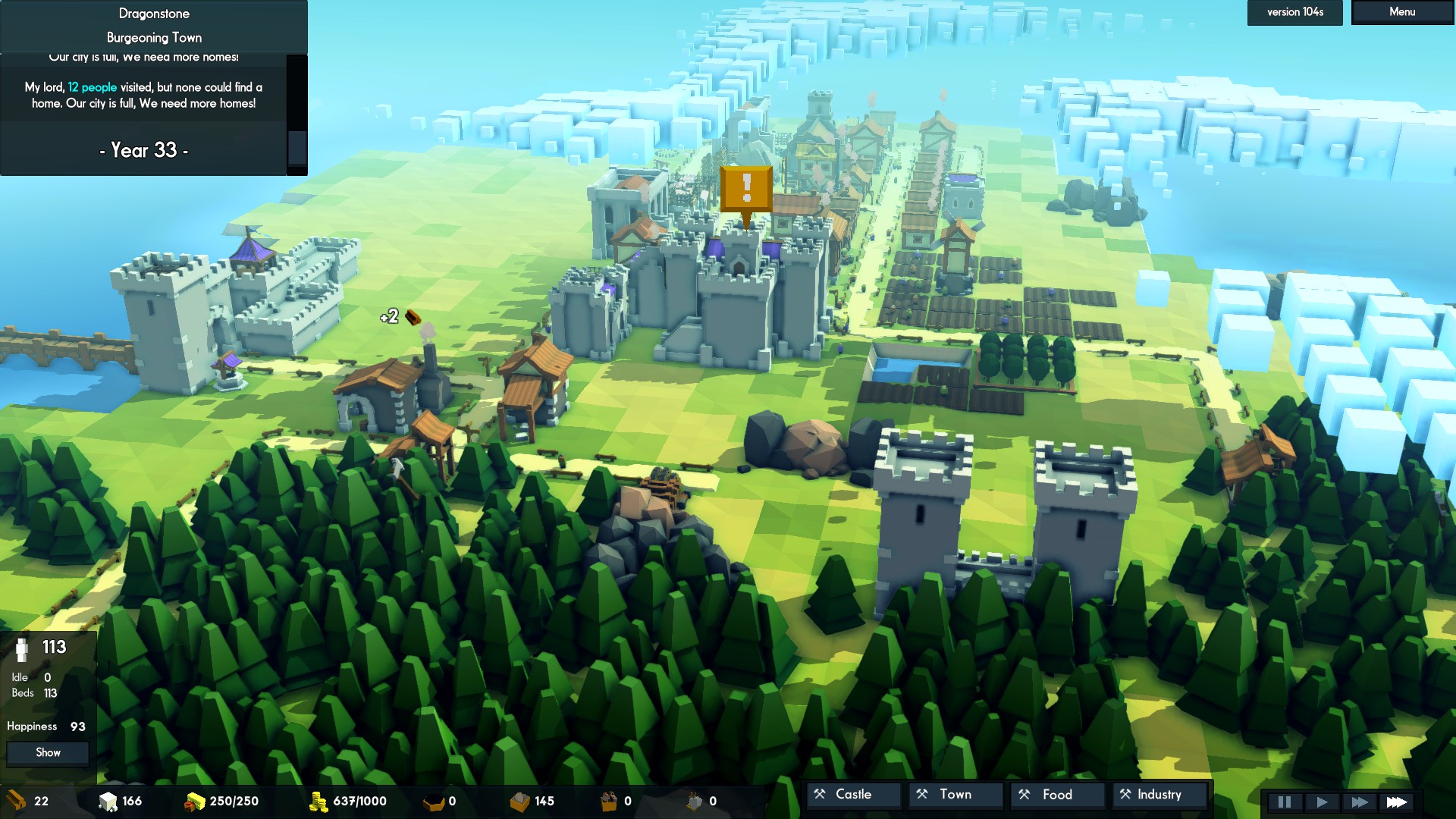 In little over an hour I had built practically everything and I ended up just sat there with nothing to really do. It just feels like there's a real lack of events to make the game interesting. I could have continued for an hour or two longer, building up more of the same, but why? The game doesn't give you a feeling of wanting to continue yet.
You can find Kingdoms and Castles on
Steam
&
GOG
.
Some you may have missed, popular articles from the last month: