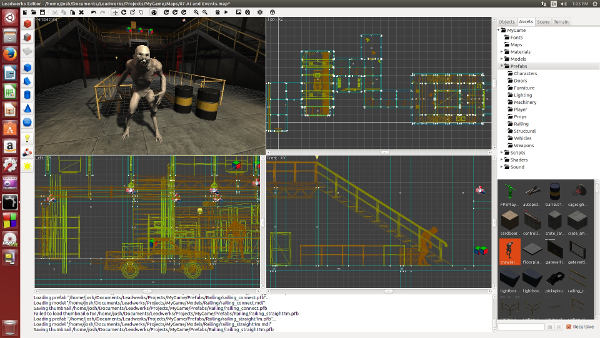 The
Leadwerks
game engine is now available to buy from the Ubuntu Software Centre, so anyone using Ubuntu can purchase it and install it directly within Ubuntu to begin creating games.
Leadwerks came to Linux as a result of their
crowdfunding effort
which more than doubled its goal, showing the demand for a Linux-native commercial-grade game kit for Linux.
About Leadwerks Software
Leadwerks Software was founded in 2006 to build powerful game development tools that are
easy to use. The company launched Leadwerks 3, their first multi-platform product, in April 2013
at the GDC expo. Last summer, the company conducted a successful Kickstarter campaign to
bring Leadwerks to the Linux operating system, reaching over 200% of their goal in just six
weeks. A concurrent Greenlight campaign for Steam was also successful, making Leadwerks
the first 3D game engine approved for distribution on Steam.!
My opinion on this, ignore if you just want the facts of the release...
As much as I applaud Leadwerks for porting over to Linux thanks to their crowdfunding campaign, I cannot help but think "who cares" to anything going into the Ubuntu Software Centre, who honestly buys from it?
I really hope they aren't betting anything on this as it's screaming out for failure, has anything, ever sold well on the USC? Nope.
I actually see the USC as another form of vendor lock-in, you will then be tied to Ubuntu. What if you want to jump over to a different distro? No dice.
Finally you can see the
full press release here
.
Some you may have missed, popular articles from the last month: