While it wasn't made specifically for Linux (like with Minigalaxy for GOG), the in-development community made application 'Legendary' has an aim to be a cross-platform and open source version of the Epic Games Store.
Right now it's quite basic, with it being command-line only but they are planning to implement a UI later. Since the Epic Games Store doesn't serve Linux games, it also relies on you having Wine installed since you will be downloading Windows games with it. As an alternative to running the Epic Games Store in Wine, the Legendary client could end up becoming quite useful for Linux gaming enthusiasts who also used the EGS.
What it currently supports:
Authenticate with Epic
Download and install games and their DLC
Delta patching/updating of installed games
Launch games with online authentication
What they have planned:
PyPI/PPA distribution
Simple GUI for managing/launching games
Importing installed games from the EGS launcher
Lots and lots of bug fixes, optimizations, and refactoring...
Giving it a quick test today, it seems to work quite well. You can authenticate easily enough, although it requires copying a code you get from logging into Epic Games. From there you can download games and run them.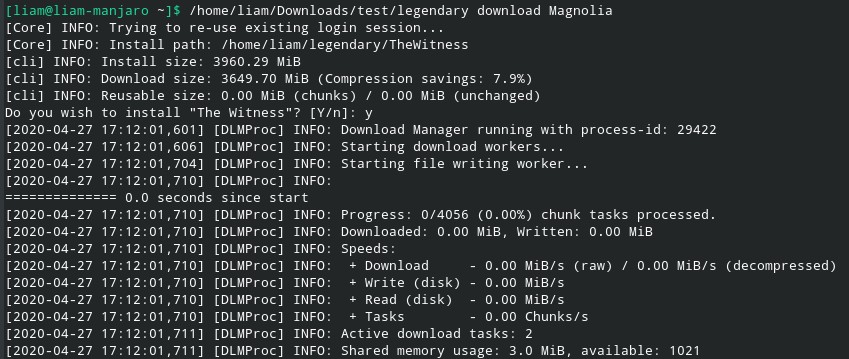 Pictured: Legendary downloading The Witness from the EGS on Linux
It will be interesting to see what Epic Games think about such a project. They've commented before about wanting more open platforms but how open are they willing to be? Should hopefully be no issue with it, since it requires you to own the games.
Legendary is licensed under the GPL and can be found on GitHub.
Some you may have missed, popular articles from the last month: