Life of Pixel features platforming goodness spanning over 72 levels of moving & destructible platforms, double jumps, gravity inversion (walk on ceilings) and lots of different enemies that Pixel must avoid to unlock the history of the pixel.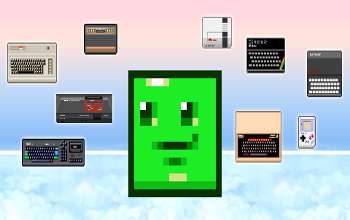 It differs to the usual platform game by including game types from lots of different machines (and more to come too!) and emulates their graphical style so, it makes this actually quite an interesting one!

On the 11th of May they also announced Linux support without a stretch goal, doing it right!

Explore Classic 8-Bit Gaming Machines
Experience gaming history as you visit these wonderful computers and games consoles from the very beginning of the home video games industry:
Atari 2600
Sinclair ZX81
ZX Spectrum
Commodore 64
Amstrad CPC464
BBC Model B
Nintendo GameBoy
NES
Sega Master System

You need to front at least £5 to secure a copy, when you consider what this one has to offer and the amount of content it has, seems like a no brainer to me!
Some you may have missed, popular articles from the last month: