A few times in your life, you have a life changing experience. Maybe it's getting married, having your first child, or finishing your college degree.
Well, I just had a life changing experience. And it was because of a video game. Not just a video game, but a video game that I played on Linux.
As I am sure many of you are aware, Linux gets the unfortunate notoriety of being a poor operating system for games (this seems to be changing in the public's eyes). Sure, we do have less games than other platforms, but that certainly doesn't mean the games themselves are of poor quality.
I was reminded of this when I completed the recently ported game to Linux, 'Life is Strange' [
Official Site
,
Steam
]. Developed by Dontnod Entertainment, and ported to Linux by the awesome folks at Feral interactive. With the combined work on developing the game itself from Dontnod, and the wonderful port by Feral, I have just had one of my best gaming experiences ever. And it was all done on Linux.
Life is Strange starts with an eighteen year old girl named Max who finds out she has the power to reverse time, an ability which becomes the game's main mechanic. Does it sound incredibly simple? Well, that's probably because it is. This is not a game driven by mechanics, it's made excellent by its story. Many would prefer mechanics to story, which I usually do myself, but Life is Strange, in my mind, is a rare exception.
Now that I've gotten some of the technical details out of the way, let's get to my possibly overly emotionally charged point. That emotional part isn't helped by the fact that I am listening to this song from the soundtrack:
Perhaps this game was set to affect me on another level from the very get go. My place in life is very similar to that of Max. We're both eighteen, and in my case, about to start college. Life is Strange is a true coming of age story. I feel that way as I am about to start my next phase of life, that I am coming of age.
All I'm missing is the ability to reverse time, damn.
This game nailed me with a feeling I haven't had with a game before: being protective of the character I was playing, as if she was a family member or a dear friend. Whenever Max gets into a dark situation (which there are many of in this game) I almost feel responsible, and I feel a sense of duty to get her out of it. If a character harmed Max, I'll make it my life's mission to deal with them.
This story of a girl going to school and finding out she has powers strangely hits home somehow. She is an 'ordinary' person thrown into an extreme circumstance. It's a similar feeling I get when watching E.T. or Stranger Things. You think "Wow, I could actually see this happening." Who knows, perhaps I'm crazy?
But what's a Spielberg-esque story without a good friend or two? Well, the character of Chloe adds even more to this story. I won't say more for the sake of spoilers, but the two main characters are in for one heck of a ride, and you're going to be on the front seat with them.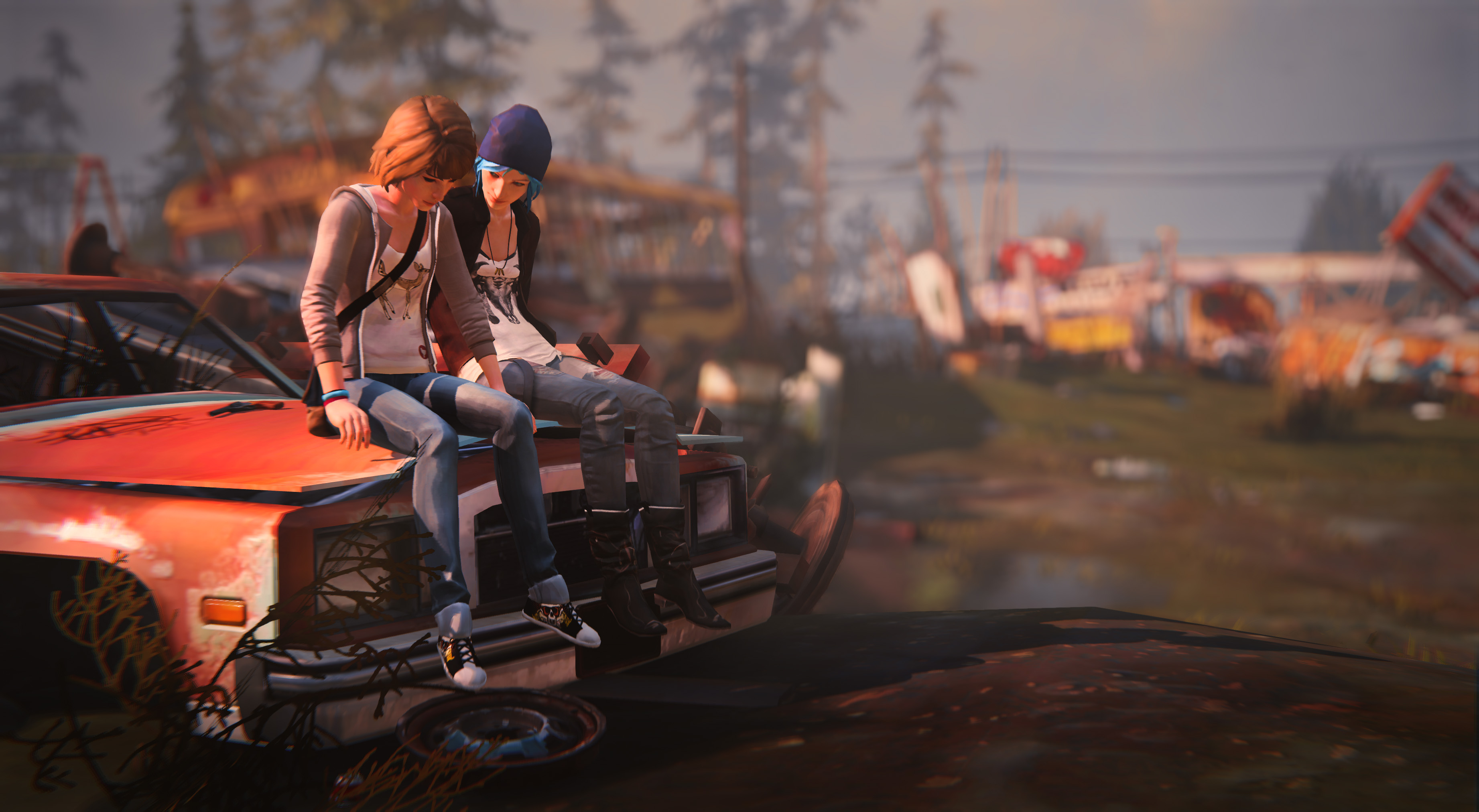 Thanks Gamespot for the image
The art style/graphics of the game truly surprised me. It all looks like a painting. Despite this, the characters look strangely believable. It makes you feel enamored with the characters, as if you are having a real connection with them in real life. Right in front of you.
Thinking about it now, this will be the last game I complete before I go to college. It almost feels like the last game that will make me feel like a kid, before I enter the world of adulthood. A bittersweet feeling, truly.
And if it didn't come to Linux, I probably would never have played it. And if I had, it would have been at a different time of my life, where it wouldn't hit me so hard up the head with emotions. Because of the timing, I can't stop thinking about this game. I think that's when you know you played the right game, at the right time.
The game may not affect you as much as it did me, but if you would like to try it, you can download the first episode for free from
Steam
, paying $20 for the remaining 4 episodes.
What about you, GOL readers and Linux lovers? Have you ever played a game that changed your life? I would love to hear your own stories.
Some you may have missed, popular articles from the last month: