https://www.youtube.com/watch?v=-XRA8LYFLZs
Lisa is a quirky side-scrolling RPG set in a post-apocalyptic wasteland. It has a nice style to it, and very positive reviews on Steam.
Luckily, the Linux/Mac versions are out in beta form, so if you wish to give it a go you can right now. The only issue is it isn't "officially" supported, so if it crashes and burns and they can't fix it, you were warned (the usual beta stuffs).
Amusingly, a website called "
Another Castle
" said this game is "Like Earthbound with Perverts". That makes me want to try it for some strange reason.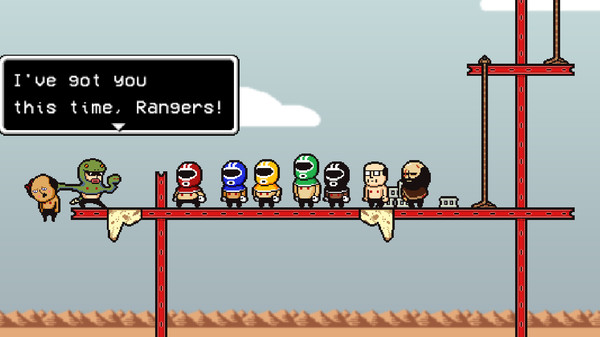 That picture also makes me want to try it; mainly as my son has started liking "Power Rangers", and...it's crap.
About the game
Lisa is a quirky side-scrolling RPG set in a post-apocalyptic wasteland. Beneath the charming and funny exterior is a world full of disgust and moral destruction. Players will learn what kind of person they are by being FORCED to make choices. These choices permanently effect the game play. If you want to save a party member from death, you will have to sacrifice the strength of your character. Whether it's taking a beating for them, or chopping off limbs, or some other inhuman way. You will learn that in this world being selfish and heartless is the only way to survive...
Features
- Visible character sacrifices that effect your stats (removing arms, eyes, scratches)
- Recruiting 30+ new party members in towns and camps.
- Ruthless choices that permanently effect towns, characters, life...
- White knuckle shopping cart races.
- Expending party members in Russian Roulette for huge profit, but perma-death if they lose.
- Countless hidden secrets in the world for you to explore.
- A life ruining gaming experience (lol wut?)
You can
check out information on the beta here
.
Check out
LISA on Steam now
.
Some you may have missed, popular articles from the last month: