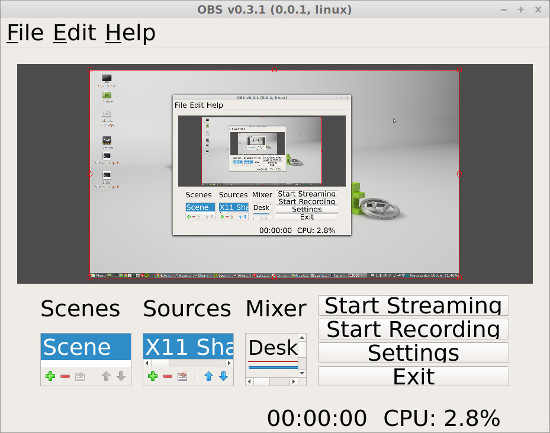 OBS Studio
is a rewrite of the OBS recording and live streaming software that is currently in the early stages, but it's already very useful. It's a popular bit of kit a lot of Windows gamers use to stream their games and the rewrite OBS Studio works on Linux.
As you may tell from that image above it doesn't handle high DPI very well yet, but I hope it will in future.
I actually used it a few nights back to stream some XCOM and Dota2 and it worked pretty well. It's much easier to use than most other programs as there's no fussing around with configs or the terminal.
I hope some more Linux friendly developers look at the code and help out, as tools like this a pretty damn important for the Linux gaming scene to help it grow. The more people we have streaming games on the Linux the more people will realise it is ready for gaming.
Luckily Ubuntu/Mint users can
use this handy PPA
to test it out, but you will need some more up to date
ffpmeg from this PPA
too.
Arch users
can grab it here
.
For everyone else check the
github page
for it.
It doesn't seem to add a menu entry yet, so you will need to load up a terminal window and simply type "obs" to have to load up.
If you are streaming to somewhere like
Twitch
you will need to login, go to your Dashboard and then grab your Stream Key. This will then be pasted into your settings -> Stream panel.
The process to stream from then is very simple, as you just add "X11 Shared Memory Screen Input" into your Sources panel to share your screen, and then hit Stream and it
should
go pretty smoothly.
Remember though it is early days, and things like audio de-syncs will probably happen (it happened to me). It's great to see more projects come over to Linux to help with streaming as there seems to be more people doing it nowadays.
You can expect to see more live streaming in future thanks to this project.
Some you may have missed, popular articles from the last month: