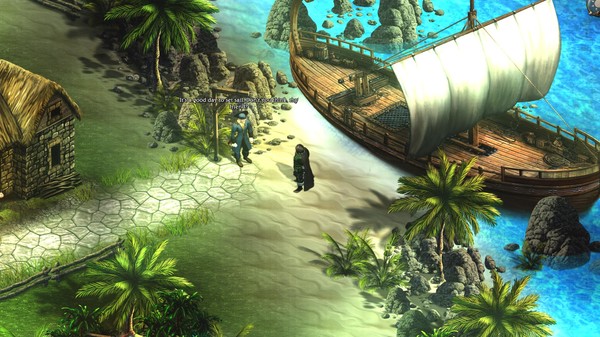 Numantian Games has just released the Linux version of their fantasy RPG and it looks fantastic, so we decided to give it a go and tell you what we think.
Some thoughts
The first thing I noticed is that the Linux version isn't quite as smooth as it could be, but it's not hitting a low of Dying Light levels of performance. It performed well enough for me to get into the game, and enjoy what I could play of it. I do hope they work a little more on the OpenGL side of it in a future patch as you do notice a bit of stuttering here and there.
Sadly, I did encounter a number of bugs, so let's get them out of the way first:
First bug I encountered is that doing ALT+ENTER stops you from being able to bring the game back from the window, but this could be a Cinnamon desktop issue. If others could check to confirm the issue that would be great. ALT+TAB seems to work fine though, so not sure what's going on.
Also, just as I finished one of my first longer battles and quit the screen showing my earnings, the game decided to crash to the desktop, and that made me very sad after such a tight victory for my team.
When I finished exploring the top area of the first map, I decided to exit the bottom of the first village, and in doing so the game crashed and played my footstep sound over, and over, and that was it. Not the best experience to start the game with really.
It creates a "My Games" folder in your /home, and stores some saved games and configuration files inside, not a bug, but an annoyance when games don't respect proper data directories on Linux. Games polluting my /home folder with other folders does get annoying. I've seen reports that this was mentioned to them during the Linux beta, but not fixed.
Now, onto the good parts...
The interface is simple, and easy to learn, and the game won't completely hold your hand, so you are free to explore the world. This is good, as I like to do a little exploring without being specifically told what to do.
It's a real RPG with lots of text to read from conversations with people, and a story to piece together yourself. I like it a lot, as the story so far seems easy enough to digest.
Combat is turn-based and easy to figure out, you have the portraits of each character and enemy down the right side of your screen, and when it comes to one of your characters you simply choose what action wish to take. It's simple, looks good and most importantly it's really fun to be in combat, but don't try to fight the town guards straight away like me, as they will kill you, all of you.
The only bit about combat I didn't get at first, is that I could hit the same enemy 4 times in a row, then they were suddenly able to block every single part member. That seemed odd, until I studied the options a bit better, and one of your options is to parry which can help block attacks until that characters next turn. That option is especially useful when characters are low on health!
The game mixes up the combat in two different ways, as you have your general exploration with enemies you can see and avoid, but if you decide to walk around hostile areas, the events become random. You do get options though, so it doesn't simply thrust you directly into combat. You can try to avoid it with a certain level of success, or hide using power points if you have enough. It's interesting to mix it up like this, and it actually helps to keep the game interesting.
When you come up against something that is locked, the lock picking mini-game is quite interesting and reminds me a little of Minesweeper, and I always like it when developers try something new to make lock picking interesting.
Something a fair few RPG games forget is to allow you to easily compare statistics of new weapons and armour, but luckily Lords allows you to simply right click over an item to compare it, and when I am able to do things like this easily, I love it!
Overall, I think it's an interesting RPG to have on Linux, and with some performance updates and highly needed bug fixes it will be fantastic, but due to the performance on Linux and the extremely annoying crash-bugs it's not quite perfect. I wouldn't recommend giving it a try
just yet
due to the numerous issues I encountered. It's shame, as I loved what little game-play I could get until it crashed each time.
About the game
(From Steam)
Lords of Xulima is an original Fantasy RPG set on the mythical continent of Xulima, where Gods and humans once walked side by side. Become the Herald of the Gods and travel to an uncharted land to fulfil your mission of restoring balance in the known world.
The Linux version is available right now on
Steam
, but it shouldn't be long before the GOG version is up.