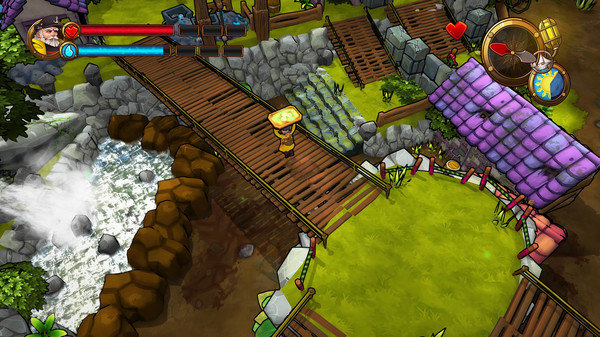 Lost Sea is a quirky looking action and adventure game with some nice visuals that recently released on Linux, I took a look.
Notice
: Both the developer and GOG provided me with a key.
Lost Sea is a really nice idea, mixing up action, adventure, RPG and random generation together to create something interesting. You also lose almost all progress when you die, so there's the punishment factor here. You don't lost everything, you get a bit of gold and XP for each tablet you get on the previous run.
You sail from island to island collecting treasures, killing monsters and collecting stone tablets that enable you to move further along in your journey. It all sounds pretty good, but I've found the game to be rather lacking in every aspect of its design.
The combat just seems so basic and lifeless it really lets down what could have been a very exciting game. You can upgrade your skillset to have a few nice extras but even so, it still feels a bit empty. It's not terrible though, just not really all that challenging at all, no real excitement factor to the combat. It's literally mash X a few times, maybe use a skill if you need too and—done.
When it comes to the exploration, it's often very confusing. 99% of it looks the same, so it's extremely easily to repeatedly get lost and end up going in circles. That is amplified by the fact that your view is so restricted!
I tested both the Steam and GOG build and both seem fine. It feels pretty good with a gamepad, but if you're using the Steam Controller with Big Picture Mode, I would use the Gamepad with Camera Controls preset, the developers preset was really weird and the camera control was terrible with it.
Issues
The AI does have an issue with pathfinding, I've ran around a bit a few times to realise a companion has vanished. Only to walk back a while and find them running into a wall or something that's in the way. They don't seem to be able to path around objects too well.
The music is extremely repetitive and gets a bit annoying after repeating for so long.
To put it bluntly, the game was
very
underwhelming, but I fully imagine a younger audience would like it. A stepping stone for a younger audience to experience more mature action/adventure games.
You can find Lost Sea on
GOG
and
Steam
.
Some you may have missed, popular articles from the last month: