Mad Max [Feral Mini Site] is officially being released on the 20th of October for Linux & SteamOS, it's finally coming!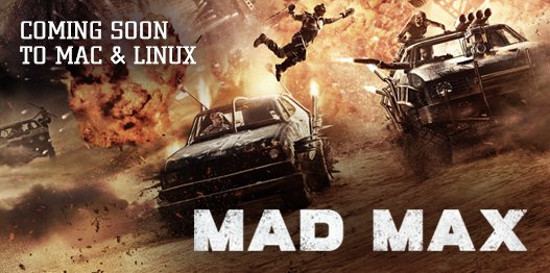 On October 20th, enter the outlandish post-apocalyptic world of Mad Max on Mac and Linux. pic.twitter.com/8Vx0qU9YpK

— Feral Interactive (@feralgames) October 5, 2016

After initially being confirmed for Linux way back in March 2015, we finally have confirmation that not only is the Linux port real, but it's coming damn soon too.

From the press release:
Quote"We're delighted to be bringing Mad Max to Mac and Linux PC," said David Stephen, Managing Director at Feral Interactive, "With its exhilarating combat, outlandish characters and beautiful end-of-the-world visuals, Mad Max perfectly captures the atmosphere and thrill of The Wasteland."

System requirements:
Intel i5 or AMD FX8350 3.4 GHz CPU
8GB RAM
SteamOS 2.0 or Ubuntu 16.04 or better.

The game also requires an NVIDIA 660ti series graphics card or better, running driver version 367.35 or later. AMD and Intel GPUs are not supported at release.

If you want more information on AMD support in future, you can see this comment from Edwin who works at Feral, copied below:
Edwin, Feral InteractiveDue to various issues with Mesa we will not be supporting AMD on release. We only can officially support drivers if they meet the quality needed and sadly Mesa isn't quite there yet as it has a few issues and edge cases. It was a super close call but in the end we won't say a game is officially supported unless it runs great using release versions of the drivers and kernel.

However we developed the game using AMD cards as well as Nvidia so if you install the latest Mesa beta drivers and other updates as needed it runs it's just not at a level where we can provide official support as some edge cases will exist. Hopefully once all the Mesa developments get into a stable release version and all the related kernel improvements also are in a stable release then support for Mad Max and similar complex titles will be easier/possible.

Summary: AMD is unsupported meaning we don't recommend you purchase it on AMD GPUs, however we have don a lot of work towards support which should happen once all the improvements to Mesa/Kernel are in stable branches.


Releasing another game so soon after Dawn of War II [port report here], Feral sure are busy! I will hopefully have my usual report on the game up at release. Not long to go folks! Are you excited? Let me know in the comments!
After the news about Civ VI possibly not coming to Linux, this was a very well timed announcement.
Some you may have missed, popular articles from the last month: