Today I have been creating some mighty fine dishes in Space Food Truck, it recently launched out from Early Access so I was keen to take a look.
Disclosure: Key provided by developer.
It's a single-player, or 1-4 player online game where you each pick a role to play like the captain, chef, cook or scientist (or all of them if you're not playing online) and you each have a set of your own cards. Every action in the game uses cards, so you need to pick carefully. You also need to combine cards at times for specific actions, like using the FTL drive will need a card, and other cards with power values to use it.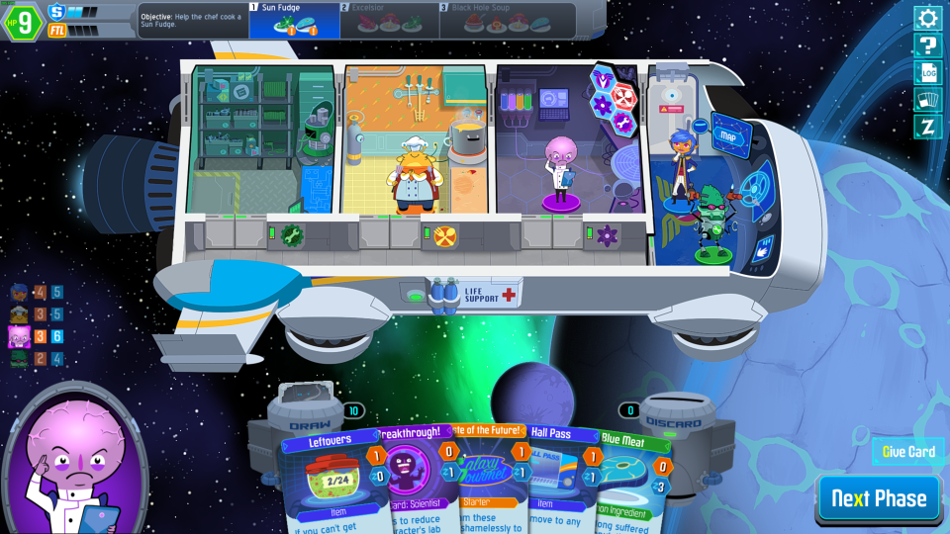 I have to say, that the game is surprisingly intimidating to get into. Mainly, as the tutorial section is a bunch of videos and help text. There's no actual in-game tutorial, which annoyed me quite a bit as I don't learn easily that way. I spent about 17 minutes just watching their videos on how to play it, and all I wanted to do was actually play the damn thing. Another problem with using videos in the way they have, is that it felt like watching a "let's play", like I've already now seen a bunch of what the game has to offer, so it didn't make playing the game feel as rewarding.
The game has some heavy RNG, which can ruin your run pretty easily. The random events seem to happen far too often, and they are far too unforgiving. For example: some of them are about the ship getting hit, and you can discard power cards to not get hit. The problem is you need those power cards to do any of the major stuff in the game, like cooking which is the main aim of the game. You can easily see the ship getting blown up. Every single turn on every character has a new random event, and it's almost never good by the looks of it.
The game really is meant to be played with others too, as it felt a bit tedious playing as all the characters myself, dealing with all their cards and sorting their jobs out. The problem is the community for the game is tiny, so that also left a bit of a poor taste in my mouth.
Another major issue is just how polluted your decks get. A part of your turn is forcing you to buy a new card from the market. You have to, or you cannot progress. This makes drawing the cards you need to progress anywhere in the game increasingly difficult.
Issues
Like a lot of Unity games, the multi-monitor handling is funky. It takes the width of both of my monitors instead of just the primary monitor. Annoying, but I was able to find where the mouse was being picked up on screen to change it. This is why I love the Unity launcher, and I wished all Unity games used it.
The resolution picker also seems to get cut off by the resolution size you're currently using.
The tutorial section has a bunch of videos you can watch, clicking them does nothing. That's probably the most frustrating issue. Luckily, I did find
a youtube list
to explain some bits.
I think it's a really cool idea, but it's hard to learn, hard to play in general and just wasn't my cup. I honestly found it a bit annoying.
Find
Space Food Truck on Steam
, or
buy it directly from the developer
.
Some you may have missed, popular articles from the last month: