Metropolisim from developer Halfway Decent Games is releasing next year, with a pretty bold aim to be the deepest city-building simulation experience ever.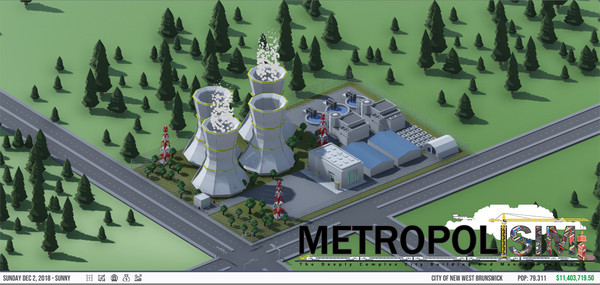 I take a healthy dose of scepticism any time a developer says something like that, as it rarely ends up being true. Even so, I'm a big fan of city building games and I'm always keen to see how developers can do it differently.
Planned features:
Build cities up to 10,000,000 population where every citizen is a fully simulated character. Watch them go about their lives as they travel to work, get stuck in traffic, take the bus, enjoy leisure activities, and more.
Designate areas within your city for residential, commercial, high-technology, and industrial growth. Then watch as construction begins.
Construct city buildings to deliver essential services to your residents. Ensure you have the appropriate coverage in every category to meet their needs if you want your city to continue to grow.
Oversee the budget of your city. Balance tax revenue against expenses like essential services, maintenance, and cultural attractions to keep the treasury full.
Plan your city layout by precisely laying out streets, avenues, highways, and mass transit options to make sure your citizens can reach their destination quickly and safely, otherwise get ready to hear their gripes.
Going by the videos available on their YouTube channel, it seems to be in the early stages so it's going to be a while on this one I think.
It has a Steam page up you can follow, even though there's only Windows system requirements the official site very clearly states "It will never be ported to consoles. Windows, Linux, and Mac builds will be available.".
Hat tip to Tiedemann.
Some you may have missed, popular articles from the last month: