Now that The Culling is available on Linux I have taken it for a spin, and here are some quick thoughts on it.
It's already a pretty popular game, so it's great to have yet another on Linux. It's in Early Access so of course bugs and general optimization issues are to be expected.
Note:
This is an early report as the game is in Early Access and it has only just pushed out a Linux version. Also, the key was provided by one of the PR teams I speak to.
The port
First thing to note is that it loaded up in windowed mode as opposed to full screen. Always a bit weird when games do that.
It has windowed mode, normal fullscreen and fullscreen windowed modes. I mainly tested it in windowed mode as it seems to work the best with my 4K monitor. Some games like The Culling don't stretch the image if you run a resolution lower than 4K, and it ends up like this: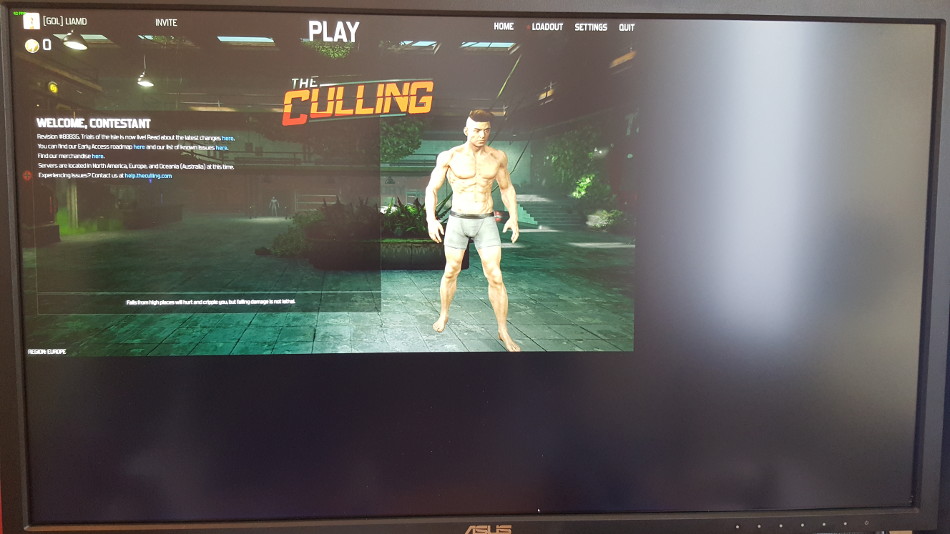 The game will often completely freeze up, the UI just becomes completely unresponsive. This is the major problem with the Linux version right now. Running it in windowed mode also works around the UI becoming unresponsive for a bit longer, and the mouse pointer being offset. It seems this is a known issue and they are working on it.
You are able to customize most aspects of your character from gender, skin colour, hair style that sort of thing. It's nice, and I hope they include even more options in future.
The first time I clicked the Play button the game seemed to crash, nothing was happening and I could no longer click on anything else. I had to force quit the game, but the second time seemed to work fine. I think this is again linked to the UI issues noted above.
The shadows are extremely dark, they are very hard shadows. The developers have listened to people annoyed by them, and will be putting in an option to remove the shadowing. It's a tough decision, as anyone left with them on will now be at a disadvantage.
Performance
The performance isn't the best. I'm running an Intel i7, Nvidia 980ti and 16GB RAM at 2560x1440 with the default "Extreme" setting and the FPS fluctuates quite a bit. I've found it to still be playable and enjoyable for me, as it doesn't slow to a crawl and still seems to be mostly smooth.
Gameplay
It has a pretty nice training area that will teach you all the basics of the game as you go from room to room. I highly suggest doing them, and they don't take very long.
It has one of the more unique crafting systems that I've seen in first-person survival games. Rather than picking up a ton of different items, and then arranging them in some order you simply have something in your hand and when you find something else you can craft what's in your hand directly into something else. It actually works very nicely, considering the fast-paced nature of the game later on it's actually a pretty well thought-out crafting system.
I managed to run around for a quite a while avoiding everyone, collecting FUNC (the currency) and opening a crate. Inside my first crate was a baseball bat, and right next to it I found a locker with a tracker in it for me to find someone.
I came across some weird looking barrel that had a green light on it. It noted that it was a poison cannister, but it also allowed me to craft some larger spike traps for a small fee. I thought about being a real devious bastard and put the traps around it hoping to catch someone with it.
I managed to eventually find someone, or rather he found me. I used the tracker and realised someone was closing in behind me. I turned around, and he was on a hilltop aiming his bow right at me. It very quickly got intense, but I managed to take him down with my baseball bat after chasing him through the traps I setup. I was absolutely delighted by my murder as I stole his backpack, which gave me two additional inventory slots. Pretty handy since he dropped his bow and knuckle dusters.
I quickly died soon after as the map got smaller with poison surrounding it and I didn't quite understand what was going on. By the time I got out of the cloud and back into the arena my health was down to 22/100 and there was a guy fully armed right in front of me—darn!
The game seemed to crash while I was checking out my stats before I could join the spectators. I did however earn a fancy hat for my game. You earn items after each game, and if you do better you get a better item. These items are all cosmetic from what I've read.
Safe to say, I thought it was really quite fun. Fun enough for me to actually want to play some more.
A little unstable, major problems with the UI becoming unresponsive, performance a bit up and down, but still pretty fun.
Honestly, I would still hold off until at the very least they sort the UI issues out, unless you don't mind doing ALT+F4 repeatedly.
You can find
The Culling on Steam
.
Some you may have missed, popular articles from the last month: