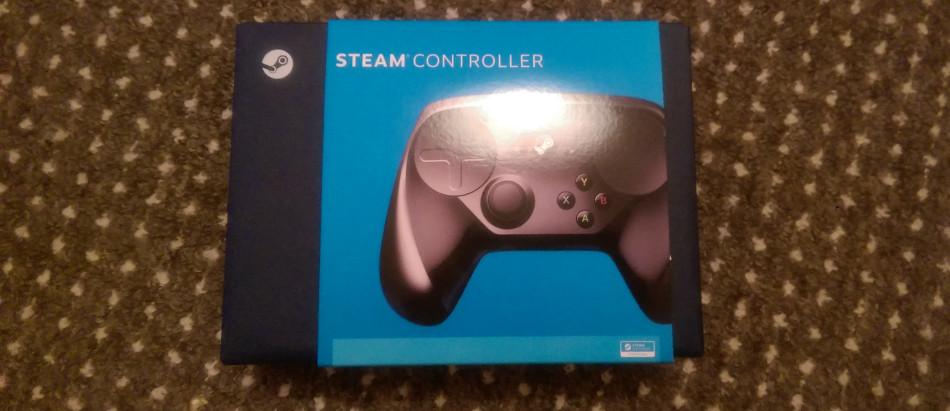 I honestly can't remember the last time I was this excited about any hardware. It may only be a gamepad, but the Steam Controller is so very different it's refreshing.
Like the idiot I am, I decided to pop along to a local GAME store for the midnight release of Fallout 4, but I must have been the only person there
not
getting the game. Instead I was grabbing a midnight Steam Controller since it released at the same time.
Prepare to retrain your brains and muscles, as it has a learning curve to it. Give it some time, and you might find something amazing here.
It's big, there's no getting around that, but it's not
too
big, here's a comparison shot for you:

Also, it's not even remotely meant to replace your mouse. There's not much point in comparing it to a mouse, as they are designed for different things. It is however, a much better gamepad for PC gaming than any other pad I've ever used.
It's weird, very weird. I'm extremely comfortable with sticks on a controller, so I am way out of my comfort zone dealing with the Steam Controller's touch pads. With that said, even with it being very different I found getting used to the pads reasonably easy. It wasn't as much of a shock to my brain as I thought it would be, but it
is
a shock to my thumb. Getting precision aiming down with it is going to take a fair bit of time, which could easily put people off who aren't too invested in what's possible with the device. It's pretty much a wet dream for people who like to tinker.
This is something some people are simply passing over, you can adjust things to suit your liking, and you should. Don't just depend on official configs, or community configs. Take a leaf out of the Linux book and just tinker away!
The controller build quality is surprising, as I was expecting it to feel cheap and nasty from what I read from other sites (like IGN & PC Gamer), but I'm very happy with it. It feels similar in build quality to a Logitech F310, but it's actually a
lot
nicer to hold in my hands. That's the major bonus for me here, it's comfy to hold and to use, even if I do have to adjust my brain to how far over the X button is. I actually like plastic designs like this, they are very light which is rather important for long gaming sessions and don't cost the world to make or buy.
A little known fact I don't really talk about is that I actually have a broken bone in my right hand (long story, it will never heal). It gets madly painful after typing a lot, using a mouse a lot, and especially using my F310 controller (so everything I do with this website is quite literally a pain). The pain is amplified by how damn stiff the F310 triggers still are after months of use, and something that so far after hours of use hasn't appeared at all with the Steam Controller. Now that's good design for you! I think the pads are actually in the perfect place, as that's where your thumbs naturally rest, so there's less strain to use it.
Originally, I thought it was crazy to release something like this that required normal batteries, but the more I think on it, the more it makes sense. Batteries die, batteries end up losing their charge quickly as they get older and so on. It's actually cheaper for us to not have to replace an expensive controller just because of a crap battery. The battery location is actually fantastic, as the controller feels very balanced in your hands. As opposed to it being in the middle like the 360 controller which makes it feel heavy in the wrong place.
I haven't been able to tweak the gyro how I want just yet, so I'm not actually using it at all. Having it turned on all the time is nothing but a nuisance, but finding a button that I'm not already using in a game to enable it when held down is a problem for me personally. It doesn't help that certain config options help text is stuff like this:

What's it like in games?
I've tried it in various games, from games designed for gamepads right up to games that need real high precision mouse aiming like Counter Strike Global Offensive.
Borderlands 2
- I have to say that Borderlands 2 was incredibly fun with the Steam Controller, and didn't take a lot of getting used to. I did need to tweak a few settings here and there, but it doesn't take long to get comfortable with the aiming. One thing that the Steam Controller has done for me is allow me to appreciate my character more. The melee attack is a simple press on the right pad, so it's really easy to do as I don't need to move any fingers away from aiming or movement. It's the same with reloading and picking up items, simply press a paddle on the back where your fingers wrap around. It's details like that which make me love the controller, as it actually makes some things easier to do.
Borderlands 2 does have an annoying issue though, where it will randomly show you normal keyboard controls like E instead of X. It can get confusing, and it appears quite a lot. I hope Aspyr Media or Valve (whoever the fault is with) are able to pop a fix in for it. I've shot off a message to Aspyr Media, so maybe we will see an update in future.
Counter Strike: Global Offensive
- I honestly think it's no way near precise enough for something as fast as Counter Strike: Global Offensive. Due to how fast you need your reaction times to be, it just isn't a great experience. It's not a terrible experience though, it was still fun to play. After a bit of time and tweaking I might do better, but I didn't do any worse than I do with my mouse.
Team Fortress 2
- On the bright side, I find it hilarious playing Team Fortress 2 since you don't need such amazing aim. It's somewhat rekindled a love I once had for the game (and many other games actually). Bouncing about all over the place mashing the fire button to launch rockets at people from my sofa, now that's just pure fun right there. I think I will be doing this more often.
Broforce
- Works exactly the same as any other gamepad, except the added bonus that it's wireless (the Logitech F310 isn't), it's more comfy to hold and it makes the game just as damn good.
Galak-Z
- Like Broforce above it works exactly the same as any other gamepad, pretty damn fun game too. No issues here!
DiRT Showdown
- Another one that's absolutely fine. It has gamepad support built in, so there's not really an issue. It feels good with the stick for movement, and everything functions as expected. I did try the gryo on this one to act like a steering wheel, but I can never seem to get it sensitive enough to pick up slight turns.
I will also be getting around to trying it in some strategy games, to see how good/bad it is. Once I have spent enough time testing them I may do a part 2 of this article.
Issues
It's certainly not without flaws though, so let me get to them.
From time to time, the controller will suddenly lose the will to work properly. I always know exactly when too. Instead of the thumb-stick being precise in clicking through items in Steam Big Picture mode it will suddenly act like it's slipping on ice and skip over items really quickly. It will start doing double button presses on a single press, and just generally act weirdly. It has never happened during actual gameplay, only when interacting with Steam Big Picture mode. Once it starts acting up though, it won't use the configs set for games, and then it becomes a bigger issue. It's not a signal issue either, as it happens when wired. It's like it suddenly forgets all the configs set for it, or something like that.
The shoulder buttons feel very oddly placed, to the point that my fingers will only reach the very end of each of them, it's a bit annoying but they are easy enough to click even at the odd angle they are positioned. I'm not sure if I've just been holding controllers wrong this whole time or what, but I just don't like where the shoulder buttons are.
The ABXY buttons are a little on the small side, and the positioning will need you to adjust your brain to it. Mine still hasn't, I keep pressing Y when I want to hit X. That will come with time though I'm sure. It's not that I can't reach them, just I keep pressing the wrong buttons and that's my issue, not the Steam Controller itself.
Steam Big Picture mode is unstable, I've had repeated crashes when I've had to kill the Steam process, I've reported it to Valve so hopefully they will sort it out. That has soured the experience a little. I really wish it didn't require it, as I would prefer to use the normal Steam on my desktop with it.
The right pad is too smooth for my liking, so I end up turning the haptic feedback to high on every game. My thumb just gets lost on it otherwise.
Then there's the typical "Valve Style" of leaving descriptions out for certain config options like shown in a shot above for the gyro.
As a final issue, sometimes configs you load up will be blank and look like they have nothing set for them. Some games will also claim to have zero community templates which is a lie, as I know people who did some.
Final thoughts
Will I be going back to my Logitech F310? Doubtful, once they sort the mentioned major input issue it will be nearly perfect for couch gaming.
Personally, I think Valve should have updated all of their games to have proper support for it. Especially games like TF2 where it's quite funny to use.
It's an excellent idea and a pretty decent gamepad. Being able to completely change the way it controls a game if I feel like it, that's just amazing. Heck, even the little noise it makes when you turn it on sounds like something out of a retro Mario game when you collect coins, I love it.
The important thing for me is that it's making me have more fun with my games, and making me appreciate them more.
Sadly though, the Steam Big Picture mode crashes and the gamepad suddenly forgetting how to work properly has soured the experience for me a little right now, but when it works it's really quite fun. I'm not letting that get to me too much right now, since it's all brand new. I just hope there's a few stability updates on their way.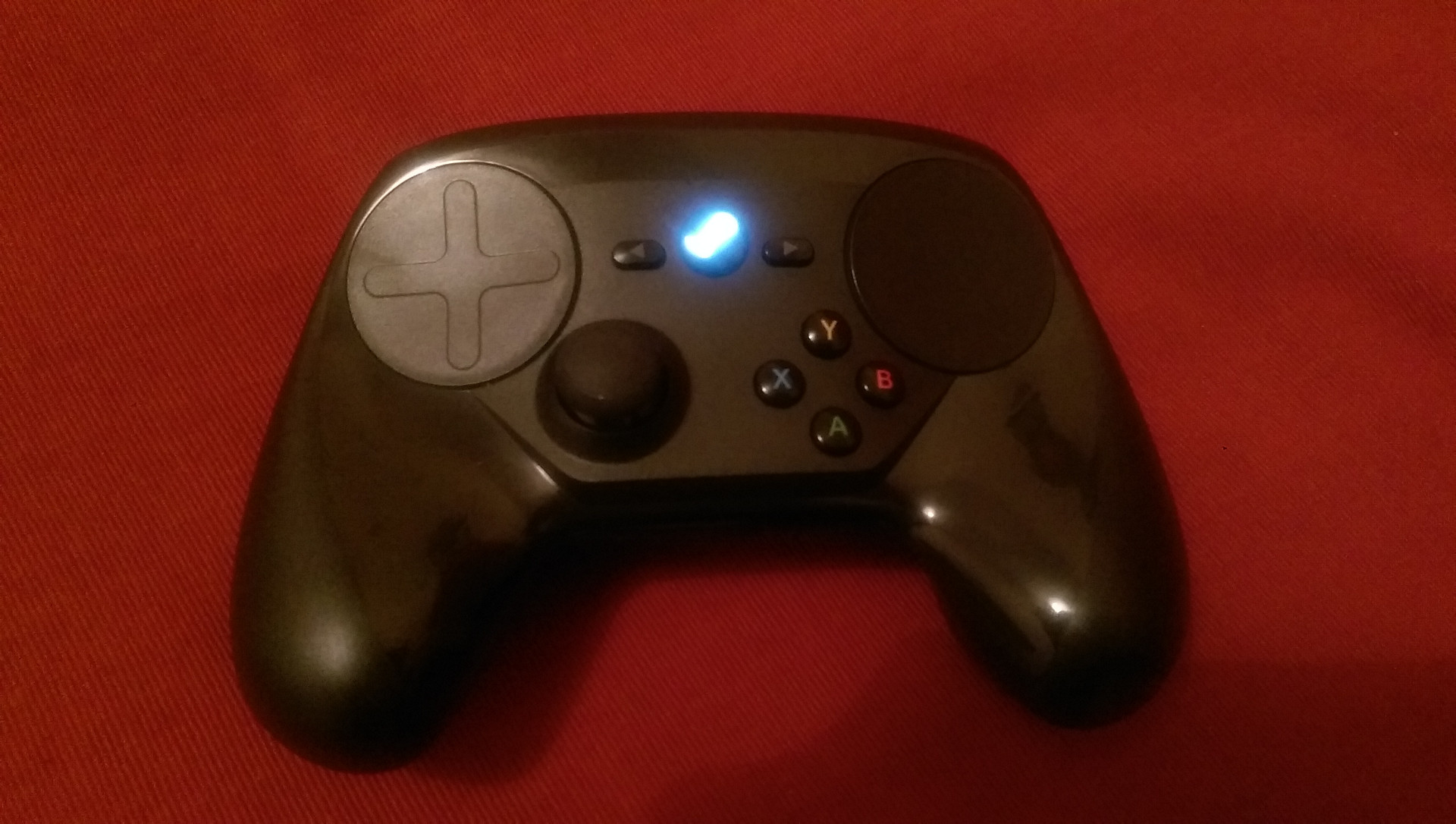 Some you may have missed, popular articles from the last month: