Note: in-universe perspective
I am a Drox Operative, captain of the Diffraction, a Reaper Light Destroyer along with my ragtag crew, Molder: my Reaper tactical officer, Phyllojackswing: my dedicated Marine and Kozak: a dragon-man responsible for our helm. We are on an ongoing mission in the Tanar galaxy by order of the Drox Operative Guild.
They send us on a mission to the star system Nas to win over a new sector. When we arrive in Nas and are immediately greeted by the Dryad, a friendly peace-loving species. Great! I will attempt to ally with them and conquer the sector by way of diplomacy. We agree to clear the sector of rogue ships for them in order to get on their good side.
We stumble across a space anomaly during our vigilance and stop to investigate. They usually behave wildly, either boosting ship functions or causing severe radiation damage. The crew needs some help so we accept the risk. But this anomaly collapsed into an unstable wormhole which transported us to a distant, uncharted star system! My crew and I normally travel cautiously, using starlanes and jumpgates to travel between solar systems so this put us on high alert.
There are no signs of inhabitants in this system and need desperately to find a starlane or jumpgate back to Nas. Our cargo bay is full of salvage and we need to resupply. To be dropped now in the middle of unfamiliar territory, surrounded by rogue monster ships with no known pathway back home is quite horrifying.
I discover that we are also dangerously low on shield boosters and there are no colonies or wandering vendors on radar. Now couldn't be a worse time for the Drox Operative Guild to order our crew to form an alliance between the Dryad and Humans... in the next thirty minutes or fail the sector!
You must know we have equipped the Diffraction with a component which restores armor integrity using the scrap from every kill made. In our weak state this forces us to keep fighting, even against great numbers, or to retreat and succumb to fast pursuers.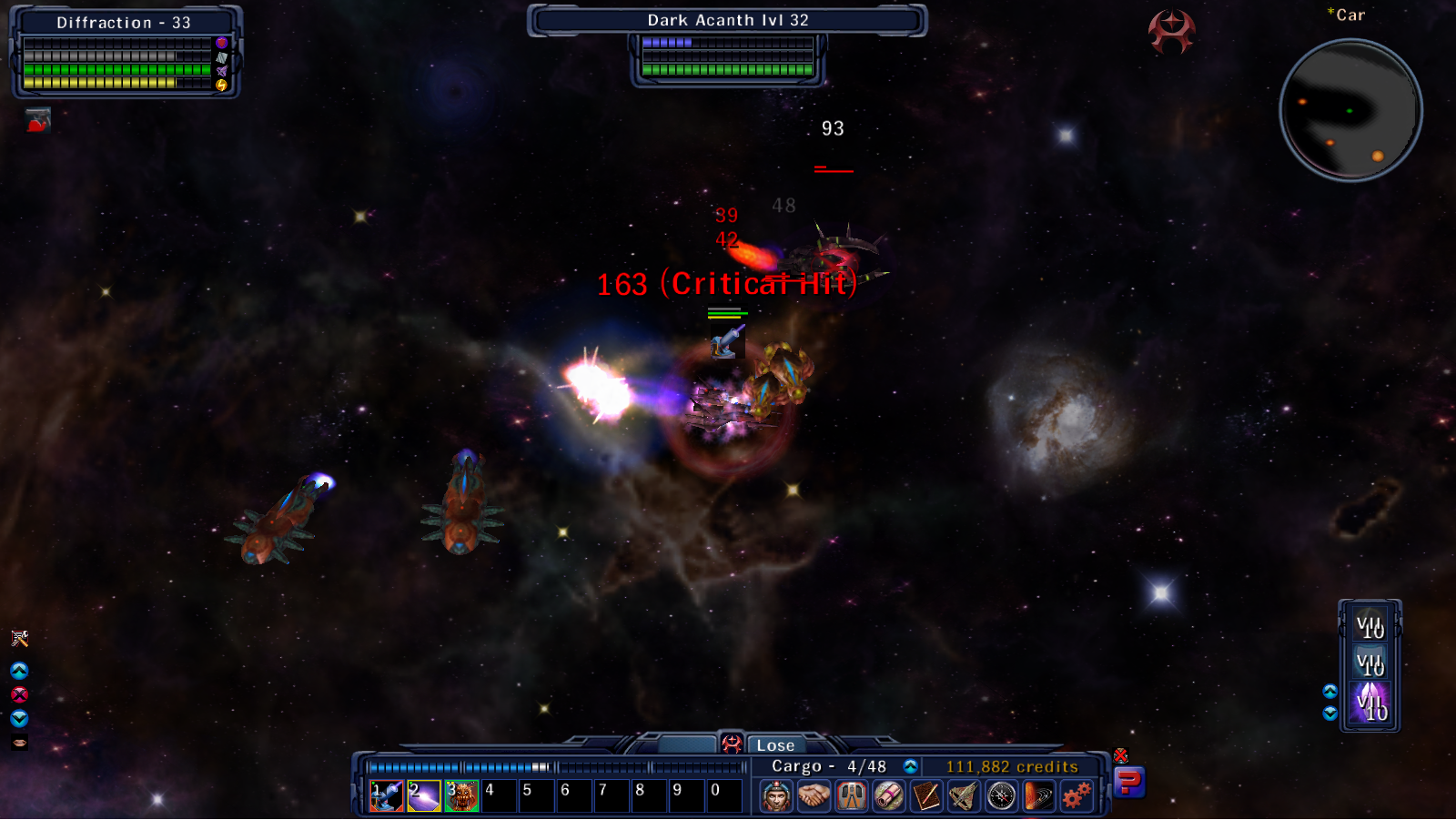 In our search for
any
kind of civilization, we resort again to investigating space anomalies. Perhaps this time one will reveal wrecked ship supplies. Nope! It turns out to be another unstable wormhole and we are snatched to Geuse, a star system which our star map indicates is the farthest point in this sector from Nas. Just great.
Things get even worse. Because we lack credits, I have neglected to pay my crew so they decide not to perform their jobs as usual. Especially Kozak who normally requires more frequent pay to stay in high moral for whatever reason. He should be fired. On top of that, we discover the Hezog race in this system. They are a ruthless people and you would be lucky if they don't promptly declare war after your first contact. Now there is simply
no
hope of ever uniting the races of this sector into a grand alliance.
But we have no choice, we must do business with the devil if we ever want to get back and continue our mission with some sanity. Half way through trading with the Hezog colony on Holux, a transmission blares on our com: "The Hezog declare war on the Drox Operatives!".
I activate our last thruster boost and we burst off passed their binary stars and through a field of giant rouge Helic ships. The Diffraction's laser and EM weapons fire frantically in a last ditch effort to ward off certain death. At that moment another transmission alerts our ship. "You have achieved Fear Victory in this sector!". We had spent so long fighting for our lives in uncharted space that we quickly built a reputation as aggressive, fearsome killers. I am in shock that our crew managed somehow to tame this impossible sector.
Like the story? You can find Drox Operative on
Steam
, or
buy it directly
.
Some you may have missed, popular articles from the last month: