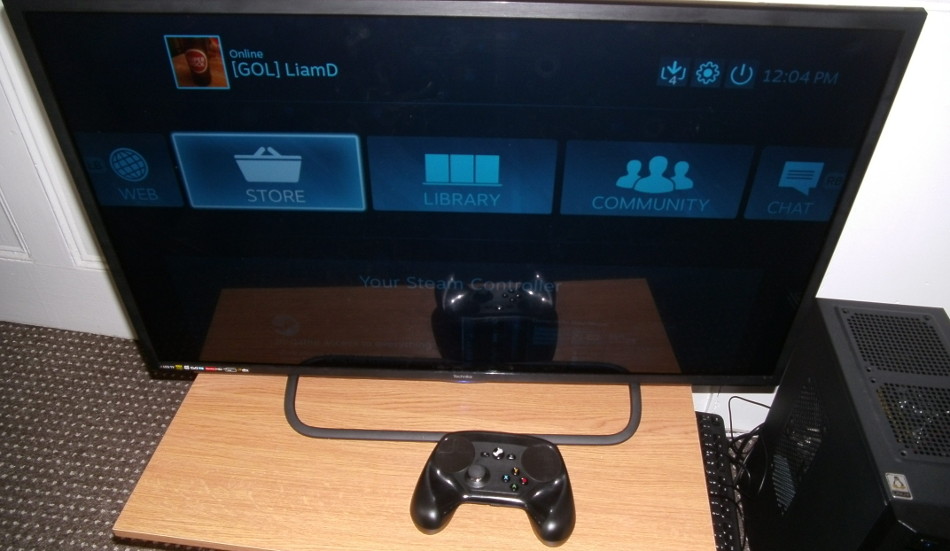 Now that I have a Steam Machine of my own built, and SteamOS as the only operating system on it I can give you some thoughts on it.
I've been using it for a good few days now to make sure I really get a feel for it, and this is what I've found.
First thing, the installer is pretty damn simple and does almost everything for you. The only hoop you have in the initial installer is selecting where to place the GRUB bootloader, but even that's simple if you read the help text with it. I get that simple is a point of view here, but I'm not the brightest bulb around and I found it delightfully simple.
It's certainly not as quick as the Ubuntu install from the last time I did it. I was pretty happy I didn't have to go through any real hoops to get it setup on a dedicated machine. You will see it reboot a few times as it updates Steam, does some cloning and sorts its partitions out.
While SteamOS does have a normal Linux desktop mode, I will be reviewing the SteamOS interface. If you want to learn more about the desktop mode in SteamOS you might as well look up a review of Gnome Shell.
Even on a standard hard drive the boot up time is really nice, and it certainly does feel like a console experience. It feels very streamlined and exactly what I wanted and expected it to be in a more console like operating system.
The interface is okay, although there are a few rough spots. I find that the initial home page is rather unwelcoming and empty looking. I can't quite put my finger on what it is. It has buttons to go everywhere you would expect, but it just looks so barren.
Honestly, I'm finding the store to be a lot nicer to browse through than the PS4 store. I find the PS4 store annoying to use, but Steam has a very sleek looking and functioning tag system that works surprisingly well in Big Picture Mode. My only gripe with it, is that as soon as you go past the initial store page down to Games and then hit a tag the search function disappears. The search function should really be available at all points in the store to make it as easy as possible.
Generally, I'm finding almost everything easier to do on SteamOS than I am on my PS4. It's not quite as easy to get where you want as the desktop Steam client, but for obvious reasons they do need to streamline it a bit.
A great feature is being able to watch gameplay livestreams from other players directly on SteamOS, even if they
still
haven't enabled broadcasting under SteamOS & Linux. I was able to check out some random games people were playing, and it all worked fine.
The one thing that isn't so great is the VOIP system. I tested it on a chat with Samsai repeatedly and we just couldn't connect to each other. Luckily when we tested Borderlands 2 it has its own VOIP, but a proper party system with a real working VOIP would be great. This is one thing it's lacking in quite annoyingly, being able to chat to someone and invite others to join. It's very useful for arranging games. It's something I've done regularly on my PS4, so it would be welcome here too.
There seems to be no way to get to the forum for a specific game too, although with how bad the attitudes of people are on the Steam forum in general, perhaps that's not such a bad idea.
Issues
I don't know who at Valve thought it was a good idea, but your games library showing Windows games by default is just weird. They fixed the Store to only show SteamOS games by default, so it's a little odd to have your library show it. I can understand thinking that you could stream them, but if you're not connected to any other Steam client—why show them at all? Even if you check it to show only SteamOS games, on the next boot of the system the library will default to showing non-compatible games again.
It's a weird one, but my Steam Machine is unresponsive to clicks from the mouse on the UI on first bootup. As soon as I plug a gamepad in, the mouse clicks work, so they are doing something weird.
A really annoying oversight is not including the FPS counter in SteamOS, it's an incredibly useful feature in the desktop Steam client. I really hope they add it in properly, it just feels like they are hiding it right now.
Some games start in a really low resolution, it's weird to have a 32" TV with a Steam Machine hooked up to it for a game to start in 1024x768. This is down to game developers to correctly set the starting resolution I understand that, but it's still a silly issue.
Headsets with a microphone are annoying as hell. My Logitech headset works perfectly in every Operating System apart from SteamOS. The volume buttons just flat out don't work in SteamOS, meaning the volume is always jacked to maximum.
Wishlist
There's no way to change game audio to the TV instead of my headset, which is what I prefer and matches the way PS4 does it. I know it can be done, as I do it all the time on Ubuntu with a few button presses in PulseAudio Volume Control.
I actually find it hard to hear what friends are saying if the game and voice audio are both going through my headset, and I don't get how people game like that. That's probably number one on my gripes list right now.
One thing I would like to see is an automatic switch over to a different download network if the current one sucks. During my testing both of the UK servers were repeatedly downloading at 0 bytes for hours at a time. Steam should have something in place to check if the connected download server is terrible, and adjust automatically. Not sure if people will agree with me on that, but it sounds sane writing it down here. You can change it manually of course, but it feels odd to have the whole interface reboot for a single setting change. This applies to Steam's desktop client too, automatic networking switching please.
I would very much like to see a Coming Soon section to browse through, but since their upcoming filter on Steam doesn't work for Linux or Mac I doubt they will be doing that any time soon. It helps to get people excited on a platform to get a peek into what's coming soon.
You shouldn't have to go all the way into the controller settings to view the battery life of a connected Steam Controller. They have a lot of wasted space along the very top most of the time, if they just popped it up there when there's plenty of space it would be a lot nicer. If you have more than one controller connected, all they need is a simple 1-x number by each battery icon (up to say 4 controllers max shown to not spam the top bar), sorted.
Final thoughts
: Will I be putting Ubuntu back on it? Probably not. SteamOS certainly has its annoyances, and niggling issues, but it is still far nicer to use from across the room. I am hoping due to the very nature of Steam updates that these issues will be sorted quickly.
Rome wasn't built in a day, and Android didn't take a massive chunk of the market overnight. Valve have a lot of money, and they can afford to work it out slowly I'm sure, but that doesn't mean people will come flocking back to it if the initial release is riddled with obvious oversights.
We need to be realistic about where SteamOS will take Linux gaming, and not expect to move mountains. With that said I am hoping to at least see the Linux marketshare on the Steam Hardware Survey to be around 1.3% by the end of 2016. I think that's a reasonable goal, we can't expect to go up to 2% in a year, as that's doubling our user base which just isn't realistic to me.