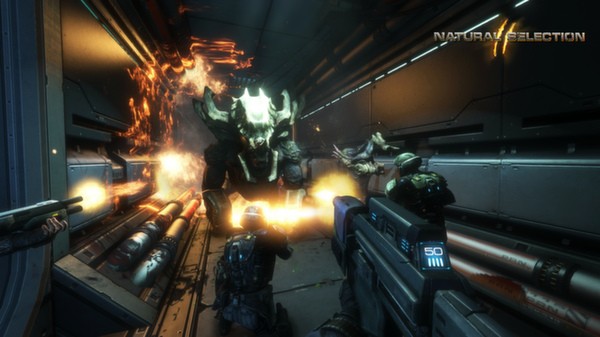 I forget that Natural Selection 2 is on Linux, mainly due to the dying player base and how dog slow it was to load, but it seems they are finally taking steps to improve that part of it.
The recent NS2 update has cut down loading times by a significant amount, so hopefully this will help entice people back to play. There's also a Linux-specific fix:
QuoteYou can now select sound devices properly.
I tried it myself earlier, and only two servers even had people playing on it. It's a real shame, as the game is quite beautiful, and reasonably fun to play. I tried a game on one of the populated servers earlier, and everyone seemed really friendly. Sadly, the game died to the desktop only a few minutes into it, so it's still not a perfect experience on Linux.
It's pretty cheap now, so if you don't own it yet and like your FPS games it might be worth checking out.
About NS2
Natural Selection 2 pits alien against human in an action-packed struggle for survival. Wield devastating weaponry as a Frontiesman marine, or become the xenomorph as a deadly. Kharaa life-form. While both teams fight each other in first person, two commanders look down on the battlefield in a top-down Real Time Strategy view. These Commanders can issue orders, build structures, collect resources, research technology, and deploy abilities to help their team overcome the enemy.
Find the
full changelog here
.
Some you may have missed, popular articles from the last month: