Beamdog [Official Site] have officially announced their next revamp of a classic with Neverwinter Nights Enhanced Edition. I have it confirmed it will be on Linux too.
See Also: My interview with Beamdog earlier this year.
Their official press details sent out to me clearly listed Linux as a release platform, as expected, since their previous revamps are also on Linux. Really great to see another classic get a refresh, but not only that, to see it get proper official Linux support.
For those that don't remember, Neverwinter Nights did actually have a Linux version, although it wasn't well supported, so it's fantastic that we get it properly this time.
With that out of the way, here's the trailer: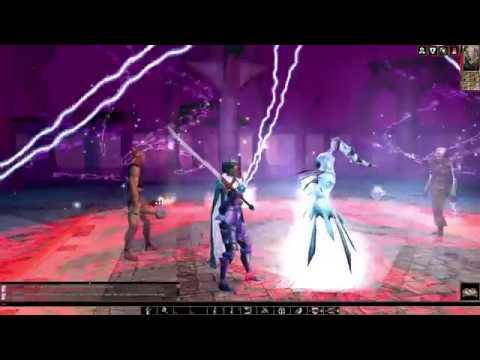 From the press email I woke up to today:
We are incredibly proud of the work the team has done so far on Neverwinter Nights: Enhanced Edition, and with the community's feedback, we will continue fixing bugs and adding features for launch. We've added an improved display that looks great on modern 4k monitors, UI elements now adjust in size based on chosen resolution, and post-processing effects make for crisper, cleaner visuals. Save games, modules, and mods from the original Neverwinter Nights work in the Enhanced Edition.
Here's what it will include:
Improved Display: Your portrait, combat bar, inventory, and other UI elements adjust in size based on your chosen resolution including 1080p and 4k.
Advanced Graphics Options: Pixel shaders and post-processing effects make for crisper, cleaner visuals. Enable contrast, vibrance, and depth of field options as preferred.
Community Endorsed: Original developers have teamed with key members of the Neverwinter Nights community to curate important fan-requested improvements to support players, storytellers, and modders.
Backwards Compatibility: Works with save games, modules, and mods from the original Neverwinter Nights. A galaxy of community created content awaits.
They will be doing a livestream later today at 8PM UTC on their official Twitch channel, where they will give out more info. The official site will be up here, likely once the livestream is over.
Beamdog said that pre-orders will go live today and the game will cost $19.99, it should also get a Steam page later today too. On top of that, Beamdog will be selecting players from the pre-order pool for their "Head Start program" to "play, import modules, and update persistent world servers early".
They will also be doing a Digital Deluxe bundle, which will include Pirates of the Sword Coast, Infinite Dungeons, and Wyvern Crown of Cormyr), two soundtracks collecting all of the original music, and a new portrait pack. Each DLC will also be sold separately for those that don't want it all.
Some you may have missed, popular articles from the last month: