I decided to bite the bullet and actually pick up a personal copy of Opus Magnum, I'm glad I did and it's fantastic.
At first, it's a little bit like there's a tiny man inside your brain just shouting "AHH!" as there's quite a lot to take in, but once you push through the initial brain overload it's a brilliant experience. I wouldn't say I was generally a huge puzzle game fan, but Opus Magnum absolutely fascinates me in ways I didn't think possible.
Honestly, the way I feel about it is a little like Factorio. How you build something that starts off small and it gradually gets more intricate, but for some reason you enjoy the madness—you become proud of your wild designs! Zachtronics' games have always scared me a little, but this is very different to their usual games. Although, it's actually the opposite of Factorio really, since once you have something working, you want to make it smaller.
What makes it especially interesting, is that there's many ways to solve a puzzle. It's not a simple question of having the right answer, but more a question of having the best answer. It's not too difficult to find a working solution, but making your solution better is what will keep you going. It's also incredibly amusing when you mess up really badly, but rewarding since you can experiment as much as you like. There's also no timers to worry about and no score you have to reach—just get it working.
Here's an example from the first time it doesn't hold your hand, made using the built-in gif maker. I won't show later puzzles as I don't want to spoil too much, since experimentation is part of the fun. This was my first working attempt: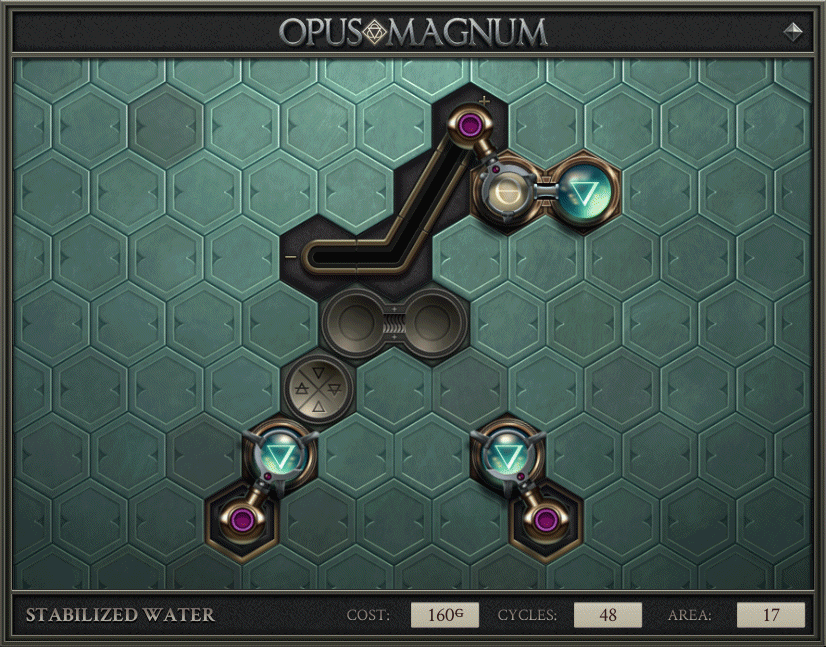 Looks sweet right? Well, after watching it I instantly realised I was a bit daft and so I improved it to use less cycles, less money and take up less space: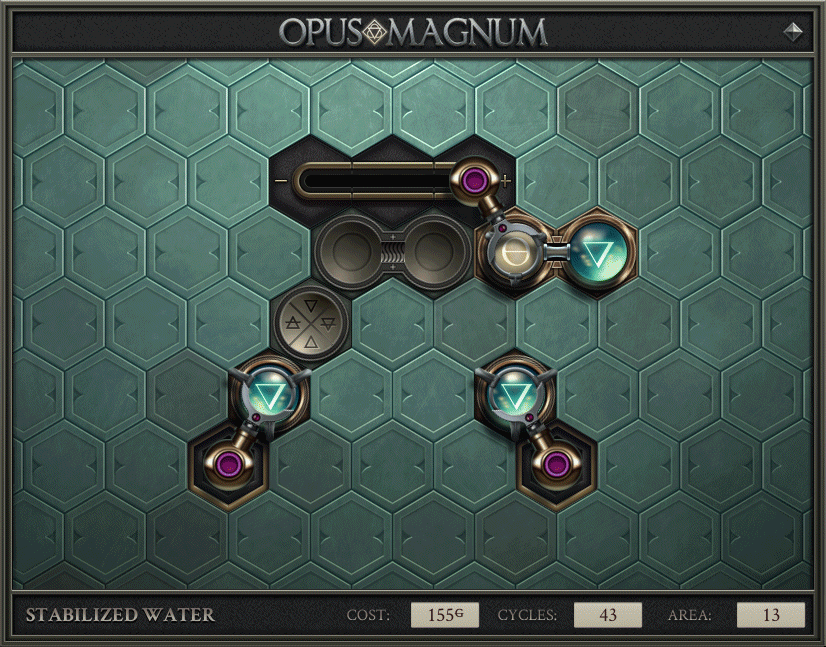 While my second working solution wasn't the best, the point is I still managed to complete it. However, it's a game where you will want to improve on your designs and I ended up spending a good two hours on this one seeing if I could make it better before I even bothered with the next puzzle. It really is that completely engrossing.
It uses a very simpistic form of programming to get everything moving, so it does require a few minutes to learn. It gives you a timeline bar and various actions you can perform on each moving part like so:

You program in pieces to rotate, pick up, drop, repeat and so on. The presentation is simply fantastic, including the handy shortcuts to quickly place bits of logic on the timeline.
Once you do finish a level, you're given a results and score screen which shows how you did against your friends. It's a good way to promote a little healthy competition to get you thinking. I will admit, seeing how much people spent and seeing their cycles really did make me go back, multiple times, to see if I could do any better.
What makes experimentation super simple, is that you can copy any of your solutions, rename them and tinker away until you're happy with the results, without messing with your other solution. This allows for a frustration-free experience not often found in puzzle games, especially for me when this type of game usually make me flip a keyboard in annoyance. I've had nothing but a smooth and enjoyable experience that's really been worth every single penny spent.
To top it all off, it has Steam Workshop support, so if you do ever get bored of improving your designs in the campaign, you can make your own and try out others.
I've played a lot of my time in Opus Magnum on my laptop in bed, a very unusual way for me to relax which says two things about it overall: It's bloody good and performs well enough to be a good laptop game. This could easily be my favourite game from 2017.
The craziest thing—GOG refused to have it on their store. I don't want to get into a long discussion about the pros and cons of the curation that GOG do vs stores like Steam, but in this case I think they're nuts. So for now, it's Humble Store (DRM free plus a Steam key) or Steam directly.
Some you may have missed, popular articles from the last month: