Now that Phoenix Point [Official Site] from Snapshot Games has a Linux version out, I've managed to put some time into it and as a long time XCOM fan I'm very impressed. Obviously a full review can't be done right now, since it's nowhere near finished so that will be reserved for the final release. However, I do have a few thoughts to share on the general experience.
Note: Personal purchase.
For those who've played XCOM or any similar strategy game, you will feel instantly at home. While it does have its own unique features, it still shares so much of what makes XCOM good. Honestly, it's strikingly similar to XCOM in a lot of ways, like a weird twin-brother it never knew. It's not surprising of course, since Snapshot Games includes Julian Gollop who's known for creating UFO: Enemy Unknown which Firaxis Games later reinvented with XCOM: Enemy Unknown.
The cover system is much the same, the movement feels similar and so on. It does have a few key differences though, like being able to zoom in while targeting an enemy which gives you the ability to pick a specific body part to fire some rounds into.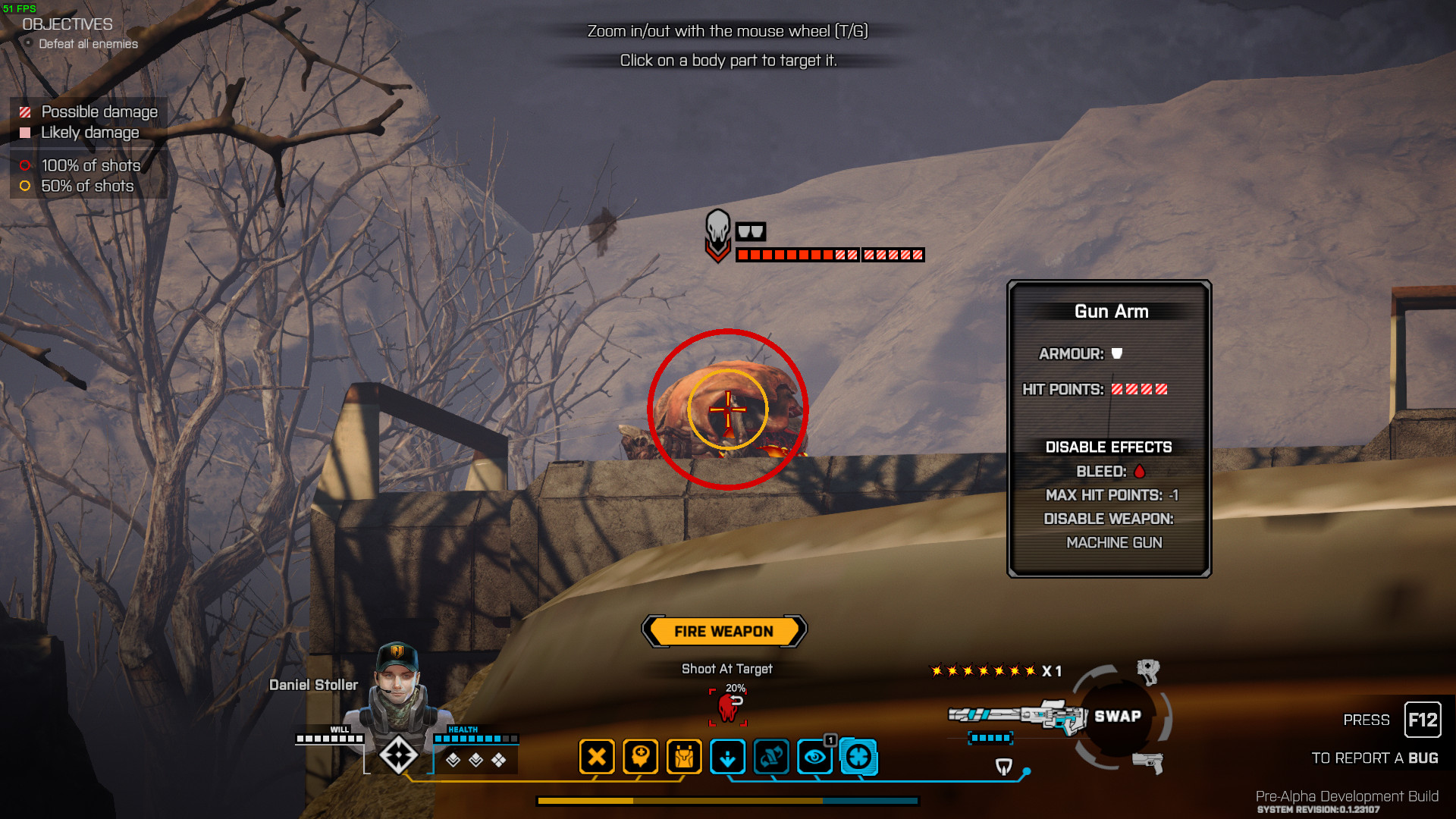 The actual combat is a little on the different side too. Your bullets aren't just for show (unlike other games), as each of them will follow their own path and inflict damage on anything it hits. As I found out when I had a soldier positioned between another of mine and an enemy, I totally missed and hit my own guy—woops. The picture above show that half my bullets will hit inside the orange circle, while the rest could be anywhere within the red circle, so you can see a bunch of my bullets would likely hit the wall. There's also a difference between actual damage, possible damage and the ability to disable body parts and carried equipment. I've had a soldier have their weapon destroyed and their arms disabled, while enemies were chasing them down.
That alone makes it feel quite fresh, but it's certainly not the only difference. While moving your mouse around, you will also see either white or red lines pointing towards a box of items or enemies you will be able to target—very useful.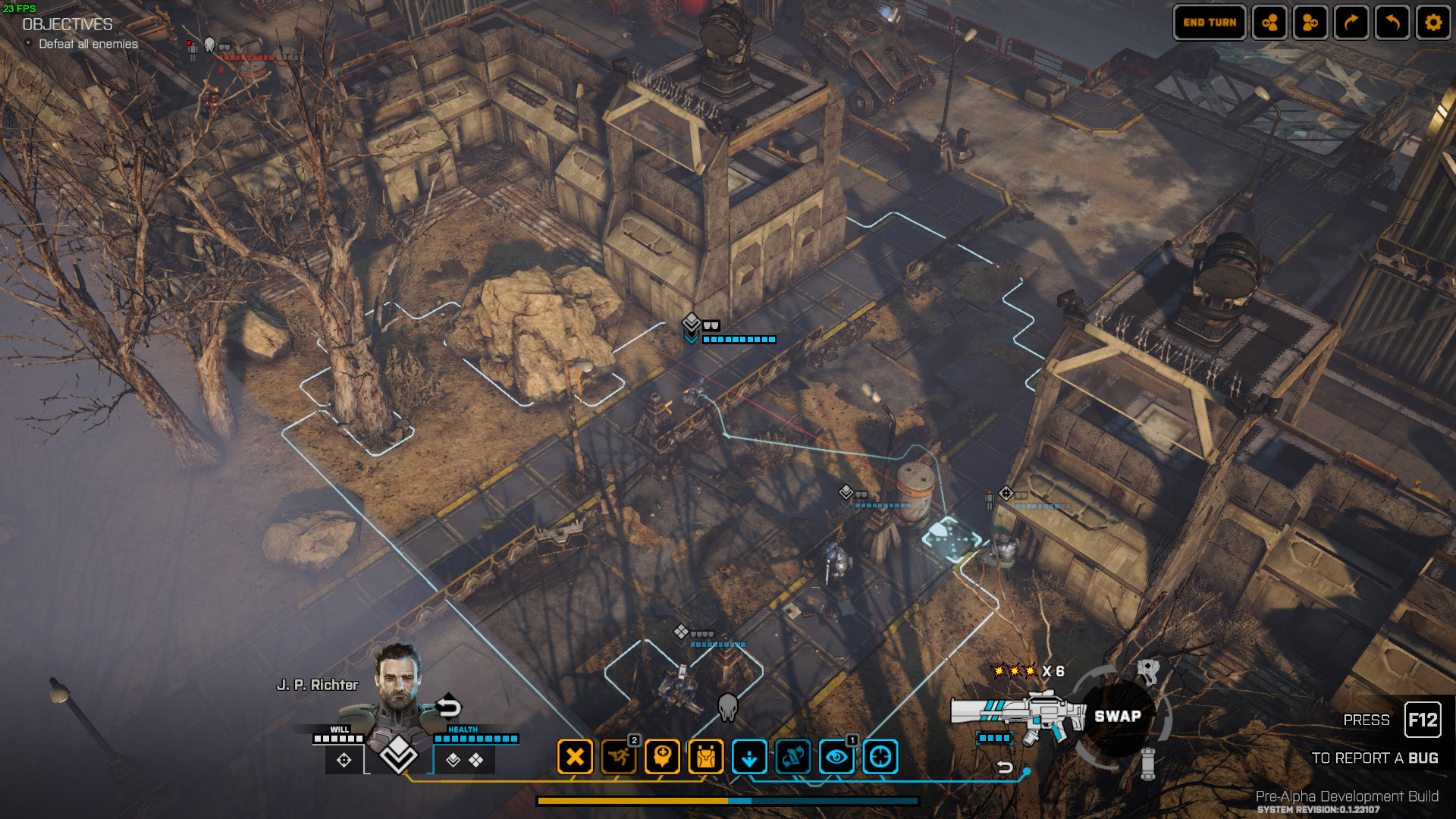 You can just about make out the red line pointing to the enemy here.
It's all about the small changes. The developers already clearly know what worked before, so it's not exactly a huge evolutionary leap in terms of mechanics and the interface, but more about how they can tweak it in various ways to make all of it feel better.
The action point system is also quite different, you can generally do whatever you want as long as you have the points available on each character, which is defined by the bar at the bottom of the screen. There are still some limits, like movement within a blue or yellow zone where staying inside the blue zone would allow you to use your selected item at least once. It's an interesting system, certainly makes it have a different feel.
There's also the Will Points system, which allows you to perform special actions like Jet Jump. You can choose to rest a character for a turn to recover some, with other ways to earn them per-character like opening a resource crate.
Honestly, it's difficult too. I haven't been able to win, not even once. Thanks either running out of ammo or to the Crab Queen who can literally smash through buildings to get at you.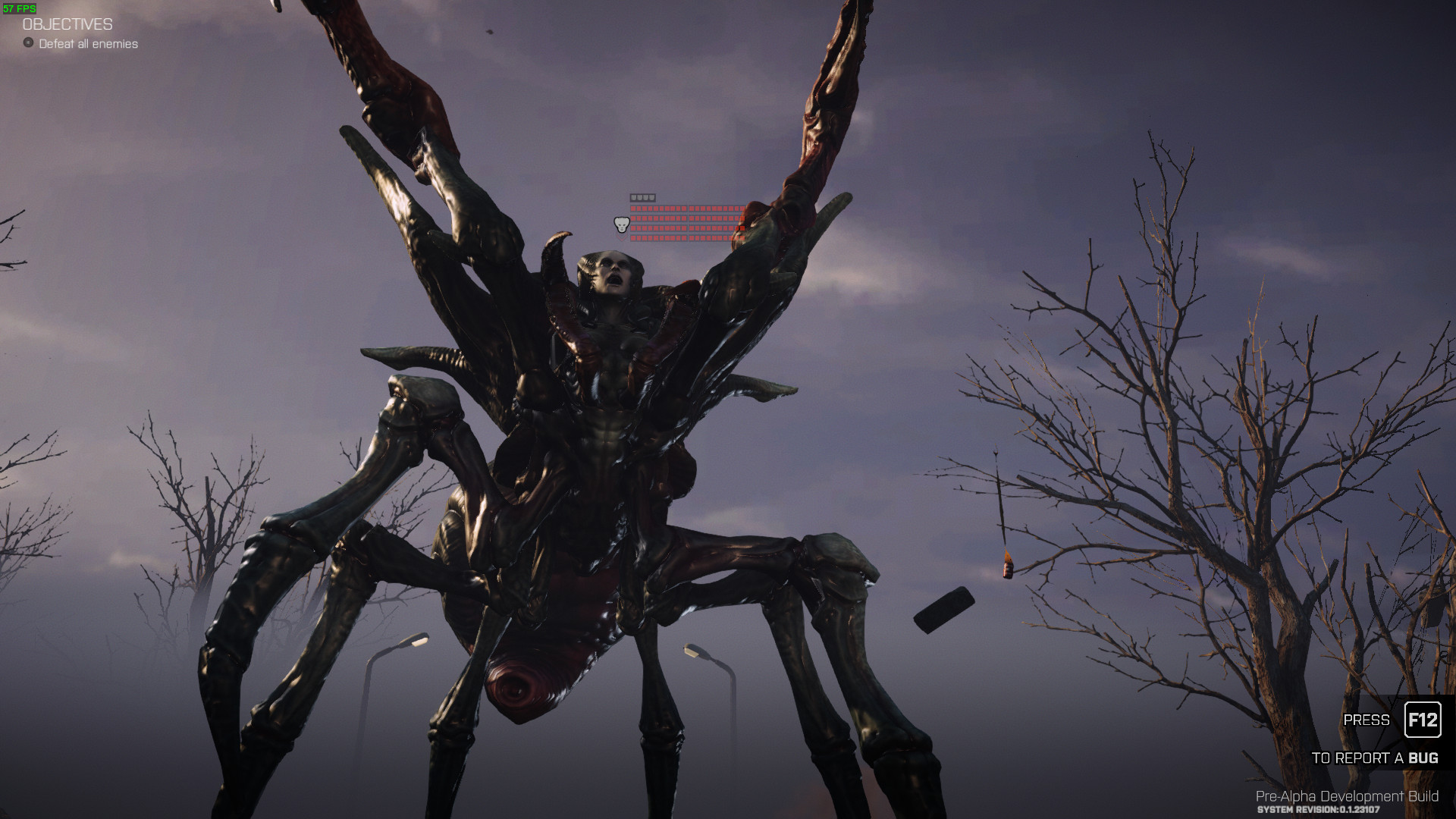 While there isn't a lot of content right now, what's there is quite easy to play through many times. They have a single main mission along with random maps, which I've already put numerous hours into and it's a delight. While it's early days yet, their new release schedule of a build every two months (the next build likely late in July, should be a nice birthday present for me) should bring us some interesting content each time.
In terms of performance, it's not great. Currently, you only get a choice between Potato quality and Fantastic, with no room in between. Fantastic quality gives me between 20-30FPS, while Potato does give me a near-constant 60FPS.
I'm not going to say it's going to dethrone XCOM 2 for me (which is fantastic), but it could with enough polish as it feels pretty good already. I will need to see a lot more of the game before I can make a decent judgement on it. However, I can say one thing for certain, I do love the instant access to the combat modes that it offers right now, so I do hope they keep them in at release.
I'm very pleased Snapshot Games not only said they would support Linux but actually put out a build as they said they would during development.
If you wish to pick up a copy and get access to the development builds, you can do so here.
Some you may have missed, popular articles from the last month: