Pixeljam are currently crowdfunding Dino Run 2 [Kickstarter], their next fast-paced dinosaur themed platformer. I had some concerns about their Linux support, so I got a few questions answered.
Firstly, take a look at their teaser to get an idea of what it's like: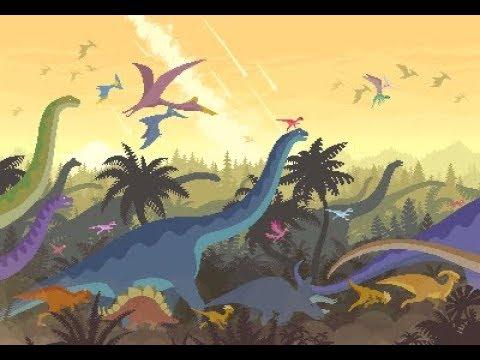 Truthfully, I had to watch the trailer, because I never had a chance to play the previous game and the various versions of it. The current most up-to-date one being Dino Run DX.
Here's what it will feature:
Customize your dino character with a huge assortment of hats, helmets, skin colors and patterns.
Speed across a dynamically-generated prehistoric terrain, 2D platformer-style. No two levels are ever the same and you often have multiple paths to choose from.
Outrun a pyroclastic wall of doom that's constantly on your tail. Slip up or stop to admire the scenery and you just might go extinct. Beat the doom wall and find your sanctuary!
Attack smaller creatures or gobble plants for energy and skill boosts.
Collect hidden super eggs to rack up DNA, used to upgrade your stats between levels.
Earn bones and use them to unlock new areas of the game and other perks.
Race your friends in multiplayer matches, or just hang out in the lobby and chat.
They're seeking only £14,112 in total which really isn't a lot. However, they've also gathered nearly $10K from their website and yes—I am aware I'm mixing currencies there, because that's what they're doing. On top of that, they also seem to be getting over four hundred dollars from their Patreon a month.
I had a few questions, so here's what happened:
Dino Run SE had Linux support, but it seems it vanished in favour of Dino Run DX which does not have Linux support, what happened there?
"When we released SE, there was support for flash-based games on Linux. Once DX came out, it became almost impossible to release a flash-based game on modern installations of Linux. A few people figured it out but it was really tough!"
Are we likely to see better Linux support this time, where an upgraded version doesn't suddenly remove Linux support?
"Dino Run 2 is being made in Unity, so Linux support will not be an issue."
Going by your site, it seems you're a long way off the goal you wish to hit, is this not incredibly risky for Kickstarter backers considering the amount you need is actually a lot higher?
"We can produce something with whatever we raise - low amount or high amount. What we are promising backers is that we'll deliver whatever we can create with what we raise. We also have some additional opportunities for funding after the Kickstarter campaign that we intend to pursue. The KS funding amount is only a % of the total amount we can raise. It is risky, yes, but then again so is any crowdfunding campaign, especially ones that ask for 200K+ when the devs have no idea what the scope of the final game will be. We're just being more transparent about it, we think :)"
It will be interesting to see what happens here, I'm sure there's a few of you here who are familiar with Dino Run that might wish to know about this. If you like the sound of it and appreciate how open the developer is being about it, you can fund it on Kickstarter here.