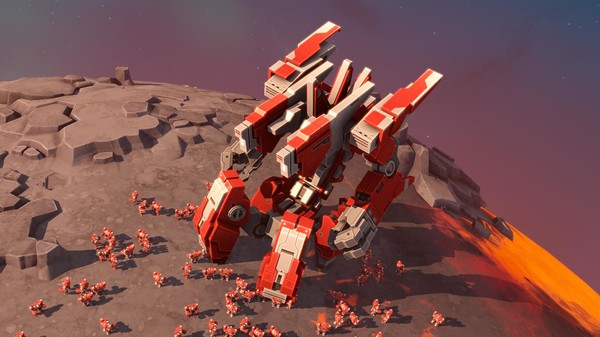 Planetary Annihilation has a rather interesting history, and John Comes the Design Director at Uber Entertainment did a write up on it all.
You can see the
write up here on gamasutra
.
My own thoughts
I have a very love-hate relationship with the game, mainly just due to how unpolished it feels even after this long. You still get black screen issues now and then when the UI just doesn't appear, which can really annoy you. It seems to happen more often for AMD GPU users, as I hear repeating reports of it.
For a game that's supposed to be such a massive strategy title, with different planets, and lots and lots of units it's really not well optimised for when you have lots of units. I've been in plenty of games where the enemy sent a huge army towards me, or me towards them, and the game slows down to an absolute crawl.
Another issue, is that playing it totally offline had higher system requirements (and wasn't in the full release, it was added later), as the game so heavily relied on Uber Entertainment servers. This did annoy people, and pushed away people on the lower end who didn't want to play online. Although if you're looking to play a game like this, the requirements for the single-player seemed okay to me.
Their second Kickstarter
QuoteUnhappy Planetary Annihilation fans descended on comments and forums blasting us for how we handled our last project. Two weeks later we shut down the project and were forced to reduce staff.
Uber Entertainment launched a second Kickstarter very quickly after the official PA release for another strategy title named "Human Resources". This had unhappy Planetary Annihilation players pouring in giving them grief about it. Rightly so in my opinion, as PA wasn't even close to being stable at this point and they really hadn't proven themselves in my eyes.
We really don't have any other strategy titles like it on Linux, and since I've been a fan of such games since Total Annihilation I think this is why I am willing to put up with the issues it has. I have 57 hrs on record for Planetary Annihilation, and 2.9 hrs on record for TITANS (which was released after), so you can see my love of it faltered after a while due to the issues. Splitting the already quite small playerbase with TITANS was also a very iffy decision. I still think it's great that they did it and I was happy as a Kickstarter backer to get it for free, but it gave people a reason to dislike them.
I think they focused on features too much, without spending enough time really polishing the experience, and this soured it for me. Too many niggling issues still left in the game, especially on the Linux side. I can't count the amount of times the UI has crashed in some way to make the game unplayable.
An important and incredibly obvious point:
QuoteMake sure the costs of stretch goals are covered in the funding level.
I imagine a lot of developers don't really think about the actual cost involved when they announce stretch-goals. Most I've seen simply use big fancy features to get to reasonably small advances in the total, and they really don't work out the time and money involved in reality.
He makes another important point:
QuoteThe general public doesn't understand what it takes to make a game. Do not expect them to learn it.
It's a very true point, but it's also down to developers to give
reasonable
promises. Letting in feature creep is also an issue while developing. It also links into the above point.
A big issue was communication, they didn't really have a proper community manager for some time, and even when they did the communication wasn't all that good. I visited the forums nearly daily, and in that time multiple times a day to see how frustrated people got at the silence.
With that said, I do still love the game, and the idea behind it. It has lots of little things that make it such a unique experience. It may not have perfect execution (what game does?), and I would still rather have it than not have it. The ChronoCam is such an excellent idea, and can really help you learn from others tactics. Being able to pick a specific part of a game and watch it, rewind, and so on. That feature alone makes it pretty interesting.
Some you may have missed, popular articles from the last month: