Bomber Crew [Steam] is a cute simulation game about training and managing the crew aboard a bomber, it's actually pretty good.
Disclosure: Key provided by the developer.
While it may be cute, behind the colourful style is a micromanagement heavy simulation game that feels a little like FTL in WWII. You never have direct control over your bomber, instead, you issue commands by switching view-modes and hovering the camera over a target, then your navigator can plot a new course. You're not playing as a member of the crew, instead you're handing out commands.
You will be dealing with practically all aspects that don't require you to pilot it yourself including the take-off and landing, with you in charge of the landing gear. Opening the bay doors when you're doing a bombing run, sending your crew to various stations inside and so on.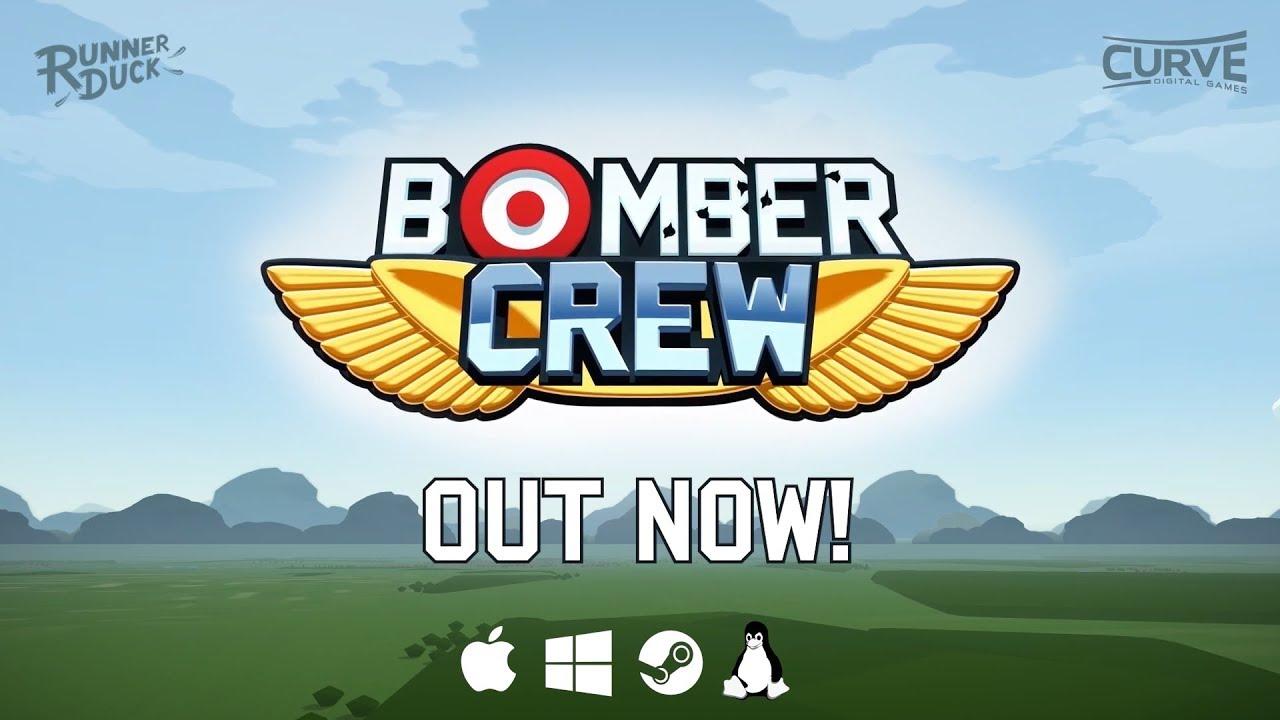 Of course, a great many things can go wrong mid-flight. Let me tell you about one of those times.
My mission was simple, destroy enemy ammo dumps as our bombs cannot penetrate their artillery. Sounds easy right? Fly over, drop a few bombs and go home, or so I thought.
I took off in good spirits, my crew were ready and after the simple tutorials I thought "I can do this!". Once I got closer, it dawned on me how stupid I really am at times. I was flying above the clouds, despite my target being on the ground and I forgot to send my crew member to the bomb controls—bollacks! So we ended up flying past while taking fire and we had to do a U-turn as enemy fighters were bearing down on our position.
Okay, so we turn around, a crew member is now actually manning the bomb controls and the bay doors are open, "I've got this" I said to myself. Yeah—not quite. I forgot to actually select any bombs to drop. I go past for the third time and finally take it out, but now one of my guns is low on ammo and my gunner, Nangle, has been hit and needs medical help. I zoom in, tell someone to put ammo in the gun and another to give Nangle some attention, all while enemies are still firing and I've zoomed past the second target and totally failed half of my mission. I've gone way off-course, my hydraulics have taken a hit, one of my engines is damaged, so I've got a crew member sat on the wing trying to repair it.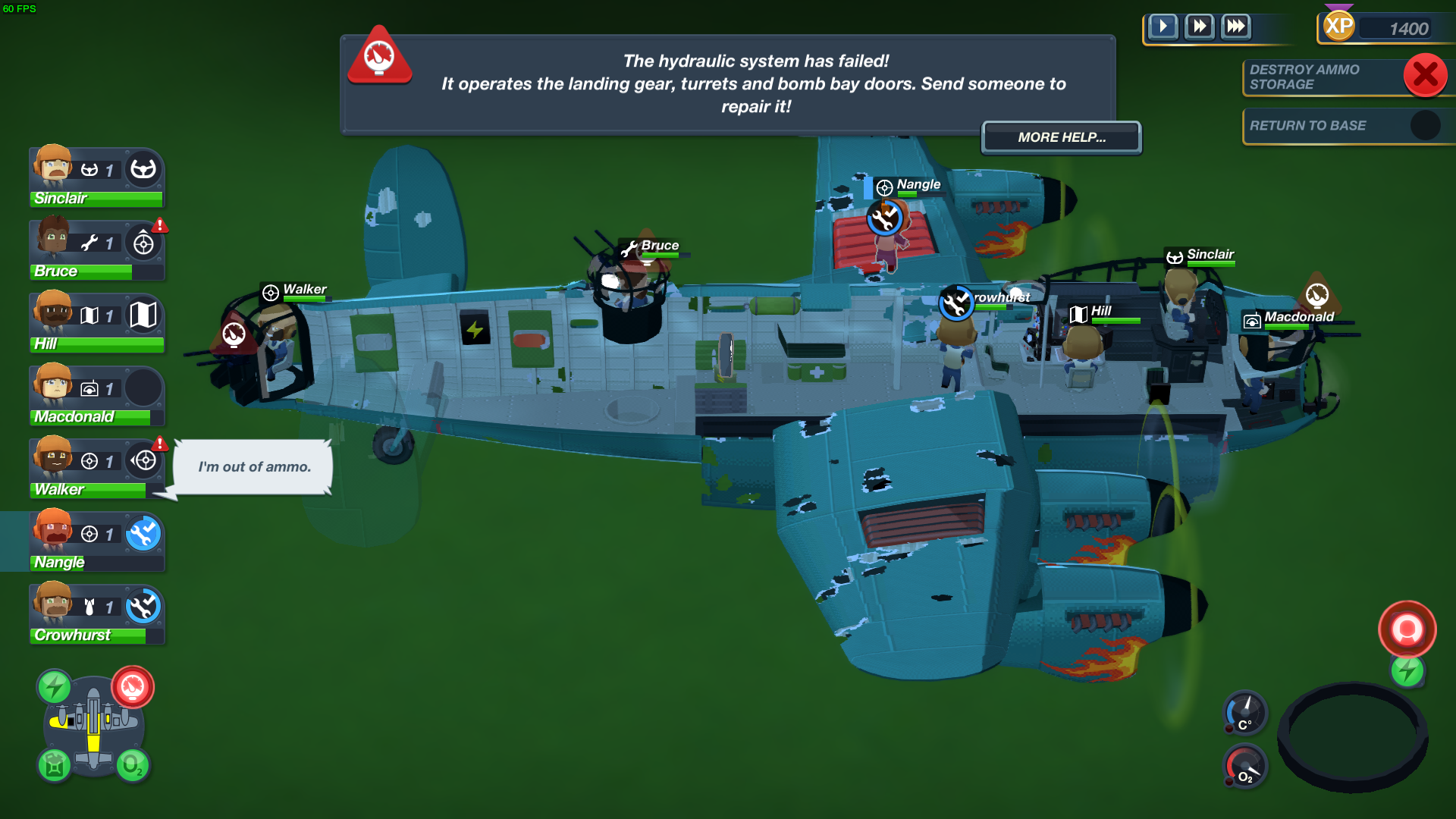 We made it home, limping along full of holes, but we made it. Thankfully no one died!
It's not always just bombing, sometimes you get an extra side-mission, where you need to take a picture of something. It can be risky, but the extra rewards can really be worth it for the money to upgrade your bomber.
Each member of your crew plays an important role of course, with them needing to be at their stations to actually enable you to do anything. What's interesting, is that they individually level up and gain extra abilities. One such ability is the emergency dive option, which can help put out engine fires or reach a lower altitude rather quickly.
There's also customizations on offer, with various stickers (which you can customize), paint jobs and so on. Some of it is simply picking between items, however, you can also do some custom art like this terrible piece on my plane too: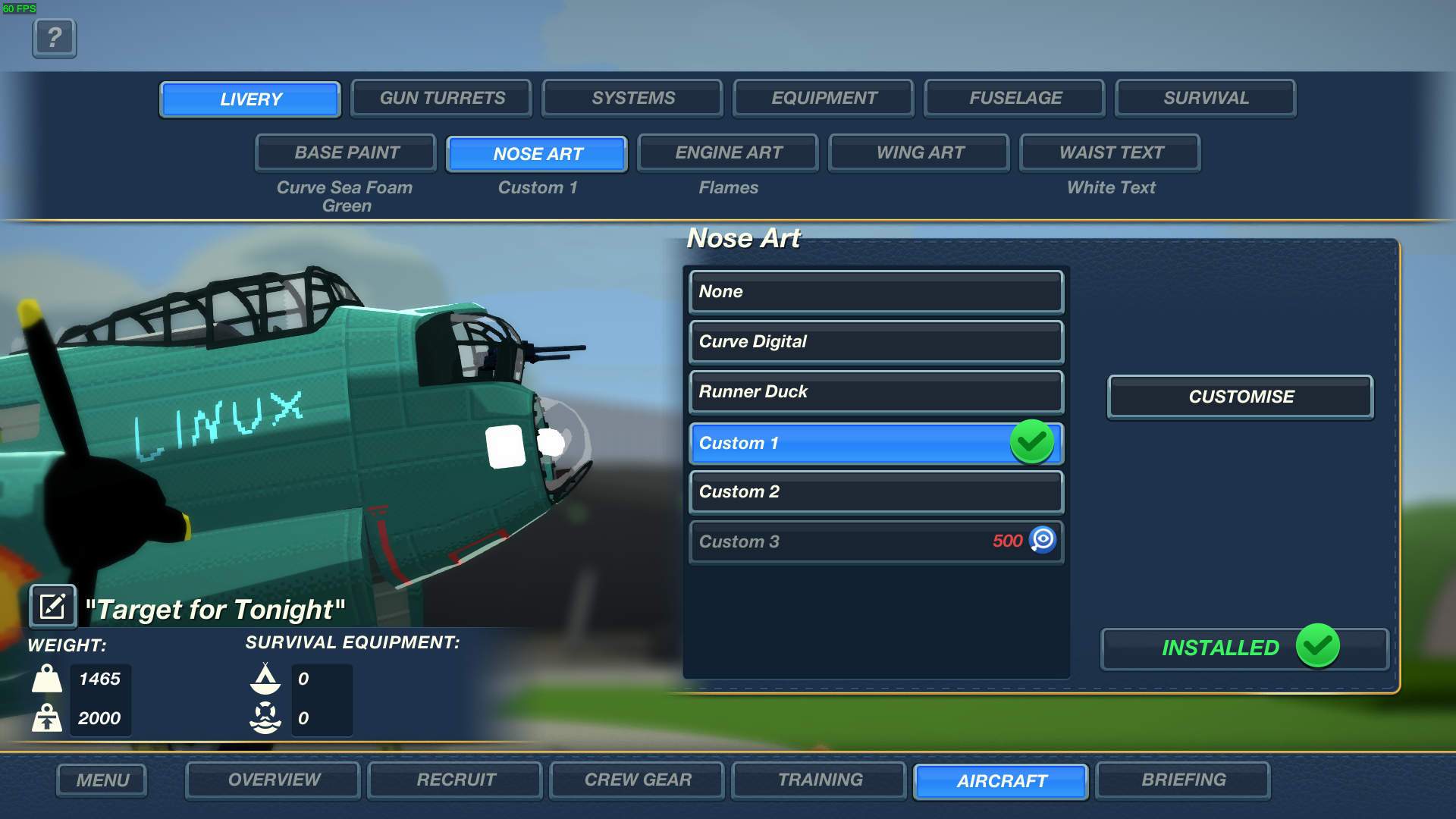 Overall, it's unique, it can enable you to create some interesting stories and I really enjoy playing it. I'm hoping this one gets updated with more content in future, as it could end up being something I would go back to a lot.
The Linux version ran perfectly for me, not a single issue that I could find.
You can find Bomber Crew on Steam.
Some you may have missed, popular articles from the last month: