In Operation Sheep Defense [Steam] you are tasked with defending your sheep, it's a super cheap indie game that genuinely surprised me.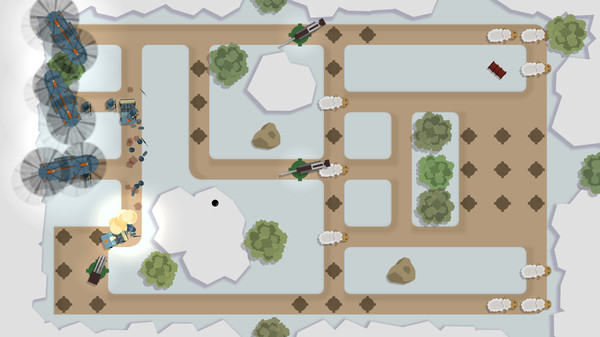 The developer sent in a key, so I took a quick look to see if it's not too terrible. Although, with the tiny price I wasn't expecting anything from it. It does have a few spelling issues here and there, but I expected that. What I didn't expect, was gameplay that I actually liked.
I was actually pretty impressed by it! Instead of enemies simply getting from A to B and harming you if they reach B, they have to pick up the sheep and take them to their exit point. The exit point could be further across the map, or back at the starting point.
It has another element I did find interesting: Levels don't always have a fully pre-defined path for enemies. Giving you more space to build towers, which adjusts the enemy path. Blocking their path will result in destroyed towers, but it's flexible enough for you to sometimes make your own choke points.
What makes it more amusing, is that your sheep will actually attempt to walk back to their original place, if you manage to destroy the unit that captured them. This gives you a chance to protect them, but it also gives the enemy another chance to recapture them away from your main area. A simple, yet very clever idea for such a game.
The surprises continued as I played more of it, including a bulldozer unit that can actually make a new road into your sheep-pen. It's actually somewhat challenging too, difficult enough at times me for me to fail missions multiple times.
What we have here is a really great Tower Defense game wrapped up in a tiny price tag. It's extremely rare for a £1.59 game to not be pants. I even got a minor chuckle out of the sheep noises when they get picked up. I'm actually recommending it.
Some you may have missed, popular articles from the last month: