Swipe right to invite people to adventure with you! Questr [Steam] is a somewhat amusing mix of RPG party-based gameplay, with jokes aimed at dating apps.
Developed by Mutant Entertainment Studios, Questr officially released on October 27th this year with same-day Linux support.
Disclosure: Key provided by the developer through our Steam Curator.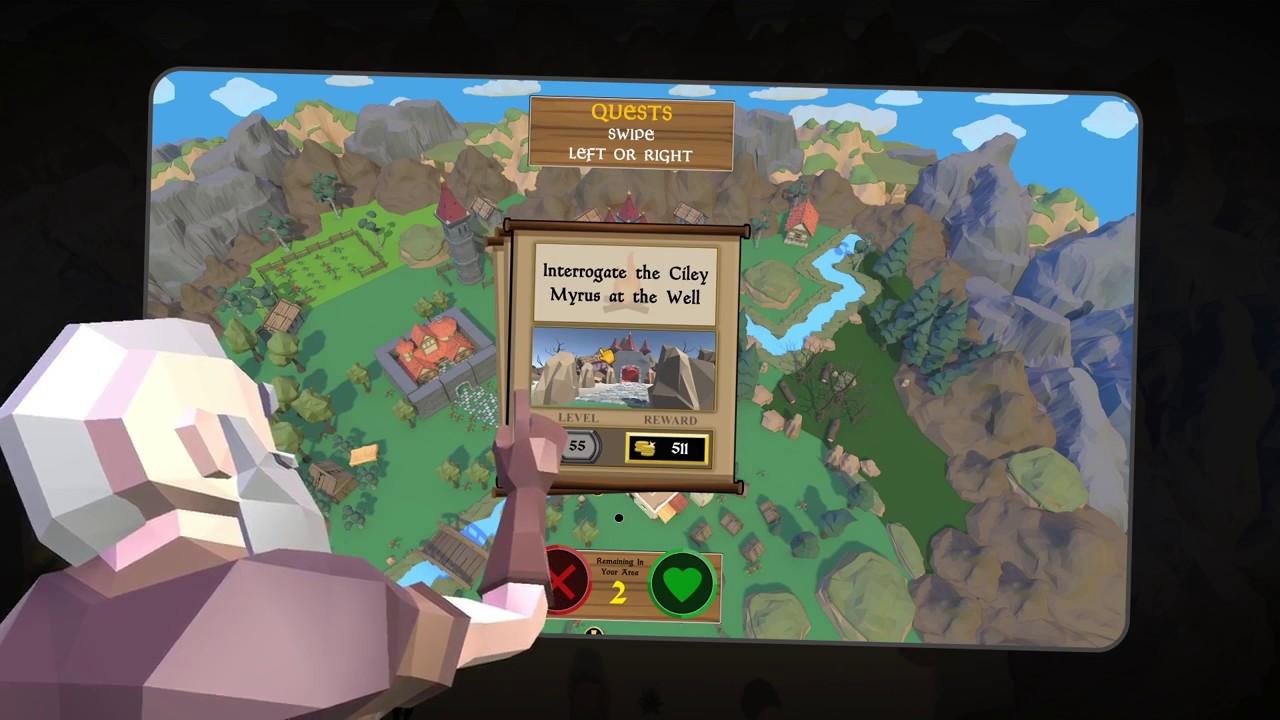 Some of you (most of you?) will have heard of dating applications like Tinder right? Swipe right if you like someone, swipe left if you don't. That sort of thing, so a fair bit like the game Reigns as well, only Questr takes it quite a few steps further into the crazy.
It's absolutely bizarre, but I really do love the idea of it and it does seemingly work quite well. You start off by picking people to include in your party, based on their card which tells you their race, you might possibly see what types of people they like and dislike and so on. I've literally no idea what I'm doing with the game, I'm just clicking and hoping for the best most of the time. However, I have found it to be quite amusing.
It's full of random events, like this: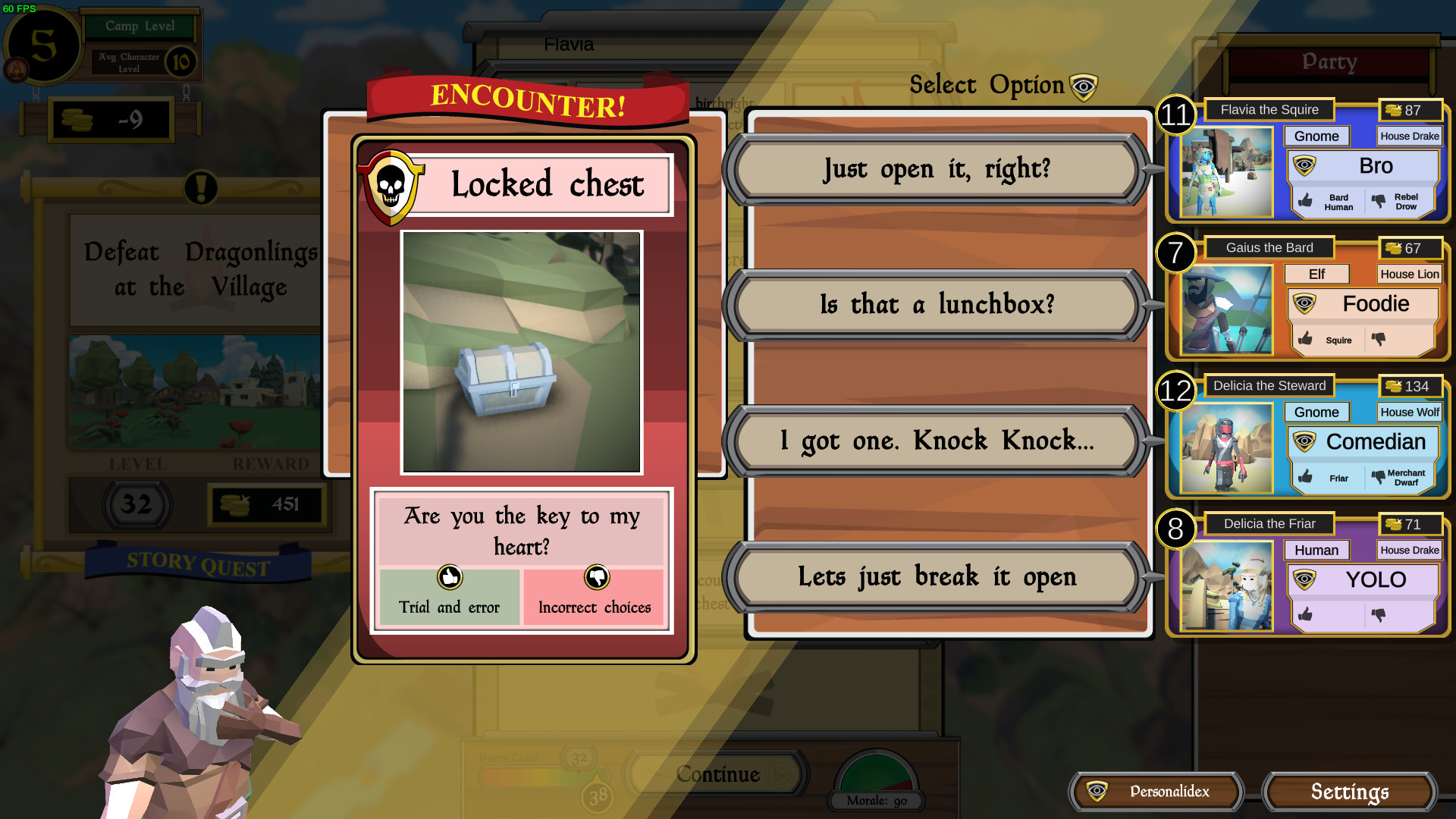 Naturally, some characters are absolutely useless and when they fail a task, it brings down your party morale. It's usually quite easy to spot what's a good choice though, in this case "Knock Knock…" is not going to open a chest. Yes—I selected the joke just for "testing" purposes.
You might end up quite unlucky—like me. I picked my party, one of which said that it just wouldn't work out (do I smell funny?), another turned out to be a liar and further into the quest one of my members decided to run off so we had to hunt him down.
There's major personality conflicts in the game as well, such as this: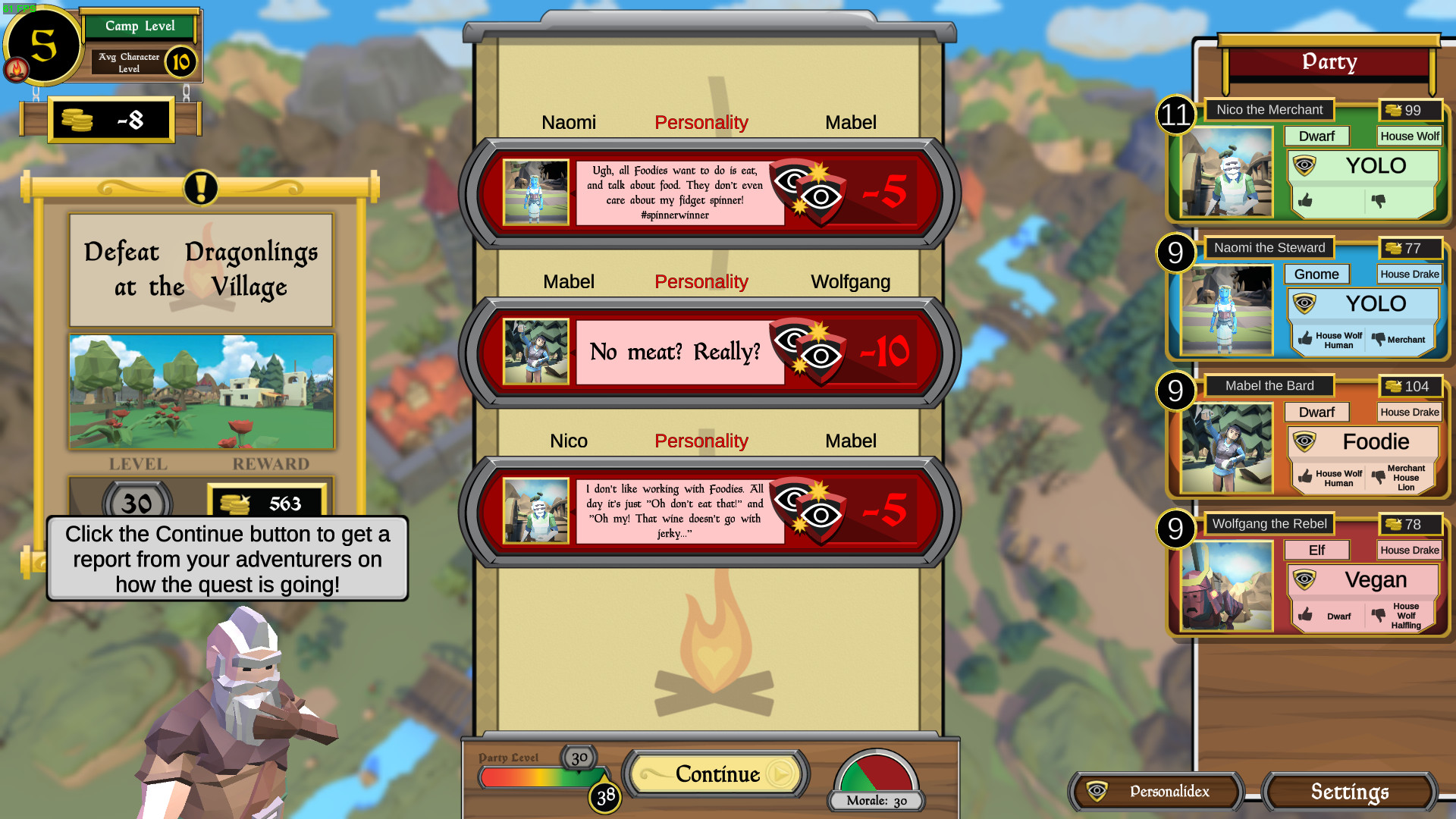 It's heavily luck based, I dipped right into the red in terms of party morale and then went right back into the green as a few of them started complimenting each other. Further into my quest I came across many traps, which was lucky that I had someone who goes hunting in the woods so he managed to overcome all of them resulting in more morale boosts for the party.
I actually quite liked it, as weird as it is. It's a time-killer, one for when you're tired and you can't be bothered to do much of anything. The comedy is mostly idiotic, but it still managed to make me laugh. Like the time when I chose my Merchant to take on a "Hell Hound" with "Here pup"—he failed as "It was on fire, literally" and the morale decrease after failure said "That was not a chill pup". It's so stupid, but quite amusing.
If you love games that make playful jokes of all types of people and don't mind the very mobile-inspired interface (it is taking aim at Tinder after all) then it might just be worth a look.
You can find Questr on Steam.
Some you may have missed, popular articles from the last month: