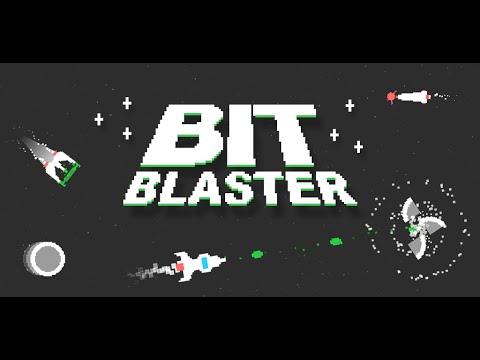 Bit Blaster XL is a mobile port of an arcade shoot em up now released on SteamOS and Linux. It's origins are very obvious from the get-go.
Your space ship moves and shoots all by itself without the need of pressing any buttons. The only thing you can do is turn it left or right and give it a little boost.
What seems to be an over-simplistic mechanic turns out to be a strategic element of the game. You have limited ammunition which declines with every shot you fire. Since you can't stop your ship from shooting you are forced to destroy orbs and enemies as fast as possible to obtain more ammo from them to keep playing.
While power ups aid you in battle some of them like the Triple Shot make sure you run out of ammo even faster.
You also need to take care to not collide with anything, even with the walls or else you lose your shield or die.
There are also new ships to unlock with coins you collect in the game.
The game has full controller support and works without any problems on my system (Intel i5-2500K / Nvidia GTX 670 / Kubuntu 15.10 / Xbox 360 controller) but some people on the Steam forums have problems with the game running too fast.
The developer seems to be very responsive and is looking into it.
It also comes with trading cards and achievements.
With the $1 price-tag it's a really nice game and definitively worth the money.
As simple as it may be it gets very addicting and you find yourself doing just one more round very quickly.
About the game (Official – Steam)
A throwback to the classic quarter eating arcade games of the 80's. Bit Blaster XL is a retro styled, addictive, and fast paced arcade shoot 'em up! (shmup).
You can buy Bit Blaster XL on
Steam
.