Feral Interactive have teamed up with Crystal Dynamics and Square Enix once again to bring a top title to Linux, this time we have Rise of the Tomb Raider.
Disclosure: My key was provided by Feral Interactive ahead of release.
It's no secret that the Linux port of the previous Tomb Raider had some performance problems, some of which were improved with a patch after release. I'm pleased to say that with Rise of the Tomb Raider, Feral Interactive have done an incredible job overall.
Even though the Linux release is coming in a good while after the Windows release, we do get the 20 Year Celebration edition which includes all the DLC. So we have the complete edition right away along with all the polish that was put into it since release.
Benchmarks
First up, let's see how well it runs with the settings on the absolute maximum, with the different AA options that are possible. Do note, that the game itself warns you that SSAA is very heavy and will reduce performance a lot. Also, Pure Hair is turned on by default for all options above the Low preset. The different presets, even the highest preset actually leaves a few options lower than the maximum, so I manually put them up for these tests. Another note about this: the Very High textures option in use for these first tests, does require a GPU on Linux to have 6GB VRAM (I've seen it practically hit the limit):
As you can see, FXAA and SMAA actually give quite reasonable performance, especially considering all other settings are cranked up to their absolute highest. Even SSAA x2 didn't do too badly with it hitting just over 60FPS average overall. To be clear though, the above results and settings are something very few people will be able to use.
Here's some additional benchmarks for settings people are actually likely to use, from the Very High preset to the Lowest, all with FXAA turned on apart from Lowest which I manually turned off (trying to simulate what people might do):


Note: In the Linux version, the Very High preset leaves textures on High, whereas on Windows it sets it to Very High.
As a bonus, here's a comparison with Windows 10. Do note, that the Windows version has two additional modes of Ambient Occlusion not included in the Linux build, so these tests are simply done with it set to "On" in both versions to compare properly. Also, to keep it to the point we're only using the "Overall Score" given here: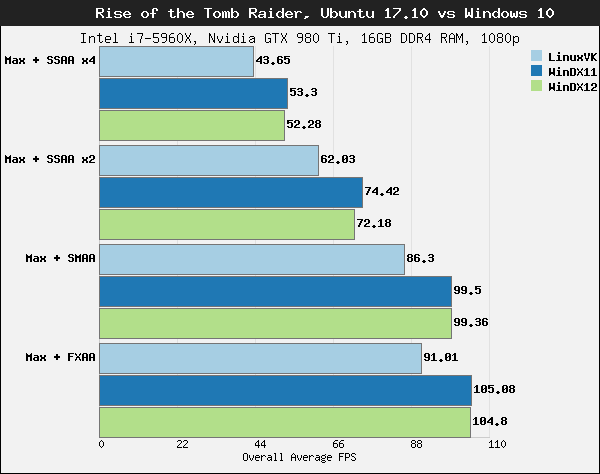 As expected, there's a performance gap, although it's actually less than I expected. Given that these are some insanely high settings with everything manually put up higher than the presets go, the Linux version holds up reasonably well overall. Especially considering the high VRAM use in the Linux version with my 6GB 980ti at it's limits.
Here's how the Linux version holds up on more reasonable graphical settings: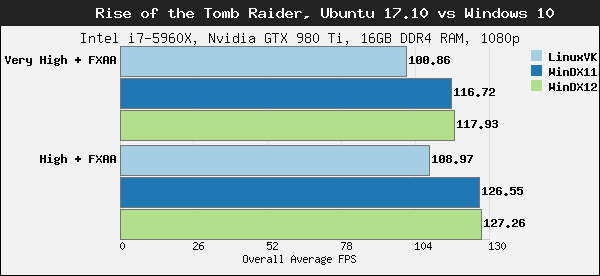 Not bad, not bad at all.
Thoughts
We could run benchmarks until we're red in the face, however, what the benchmarks actually show is quite limited of course and is nothing in comparison to a first-hand playthrough. I started off playing it on the "High" preset, but honestly, I set it to "Very High" quite quickly since it was so damn smooth and it remained smooth even then. I did keep textures down to the default of High, due to the VRAM use. I have to say, I'm personally extremely happy about how smoothly Rise of the Tomb Raider has been running on Linux.
If you thought the first Tomb Raider was action-packed, you're in for a whole new world of crazy here. Rise of the Tomb Raider certainly isn't gentle with thrusting you into daunting situations right off the bat. It's also quite the emotional roller-coaster of a game, one that at times blurs the lines between game and movie in the way it's presented.
Not only are you thrown in at the deep end with Rise, you're also shown how incredibly good-looking this game is right away. Seriously, it's easily one of the best looking games available on Linux right now, some truly gorgeous scenes can be found throughout the game. I've found myself often just stopping to have a look around.
Those pictures are on the standard "High" preset with no other adjustments, yet it looks absolutely gorgeous. It's not just the graphical fidelity, but the actual style to the game is fantastic too, all the little details have made me really appreciate it.
In the first game, Lara was forced into survival against her will. Things are a bit different this time around, as Lara has gained confidence and a sense of self and is literally seeking out the danger of her own free will. You're on the hunt for some sort of artifact to grant eternal life, Lara is sure it exists and decides to follow her father's path. Not the most original of story basics, but it's exciting to actually play through given what Crystal Dynamics have done with it.
The voice actor for Lara, Camilla Luddington, reprises her role for Rise of the Tomb Raider and does just as incredible a job as before. She's really believable, you really feel the intensity of everything thanks to her excellent work here.
While Rise has ample amounts of serious action, requiring some fine aim and reflexes, there's also a healthy dose of puzzles and challenges to overcome as well. As you progress, you will find certain relics that requires Lara to have a certain level of understanding in specific languages.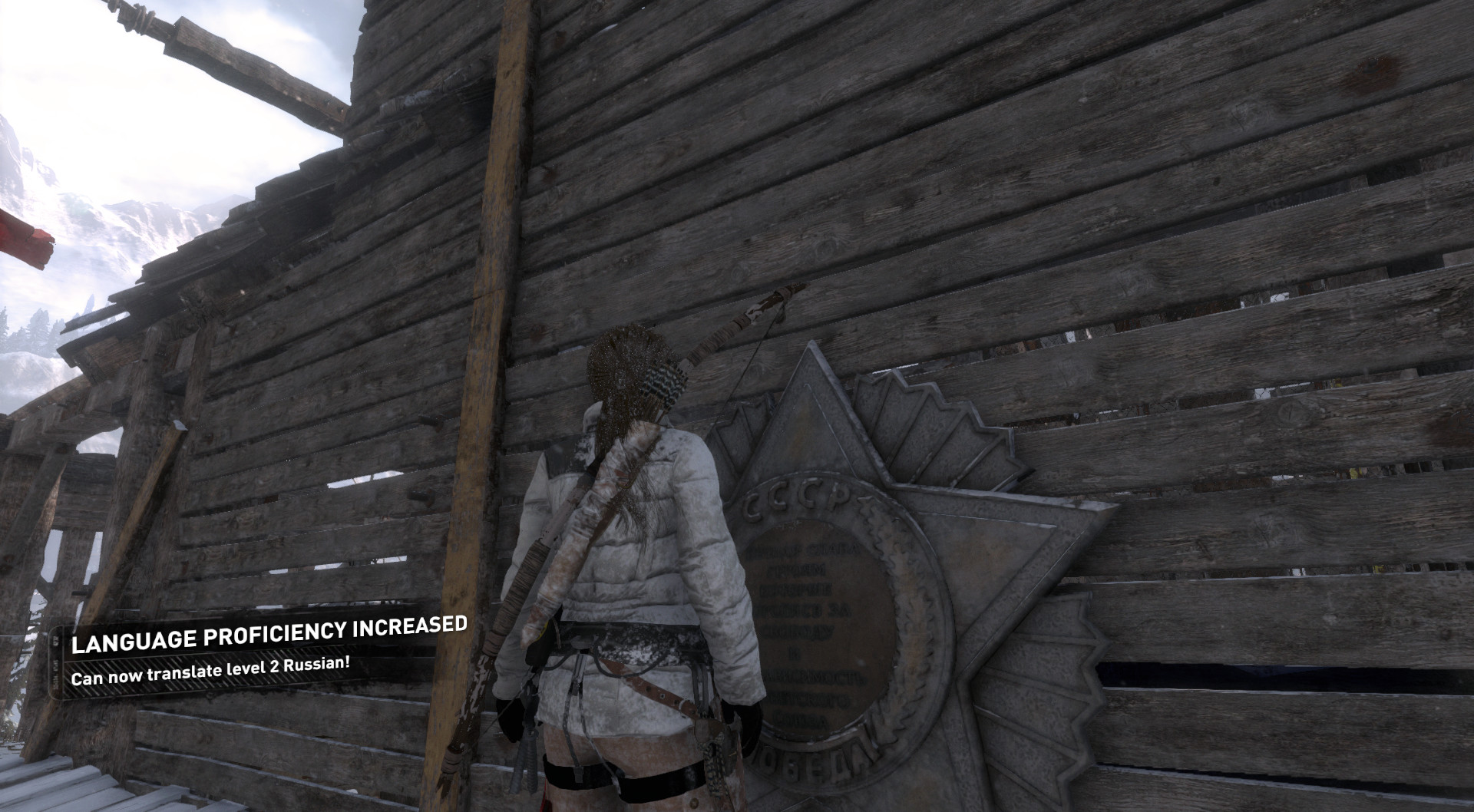 This makes the exploration side of it a little more fun and varied too and at times, this will give you a reason to fast-travel back to another area, once you learn enough to translate something previously left behind. This brings me to another point, there's so many camps spread across the quite large map, that actually switching between locations is incredibly easy.
Great, but what about actual Tombs to raid? Well there's optional tombs in there too, like the first one you find which is essentially a huge wooden ship buried in the ice: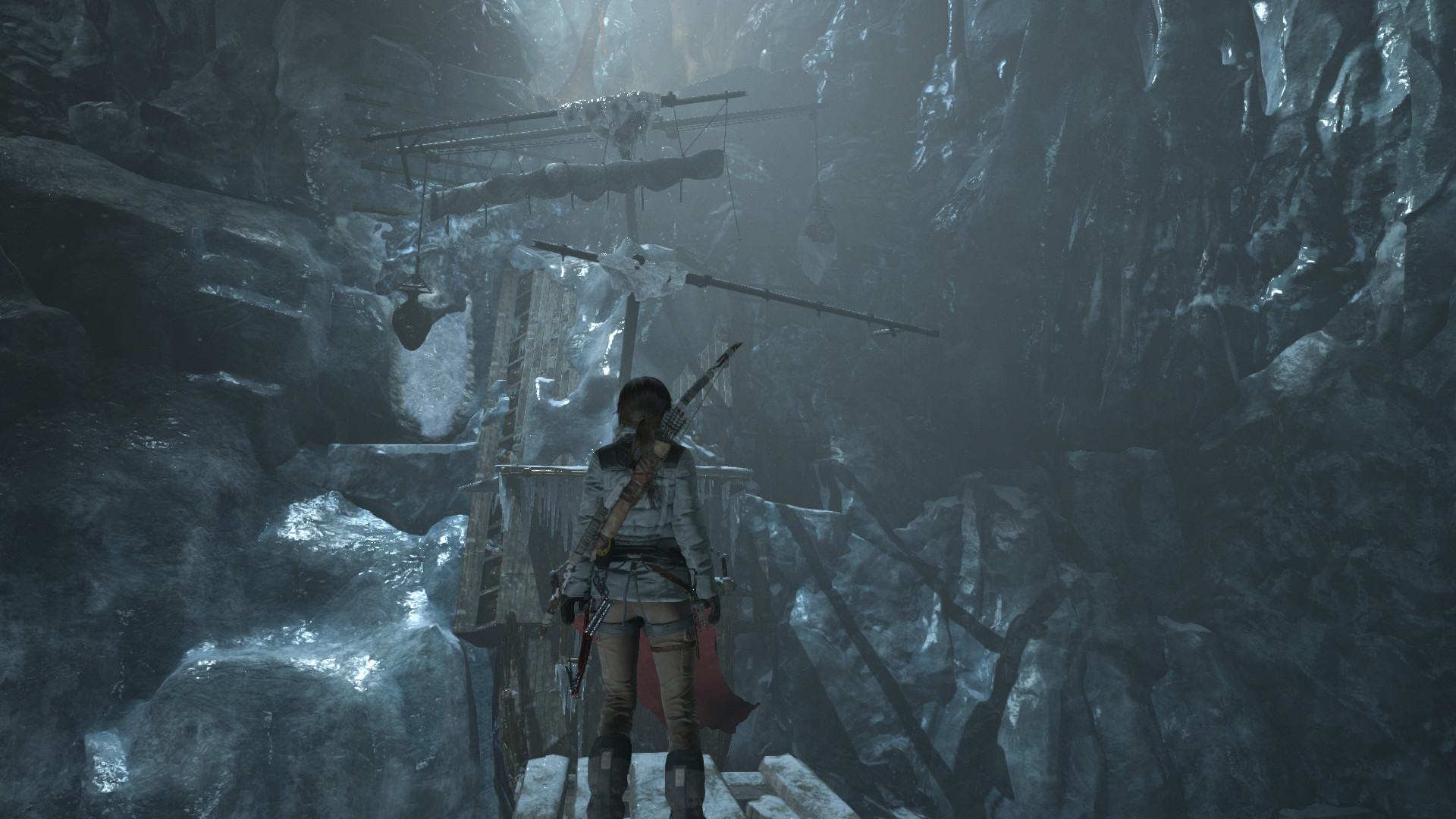 While they're optional, they're certainly worth doing for the extras that they give you.
To me, it feels like they took all the good bits from the first game and expanded upon them giving you more options everywhere. There's more skills to learn for example, with the previous game having around 24 split across three classes, with Rise given you a whopping 50 skills! It's not just that there's more of them, they're much more interesting to actually unlock too. Some quite menacing in fact, like the ability to put a trap on an enemy corpse.
In addition to all the exploration, the scavenging, translating, region challenges and tomb raiding there's also completely optional missions you can do. Given out by various people you can find spread throughout the game. It's quite a nice way to take a break from the main story, while still giving you some extras to help you along your way, it makes the game a lot more varied that's for sure.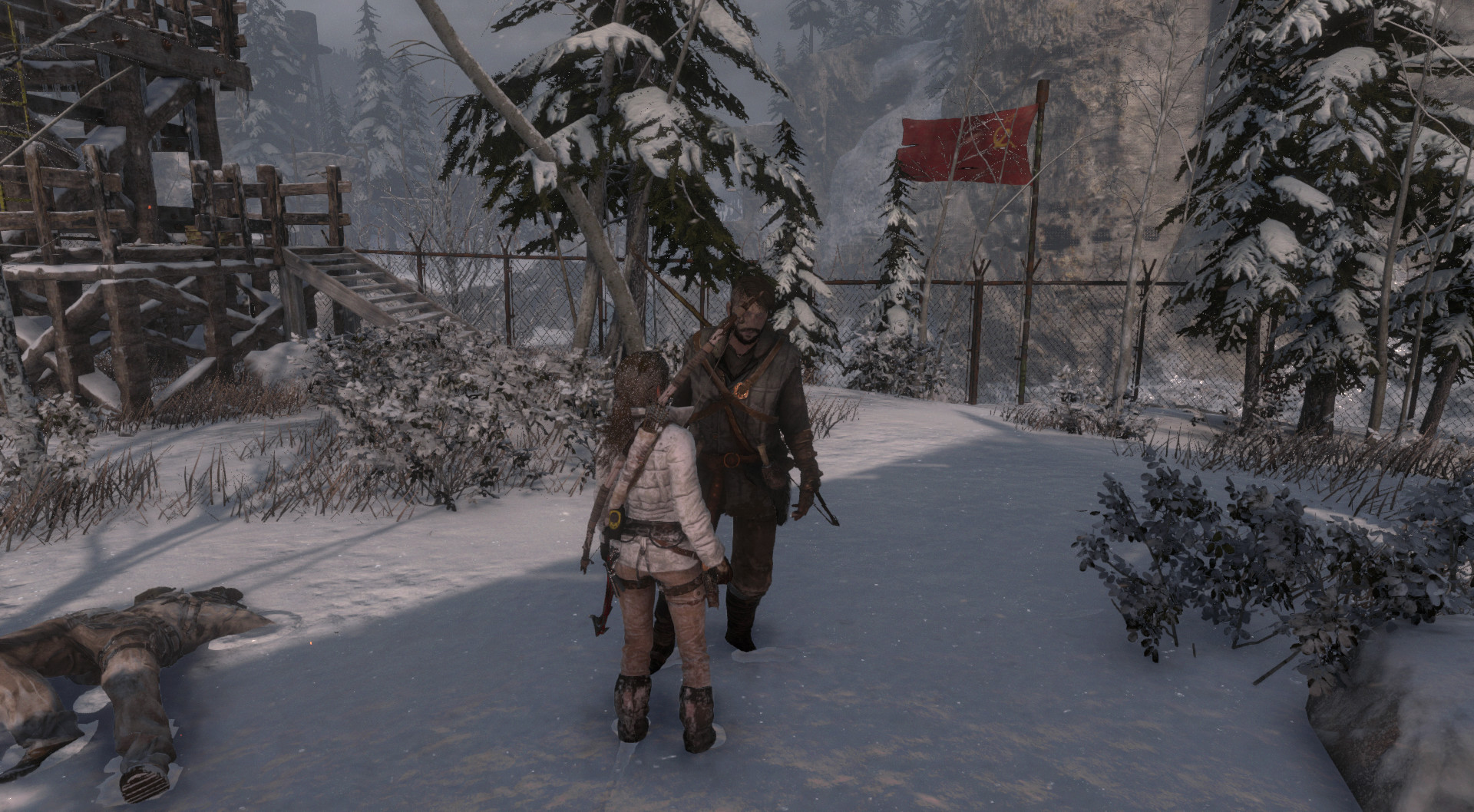 I think one of the great things about Rise of the Tomb Raider, is that it gives that open-world feeling with you being able to travel between areas and do things you miss, while not being overwhelming. It's a good mix of styles bundled together, to allow you to really push through when you want to, and take a break doing some of the smaller (but still fun) aspects of the game whenever you want.
There's a lot I haven't touched on here, partly because I don't want to spoil literally everything and also because it's such a big and varied game, if you spend a little time with it and don't rush through. Sometimes it's the little things, like talking to a character and a rabbit suddenly hops into view, looks right at the screen and then hops away…
As a reminder, to get the most performance out of the Linux version, you will likely want your CPU in Performance mode. You can do this using Feral's GameMode tool, by using this GNOME Shell extension or by doing it manually in terminal:
echo performance | sudo tee /sys/devices/system/cpu/cpu*/cpufreq/scaling_governor
Replace "performance" with whatever mode you wish to revert it back
The Final Verdict
I haven't been this engrossed in a game since—well—ever? I'm not being hyperbolic here either, it has such a fantastic mix of gameplay elements all wrapped up in lush detailed graphics. From the moment I first loaded it I just couldn't put it down. Feral did a really sweet job on the port as well.
I don't want to get ahead of myself here, but given what a great job they did, this gives me high hopes for Shadow of the Tomb Raider (the next title) to be on Linux and run well.
You can find Rise of the Tomb Raider on Humble Store, Feral Store and Steam. Fantastic to have another AAA title on Linux.
We will have a livestream of it tonight and tomorrow with Sin taking the helm, keep an eye on our Twitch channel!
Some you may have missed, popular articles from the last month: