Rise to Ruins, one of my favourite indie games that mixes in a city-builder with tower defense and god-like interactions with powers has a big update out. Also, it's going to finally leave Early Access later this year.
The "InDev 32" update brings in an overhaul of the entire particle system, which allows some much more interesting effects in the game. Particles in Rise to Ruins can now be "all shapes and sizes, and even animations" so nearly all the particle effects in the game have been updated and improved.
Additionally, you should see performance improvements since "all particle and emitter logic has been shuffled off to a new dedicated thread". They say if you have at least 4 CPU threads, you should see a pretty decent performance boost which will likely be especially noticeable when you have a larger village built up with a lot going on.
As for leaving Early Access, the developer has said it's going to happen this year. However, they made it clear that will not be the end of development:
I have no intention on stopping development once the game leaves Early Access, nor do I plan to stop anytime soon. As long as you are all here supporting my work, I will be here to support it too. After Release 1 expect plenty of additional content over, hopefully, years of future development.
They aren't giving an exact date just yet but they did make it clear the price is going to rise just before release.
I did have an issue launching the latest version, as it seems to by default on the fullscreen option use the resolution of my two monitors together and it fails to display. If you also have the issue, deleting the file "profiles/settings.properties" in the installed folder should reset it for you to windowed mode which allowed me to get back in. I've let the developer know about this to look into it.
Finally, they also showed off some stats on Twitter about their sales across a whole year "Feb 2018 -> Feb 2019":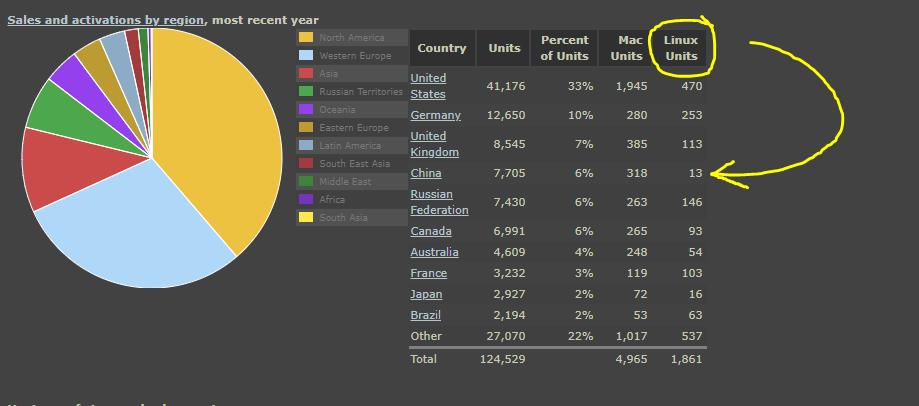 It shows that China doesn't particularly sell well on Linux and overall Linux accounted for around 1.49% of the sales. That's not a lot (obviously) but it seems to be punching well above the currently listed market share for Linux on Steam (0.82%).
Some you may have missed, popular articles from the last month: