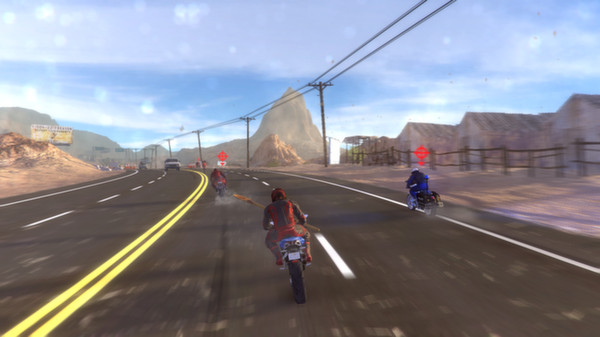 The
Road Redemption
developers delivered and fixed up their botched release, it seems the problem was a debug build that was sent up by mistake for SteamOS & Linux.
The update was released in the early hours of the morning for me, so I was asleep while this was all fixed up. I also have a life outside of this website during the day, so I am not always able to write things up as soon as they happen, so please be mindful of that before bashing me/GOL in future (really surprised I had to write this section due to some comments recently). I am pleased to say I tested it out now I had some time, and it seems to work fine. It's really great to see them deliver.
About the game
Road Redemption takes place in a post-apocalyptic America, ruled by a brutal dictator. Without telling anyone, your gang leader has decided to head to the capital on a desperate assassination attempt. When the government catches him, the consequences for your gang, and everyone you know and love, will be devastating.
It's up to you and your fellow gang members to race across hundreds of miles of dangerous highways in order to track down your derelict leader before the government does. What you do next is up to you. Do you try to stop him in order to protect your family and friends from punishment, or do you join him in a risky attempt at ending the oppression once and for all?
Remember, it's in Early Access, so it will be unfinished and buggy.
Some you may have missed, popular articles from the last month: